2015 Memphis Grizzlies Predictions and Futures Betting Odds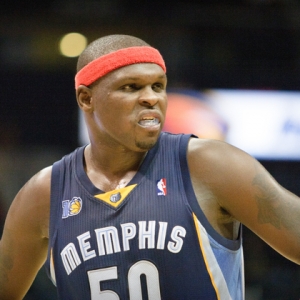 I'm not a Memphis Grizzlies fan. It's not that I don't like them or don't respect them. It's just that I really struggle to care about them. They get little national attention - especially considering their ongoing success. They have very good players but lack flashy superstars. From an offensive perspective they are as dull as dry toast to watch. They play in a flashy league, but they are the furthest thing from flashy. Watching the Grizzlies is like going out on the town with your dad - it's good to see him and all, but you have other things you would rather do on a Saturday night.
It's not like it doesn't work - they gave the Warriors a bigger test than anyone last year, and it took a brilliant and dramatic strategic adjustment by Golden State to beat them. They just haven't been good enough to win anything meaningful, and it's hard to see that change in any hurry.
2015 Memphis Grizzlies Betting Story Lines
I got my hair cut this morning. My barber is a woman of about 40. For some reason, though, she completely rejects technology. She has no computer - not even an email address. She has a flip phone that belongs in a museum. You can only pay cash at her shop. She acts like the present doesn't exist, and she is happy living in a past that most others have forgotten about. She's kind of like the Grizzlies. Memphis plays in a league that is more about the 3-point shot every year. They shot the second fewest in the league. It's not like they reject them for high-percentage shots, though - they are a long way from accurate. They focus hard on a strong post presence, but they seem to be allergic to slam dunks. When the champions play incredible offense, the Grizzlies find offense to be an annoyance and win through defense - dull but relentless and effective defense. They play a style of play that isn't in keeping with the times, and they justify that by the fact that they win so many games each year. They obviously believe in what they are doing - as we'll soon see they did very little to change things in the offseason. So, will doing what they have long done have a significantly different outcome this year? Is there a reason to expect a change? I know I'm not too optimistic.
Marc Gasol is a truly great player - with a big new contract to show for it - and Mike Conley is a very good point guard. I expect Gasol to be the same player he always is, and Conley can continue to improve. The player I am concerned about, though, is Zach Randolph. He will again be expected to eat a lot of the power forward minutes. He is coming off an excellent year, but he is 34 years old and it is hard to imagine him holding up much longer after so much abuse in the post. He's heavily-needed, and there isn't an inspiring option behind him, so this could be a major problem this year. It is certainly something to watch.
2015 Memphis Grizzlies Additions and Departures
They can't shoot on the perimeter, and that is something that the Warriors were able to exploit with Andrew Bogut in the playoffs. You'd think that they would look to do something about that. They didn't really. The big addition was Matt Barnes, who will suck up most of the minutes that Jeff Green doesn't use at small forward. He's hardly an elite outside shooter, though, so he signals that we can expect more of the same from this team. Sigh.
The only other change of significance was a shift in backup center. Kosta Koufos is gone to Sacramento, and he won't be missed. Brandan Wright has come in to replace him and backup Gasol. It's an upgrade. Not a game-changing one, but an upgrade nonetheless.
2015 Memphis Grizzlies Futures Odds and Trends
Memphis was as boring to bet on as they were to watch - they were a completely average 40-40-2 ATS. The one interesting betting note was due to their defense - they went under the total in 46 of 82 games to deliver a nice profit.
Memphis Grizzlies Futures Odds (from BetOnline)
NBA title odds : +3300
Western Conference title odds : +1600
Odds to win the Southwest Division: +650
2015 Memphis Grizzlies Predictions and Futures Odds Picks
Yawn. They'll win more than 50 games. They will be right in the mix in the very tough Southwest Division. They are a certain playoff team. And they will fall well short of a title. I've seen this all before - every freaking year.
Doc's is giving $60 worth of member's picks free - no obligation, no sales people - you don't even have to enter credit card information. You can use the $60 credit any way you please on any of our top NBA handicappers. Click here to get started. Also, for a limited time only, you can get three handicappers NBA picks for the price of one! Click Here for more details!
Read more articles by Trevor Whenham