NBA Betting: Handicapping the Most Overrated ATS Teams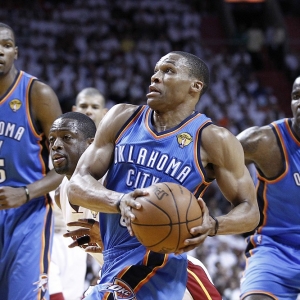 If there is one thing we love to do as sports fans and bettors, it's to overrate teams and pump up storylines before they are even complete. That is the nature of this 24/7 social media cycle that we currently live in. Don't get us wrong, debating a player's impact or worth in real time is what makes sports so great. However, those habits can lead to fans and the media painting an incorrect picture of what a team is doing at the moment. For bettors, overrating and over-exaggerating can lead straight into our wallets. And does anyone want that?
One of the biggest ways bettors overrate NBA teams is by placing too much stock in straight up records and not putting enough weight into what a squad is doing against the spread. Sure, Golden State is still undefeated, but it's the Orlando Magic that have the best ATS record in the league. With that thought in mind, let's take a closer look at the most overrated ATS teams through the first fourth of the season.
Oklahoma City Thunder
SU: 12-8
ATS: 7-13
ATS +/-: -0.8
ATS record as favorite: 6-11
The sky isn't necessarily falling in Oklahoma City, but the team isn't necessarily a full-fledged contender, either. The organization is in a bit of a transition stage with Billy Donovan currently in his first year as head coach. And while Oklahoma City is sitting in the third spot in the Western Conference playoff standings, the team is on pace to "only" win 49 games this season, which is a far cry from those 55- to 60-win teams of the past. The Thunder continue to be a high-profile "public team" because of the nightly exploits of Kevin Durant and Russell Westbrook. The dirty little secret for Oklahoma City, however, is the fact that the roster does not go deeper than Serge Ibaka. Don't get caught up in the media hype that says Enes Kanter and Dion Waiters are impact players in the NBA. At this point in the season, Oklahoma isn't an elite team.
Cleveland Cavaliers
SU: 13-7
ATS: 7-13
ATS +/-: -1.6
ATS as favorite: 5-12
Most of the early-season talk has centered on LeBron James and Kevin Love. However, what the media keeps forgetting is that Cleveland's point guard and elite scorer Kyrie Irving is still sidelined with knee injuries from last season's NBA Finals. The Cavaliers were never going to light the NBA on fire the way the young and energetic Warriors have since the organization is certainly saving itself for another deep postseason run. Overall, the Cavs continue to give away some of the largest point spreads east of Golden State. However, while the team is not at full strength, do not expect them to cover many spreads.
Chicago Bulls
SU: 11-6
ATS: 6-11
ATS +/-: -2.5
ATS as favorite: 4-9
Chicago has been the surprise team in the East with an 11-7 record after getting rid of a head coach and continuing to watch Derrick Rose play limited minutes because of the constant threat of injury. Do not let that hype, however, fool you as a bettor. The Bulls are not a great ATS team, and they currently have one of the worst point differentials of any above-.500 squad in the league. Overall, the Bulls give away point spreads of an average of 5.8 points per game, which is a lot for a team that only averages 98 points per game and sits in the Bottom 15 in scoring.
SU: 11-9
ATS: 7-12-1
ATS +/-: -3.4 Los Angeles Clippers
ATS as favorite: 6-9-1
The bad news for the Los Angeles Clippers seems to be that they are still not over last year's horrendous playoff exit against the Houston Rockets. The good news, however, is that the West isn't nearly as competitive as in years past, and at 12-9 Los Angeles is still in the mix to grab a three-seed come playoff time (Golden State and San Antonio continue to separate themselves from the rest of the pack). The Clippers have lost four of five ATS games and five of seven while managing to go 6-1 SU during that span. Los Angeles' main problem seems to be on the defensive end, where the squad gives up 102 po ints per game, which ranks in the Bottom 10 in the league.
We would like to offer you $60 of member's predictions free - no obligation, no sales people - you don't even have to enter credit card information. Click Here for $60 in free NBA predictions. Also, for a limited time only, you can get three handicappers NBA picks for the price of one! Click Here for more details!
Read more articles by George Monroy