NBA Finals Betting: Series MVP Odds and Expert Predictions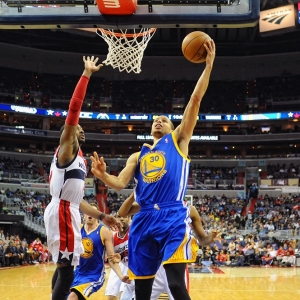 The NBA Finals MVP award doesn't usually get the attention that it is getting this year. Then again, it isn't usually as intriguing a battle as it is this year. We have the reigning MVP up against the four-time MVP in a battle for the ages, and we can even throw a wild card player in there for good measure. It doesn't get much better than this. So, should LeBron be named MVP regardless of how the series ends? Or should Steph Curry add to his collection of MVPs on the year? Or is this the year to recognize stout defense? Let's break it down:
Steph Curry (-140 to win at 5Dimes): I'll say up front that I am firmly in the Curry-for-MVP camp - assuming that the Warriors close out the series, of course. I am not one of those people who say that the MVP has to come from the winning team. There has to be an exceptional reason for it to happen, though. The player on the losing team has to have had a transcendent, near-perfect performance, while no single player on the winning team has stood out from the crowd. While James has obviously been exceptional, I don't see how you can look past Curry and what he has done in this series.
Sure, he has had some issues - his shooting in the first two games was spotty at best. What he does, though, is so much beyond how well he is shooting. His mere presence is so massive. He gets double teamed with frequency, and the Cavs are always precisely aware of - and scared of - him when he is on the court. He opens things up for his teammates and has allowed them to find their confidence in this series by giving them space. He absolutely defines what the Cavs have to do on defense, and the impact of that can't be understated.
He also has been much better in the last three games and is coming off a very strong game. It hasn't been his best series overall by any means, but he is still fundamentally the core of his team, and he has done enough to win the award if the team wins the series. Now, the case for his win is made much easier if the Warriors close it out in six games than if they have to play seven. The case for LeBron becomes much easier to make in a seven-game series. Curry has a big advantage as long as the Warriors eventually do win, though - he is holding serve. All he needs to do is have a very strong game between now and the awarding of the title and he will likely hold on for the win. I'm not sure that there is a lot of value in this price - actually I'm quite sure that there isn't - but he's the guy who is going to wind up winning this award.
LeBron James (+126 to win at 5Dimes): Jerry West is the face of the NBA logo, and in 1969 he was the only guy ever to win the finals MVP on a losing team. LeBron is the face of the NBA now, so it seems somehow fitting that he would be the second guy to pull off the exceedingly difficult task.
The arguments for his candidacy are very strong - and it should go without saying that if the Cavs can pull off a comeback and win the series James would be the unanimous and obvious winner. For one thing, James has already twice been named NBA finals MVP, yet he is playing better by a significant margin in these finals than he has in the previous two. Most significantly, he is doing so for a simple reason - he has to. The team around him is so beat up, and so lacking in depth even in the best case scenario, that he has no choice but to try to do it all himself.
There is one guy in the league who could do what James is doing in these finals. That unique greatness is worthy of all the praise he gets. James has taken on the responsibility of effectively playing every position on the court. With him, this team is two wins away from a title. Without him they wouldn't be in the playoffs. It's a truly heroic, historic performance, and we are lucky to be watching it.
I am just not convinced that what he has done is enough to overcome the tradition of this award if he were to lose four of six games played. If he has another huge night and the Cavs win at home to force a seventh game then my opinion could be swayed, but at this point he is a strong runner-up in this race - despite having been the best player in the series.
Andre Iguodala (+1250 to win at 5Dimes): Iguodala is not going to win the MVP, but his presence in the discussion sure is interesting. First, there is the story - after a pretty forgettable season and an inconsistent postseason he emerged as his team's best player in the first four games of this series. He has also done a much better job than virtually anyone all season of guarding James - despite the gaudy stats, LeBron is minus-46 when Iggy is on the court and plus-13 when he is taking a rest.
When the rest of his team was struggling to find their footing early in the series, Iguodala is the biggest reason why the Warriors were not down 3-0 and in massive trouble. That's impressive.
Iggy has three big things working against his candidacy, though. First, though he has been great against James, the King is still averaging mountains of points per game, and that will turn off voters who don't embrace the subtleties of the sport. Second, he is a defensive player, and defense is not sexy enough to win awards like this. Finally, even if he were unquestionably the MVP of his team - which he is not necessarily - he is not going to get overwhelming support against Curry, so his vote will inevitably be split. Interestingly enough, in a tight race, Iguodala's strong showing here could actually make it easier for LeBron to get the votes he needs to win the award.
Read more articles by Trevor Whenham