NBA Handicapping: Buyouts on the Horizon
by Trevor Whenham - 2/22/2015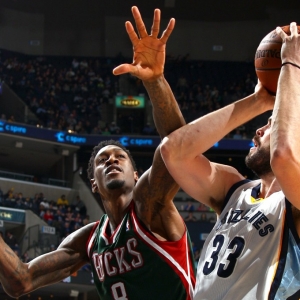 The NBA trade deadline season brings another burst of activity - buyouts. They aren't directly tied to the trade deadline, but the timing overlaps - in order for a player to be available for playoff action he needs to be waived by March 1. Also, the most common type of player to be bought out is one who has been traded - typically to a non-contender. So, why are players bought out? Well, most often either a team going nowhere will dump salary to get their salary cap situation in line - like the Knicks are doing now - or a team will trade for a player they don't want in order to acquire another asset like a pick they do want, and then they buy out the contract. Teams buy players out because it can work for them financially, because they want to free up a roster spot, or because they just don't want the player around their other players.
Players are often happy to be bought out because it means that they can go to another team like a contender and because if they have been bought out they can afford to sign for a bargain-basement price. It's a situation that can work well for everyone in a lot of cases.
As is often the case, there are several intriguing names in play in the buyout market - and that's not even considering free agent guys like Ray Allen, who could go anywhere, or guys who have been playing in China and are done their season there. Here's a look at five of the more interesting names and the impact they could have:
Amar'e Stoudemire, Dallas Mavericks: Stoudemire was moved before the deadline as part of a salary purge in New York - no reason to pay luxury tax when you are terrible - and he's not likely to be the only one cut loose. He was in demand, but he landed quite quickly in Dallas. He's obviously well beyond his prime, but he can still be very useful off the bench. In Dallas he can back up Tyson Chandler and even Dirk Nowitzki. His experience and talent helps Dallas out and makes them more of a contender - though they are even more reliant than before on guys who aren't exactly young. That's scary heading into the grind of the playoffs. On the plus side, though, he is costing the Mavericks less than half a million dollars, and he won't have to play a ton of minutes, so it is a risk certainly worth taking. This is a better team today than it was before.
Kendrick Perkins, Cleveland Cavaliers: Perkins was traded from Oklahoma City for Enes Kanter and then immediately waived by Utah. He quickly chose the Cavaliers from several options he had. The logic behind this is a no-brainer for both sides. Perkins goes from one contender to another - and his new team is in better position to do damage this year. The Cavs add some experienced depth to their team, and they have been more much more impressive lately after tinkering with their roster to change the mix. Perkins is a player who is easy to overrate, and though he is better this year than he was last year, he is still too frustrating to get excited about. However, he's a solid piece in the mix of an increasingly-dangerous team. It helps that he is very much a supporting piece and not a crucial contributor.
Larry Sanders: After an injury and a suspension this year the Bucks, who are a surprising contender this year, have made the logical move of cutting ties with their talented-but-problematic center. Sanders is going to take his money and spend some time trying to tame his demons before perhaps trying to rebuild his career. I'm not optimistic.
Thomas Robinson: There are some guys you watch in college and are certain that they are going to translate to the NBA - not necessarily as stars but as key contributors. Robinson was one of those guys, but he has really struggled to find his stride so far. He has not found his way in Sacramento, Houston and Portland, and Denver waived him as soon as they acquired him this week. I still don't think that it is too late for him - he's only 23. If he finds the right situation it could turn out well, and he has several teams interested. Now he just needs some luck.
Shawne Williams: Williams is a 6-foot-10 forward who is shooting 39.5 percent from beyond the arc. He's not going to struggle to find a new spot. He was valuable off the bench in Miami and would have stayed there is they hadn't have gone for such a drastic overhaul at the deadline with the Goran Dragic deal. He won't make headlines, and his time will be limited wherever he ends up, but he's a valuable depth guy.
Read more articles by Trevor Whenham