NBA Handicapping: Orlando Magic Coaching Situation
by Trevor Whenham - 2/11/2015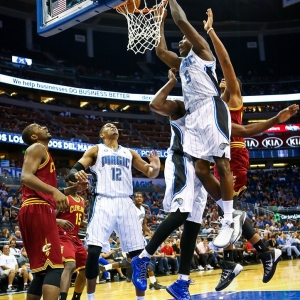 Unless you are someone like Gregg Popovich - you know, really, really good at what you do - being a head coach in the NBA is a brutal profession. You are hired to be fired, and you have less job security than a mall Santa on Dec. 24. Jacque Vaughn was the latest to learn that hard lesson when he was ditched by the Orlando Magic on Feb. 5 - incidentally just six days before his 40th birthday. The farce of the situation was not that they let him go but the way they did it. His dismissal was publicly discussed in the media to the point that if was a foregone conclusion, but the situation was unknown to Vaughn. It certainly couldn't have created a healthy environment around the team - or in the Vaughn household, for that matter.
So, now that Vaughn is gone, what does this mean for bettors? Let's take a look:
Team stability: The league is a better place when Stan Van Gundy is around, because he is never short of an opinion - or the willingness to share it. As the longest-serving head coach in Orlando history - and the man that Vaughn replaced - he is uniquely qualified to comment. And comment he did. The team has been around since only 1989, but interim coach James Borrego is the 10th man to call himself head coach - and there have been seven that weren't interim coaches. It's not that they haven't attracted some names, either - Van Gundy, Doc Rivers, and Chuck Daly are all among the casualties. As Van Gundy points out, though, this is a management and ownership group that stands behind the coach on the surface but doesn't support them particularly well, and is quick to the axe if they need an excuse. It's not a surprise that Vaughn had little chance of success because of the team he was coaching.
Vaughn's performance: Vaughn did not have a good coaching career in Orlando. There is no denying that. He finishes at just 58-158, and he had a stranglehold on last place in the Southeast throughout his tenure. You can also be critical of some things - most notably that he seemed to change schemes and philosophies every week or two in a desperate attempt to find something that worked. Despite all of that, though, it's hard to be too negative about what he did. He was given a painfully young and undeniably odd roster to work with, so it's not a wonder he couldn't find lasting success. You can argue that the team is building for the future, but it is hard to argue that that future is particularly bright given the challenges of the personnel. We won't know for a while - if ever - if Vaughn can actually coach when in a positive situation, but he had experience playing and coaching in San Antonio, so he shouldn't be doomed - as long as he winds up in a better situation next time.
The interim solution: James Borrego is in charge now. As Vaughn's lead assistant, he spent the two years before Vaughn was hired in New Orleans and had been an assistant in San Antonio for a long time before that. He's capable, but likely doomed - no one in the world thinks he has any chance at all of being the long term answer, so a frustrated group of players is very unlikely to play well for him. Underwhelming players in a bad situation have derailed better and more experienced coaches than this one. Borrego also saw three of his fellow assistants get the axe alongside Vaughn, so not only is he on a sinking ship, but he's alone on it. Ouch.
Long-term options: There are rumors out there that the team could make a long-term decision as soon as the all-star break. Further rumors suggest that the frontrunner is none other than Scott Skiles. Let me be blunt - that would be a truly horrible decision that would lead to nothing but heartache for the team. I know that Skiles is a former popular Magic player, but so is Penny Hardaway, and no one is suggesting that he gets the job. Skiles gets more credit than he deserves because he has had some decent records in Milwaukee and Chicago. He is ruthless, though, and he wears his teams into the ground. That isn't what any team needs these days and especially not with a young and challenged roster like this. Bad choice. Unfortunately, if they really are eager to make a move now he might be the best one. The market isn't exactly robust right now. George Karl gets some buzz, but he seems likely to land in Sacramento. Former Sacramento head man Mike Malone didn't deserve to get fired in Sacramento, but that doesn't mean he should be the choice here. Mark Jackson is getting some push - mostly from Jackson himself, likely - but I hate that idea. Seeing how much and how quickly Golden State has improved without him shows how undesirable Jackson is. Billy Donovan is an intriguing name, but he has already accepted the Orlando job once and then bailed out on it, so the team could be gun shy. Besides, he's not available for a couple of months anyway, so he might not fit the timeline. For the sake of the team and the talent they have, I am firmly in the anyone-but-Skiles camp. As a bettor, though, he would certainly provide some opportunities - in betting against them.
Read more articles by Trevor Whenham