NBA MVP Stats: Will Curry Lead Golden State to the Title?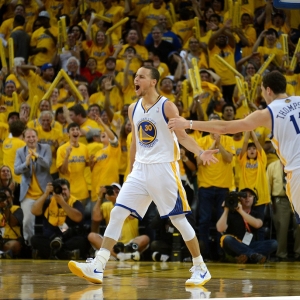 On an early Monday afternoon Golden State Warriors point guard Stephen Curry stepped up to the podium in downtown Oakland and accepted his Most Valuable Player award. Curry, the affable, spectacular, humble yet extremely confident superstar, chronicled his journey from son of an NBA star to barely-recruited college player to the face of the NBA and incumbent MVP. He thanked his teammates, his coaches and even Warriors' head of security, but made sure that everyone in attendance knew what he was really after-an NBA title.
Curry's MVP award may be the "feel-good" story of the postseason-the young superstar is fun, exciting and simply a joy to watch on the basketball court-but we all know that feel-good stories do not win NBA titles. Just ask LeBron James and the much-hated Miami Heat or the Kobe Bryant- and Shaquille O'Neal-led Los Angeles Lakers of the early 2000s or the "Bad Boy" Detroit Pistons of the late 1980s. Many times, the villains end up winning championships. 
Curry and the Warriors' next step is to navigate a tough Western Conference playoff field and then possibly face James in the finals. If history has taught us anything, it's that the MVP winner does not always go on to win a NBA title. In fact, over the last 10 years it has rarely happened at all. Let's take a closer look at the stats and trends and figure out how MVP winners and overall No. 1 seeds have performed during the postseason. 
NBA MVP Championship Wins
2014: Kevin Durant: No title
2013: LeBron James: Won title
2012: LeBron James: Won title
2011: Derrick Rose: No title
2010: LeBron James: No title
2009: LeBron James: No title
2008: Kobe Bryant: No title
2007: Dirk Nowitzki: No title
2006: Steve Nash: No title
2005: Steve Nash: No title
MVP record over the last 10 seasons: 2-8; Record over the last 30 seasons: 11-19
Over the last 10 years only James has managed to parlay the MVP award into an NBA title win. Kobe Bryant made a finals appearance during his award-winning season but was stopped by the Boston Celtics. In fact, only five players in the last 25 years have managed to win an NBA title during the same season they were awarded the MVP trophy. The list includes James, Tim Duncan, Shaq, Michael Jordan and Hakeem Olajuwon-all Top 15 NBA players on any sane person's list. Jordan also skews the stats a bit since he won MVP awards during four of his six title runs.
Overall No. 1 Seed Title Wins
2014: San Antonio: Won title
2013: Miami: Won title
2012: Chicago/San Antonio: No title
2011: Chicago: No title
2010: Cleveland: No title
2009: Cleveland: No title
2008: Boston: Won title
2007: Dallas: No title
2006: Detroit: No title
2005: Phoenix: No title
No. 1 seed record over last 10 seasons: 3-7; Record over last 15 seasons: 4-11
Overall No. 1 seeds have not fared much better than MVPs when it comes to winning titles. The best team in the league (record-wise) has won only four of the last 15 NBA titles, with San Antonio (twice), Miami, and Boston being the only teams to pull off the feat. Golden State, with a 1-0 second-round series lead, is a -125 favorite to win the NBA title, which seems to be the correct number with Chris Paul dealing with hamstring issues and Cleveland losing Game 1 to Chicago.
From a basketball standpoint, Golden State is the obvious choice to win the NBA title. However, as we have seen, the best team does not always grab the title. There is too much uncertainly out West, and with the Clippers finally beating the San Antonio Spurs the landscape may be shifting. The Warriors are a solid choice bet on, but the only issue is that the odds may have shifted too much, diminishing the value. A few days ago a bettor could have gotten Golden State even money or better. Now they are the solid favorite. At this point, if you believe the Warriors will win the NBA title, it might be smarter to wager on each individual game instead of getting a devalued futures price. 
Want free sports betting picks? Doc's Sports has you covered - get $60 worth of picks free from any of Doc's Sports expert handicappers. Click here for free picks (new clients only).
Read more articles by George Monroy