NBA Odds: Friday, December 18 2015 Opening Line Report and Handicapping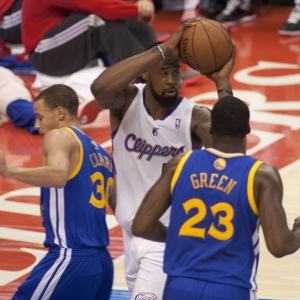 Some interesting NBA scheduling thus far. The San Antonio Spurs, the preseason Western Conference favorites, have yet to play arguably the two other best teams in the West even though the season is more than a quarter of the way finished. Well, one of those issues is resolved on Friday when the Spurs host the Clippers. It's the first meeting between the teams since an epic seven-game first-round playoff series last year, won by the Clippers thanks to a running layup by Chris Paul over Tim Duncan's outstretched arm with one second left in Game 7. Certainly that remains the signature moment of Paul's career, and it's one of the best first-round series ever. Was a shame two teams that good had to face off so early. The NBA tried to fix that this offseason by seeding purely by record now without regard to division winners.
Nets at Pacers (-10, 201.5)
Brooklyn enters on a three-game skid, all coming at home. Reserve guard Shane Larkin missed Wednesday's loss to Miami with a concussion. The Nets have concluded a stretch of nine consecutive games played in New York City. Indiana beat visiting Dallas 107-81 on Wednesday. Monta Ellis had 19 points against his former squad. Indiana is now 7-0 when holding an opponent under 90 points. Brooklyn won two of three vs. the Pacers last year, including the lone game in Indianapolis.
Key trends: The underdog is 4-0 against the spread in the past four meetings. The "over/under" is 4-1 in Indiana's past five at home vs. teams with a losing road record.
Early lean: Pacers and over.
Trail Blazers at Magic (-3.5, 200.5)
Portland started a road trip with a 106-90 loss in Oklahoma City on Wednesday. Damian Lillard was scoreless in the second half in missing all nine shots. Orlando beat Charlotte 113-98 on Wednesday for its second straight win. Channing Frye scored a season-high 17 points. The Magic got their eighth home win more than two months earlier than last year. Portland and Orlando split the season series 1-1 last year, with each team winnings its respective home game. The home team has been victorious in each of the past six games in this series.
Key trends: The home team is 4-1 ATS in the past five meetings. The over is 4-0 in Orlando's past four after a win.
Early lean: Magic and over.
Knicks at 76ers (+5, 191.5)
New York beat Minnesota 107-102 on Wednesday for its second win in a row. Arron Afflalo blew up with 29 points, while Carmelo Anthony had 20 points, 15 rebounds and nine assists. Philly lost an eighth in a row and fourth straight by double digits, 127-106 in Atlanta on Wednesday. Isaiah Canaan finished with a season-high 24 points and Jahlil Okafor had 19 for Philadelphia, which played again without Nerlens Noel (eye). He might go Friday. This is actually a game the Sixers could win, so he should. The Knicks defeated the 76ers 99-87 at the Garden on Dec. 2. Kristaps Porzingis had 17 points and 10 rebounds.
Key trends: The favorite is 4-0 ATS in the past four. The under is 5-1 in the previous six.
Early lean: Knicks and under.
Hawks at Celtics (-3, 205.5)
Atlanta never trailed in a 21-point home win over Philly on Wednesday as the Hawks ended a three-game slide. They hit a season-high 61.5 percent from the field and had 32 assists. Boston lost 119-116 in Detroit on Wednesday for its second straight defeat. The C's never got off a good shot at the end to tie. The Hawks and Celtics have split two meetings this season, each winning by double digits at home.
Key trends: The home team is 5-2 ATS in the past seven meetings. The under is 4-1 in the past five in Boston.
Early lean: Boston and under.
Raptors at Heat (-4.5, 193)
Toronto played in Charlotte on Thursday. Miami won in Brooklyn 104-98 on Wednesday for its third win in a row. Dwyane Wade had 28 points and Hassan Whiteside 20 points and 13 rebounds -- the Heat have come out and said they have no plans to trade Whiteside amid those Dwight Howard rumors. The Heat won the first meeting with Toronto 96-76 in South Florida on Nov. 8. The Raptors lost for the 11th time in their last 12 trips to Miami.
Key trends: The favorite is 8-2 ATS in the past 10. The under is 5-2 in the previous seven.
Early lean: Heat and under.
Pistons at Bulls (-4, 196)
Detroit beat Boston 119-116 on Wednesday behind a career-high 31 points from Kentavious Caldwell-Pope. Andre Drummond had 16 points and 12 rebounds and hit only the second 3-pointer of his career. Needless to say, it wasn't off a designed play. Chicago won a fourth in a row Wednesday, 98-85 over Memphis. Doug McDermott scored 17 -- one shy of his career high. The Bulls lost the first meeting of the season in Detroit, 98-94 in OT on Oct. 30. Chicago has won three in a row at home in the series.
Key trends: The Pistons are 4-0 ATS in the past four meetings. The under is 7-3 in the previous 10 in Chicago.
Early lean: Bulls and under.
Kings at Timberwolves (-1, 213)
Sacramento beat Houston 107-97 on Wednesday for its third consecutive win -- those were all at home. DeMarcus Cousins amassed 26 points and 12 rebounds, but he couldn't stay out of the negative headlines as his manager was tossed during that game for slapping at Rockets guard Jason Terry when Terry's momentum brought him slightly into the crowd. Rajon Rondo was suspended for the game but will be back Friday. Minnesota lost by five in New York on Wednesday for its fourth straight loss. Ricky Rubio nearly had a quadruple-double with 12 assists, 10 rebounds, nine points and eight steals. Kevin Garnett (rest), Kevin Martin (bruised right wrist) and Nikola Pekovic (right Achilles tendon) all sat out. Wolves won the first meeting vs. the Kings 101-91 on Nov. 27 in Sacramento. Cousins missed that one. So did Rubio.
Key trends: The underdog is 5-1 ATS in the past six meetings. The over is 4-1 in the previous five.
Early lean: Kings and over.
Clippers at Spurs (-7, 199)
This is the first game of an ESPN doubleheader and will have live betting at sportsbooks. Los Angeles beat the visiting Bucks 103-90 on Wednesday for its third straight win. Chris Paul had 21 points and eight assists. DeAndre Jordan was tossed midway through the third quarter after getting two technical fouls, but it was nothing that would lead to a suspension. Paul Pierce hit a buzzer beater to end the first quarter and become the fifth active player and 16th in NBA history to reach 26,000 points. San Antonio won its fourth straight Wednesday, 114-95 over Washington. It was the Spurs' team-record 23rd straight regular-season home win (Clippers won Game 6 of last year's playoffs there). Tim Duncan sat due to rest but will be back Friday. L.A. and San Antonio split four regular-season meetings last year.
Key trends: The road team is 4-0 ATS in the past four. The over is 11-5 in the previous 16.
Early lean: Spurs will want payback. Take them and go over.
Grizzlies at Mavericks (-3, 199)
Memphis lost by 13 in Chicago on Wednesday. The Grizzlies were just 5-for-19 on 3-pointers, with Mike Conley (eight points) missing seven of eight. The team has ruled out forward Brandan Wright indefinitely following right knee surgery. He hadn't played since early in the season. Dallas was crushed in Indiana on Wednesday. That dropped the Mavs to 2-8 this year against .500-plus teams. Dallas lost in Memphis 110-96 on Nov. 24. Seven Grizzlies scored in double figures. Memphis' Zach Randolph missed that one.
Key trends: The Grizzlies are 4-1 ATS in the past five meetings. The over has hit in eight of the last 10.
Early lean: Mavericks and over.
Nuggets at Jazz (-6, 196.5)
Denver won a third in a row Tuesday, 112-100 in Minnesota. The Nuggets shot 56 percent. Denver played without rookie point guard Emmanuel Mudiay with a sprained right ankle, and he's questionable for Friday. Utah lost a season-high fourth straight Wednesday, 104-94 against New Orleans. Utah won in Denver 96-84 on Nov. 5. But the Jazz had Rudy Gobert then, and he had eight points and 16 rebounds.
Key trends: The favorite is 4-0 ATS in the past four meetings. The under has hit in five the past six.
Early lean: Nuggets and under.
Pelicans at Suns (-4.5, 214)
Your ESPN nightcap. New Orleans ended a two-game losing streak with a 10-point win in Salt Lake City on Wednesday. The Pelicans outscored the Jazz by 16 in the fourth quarter. Anthony Davis finished with 17 points and 13 rebounds. Phoenix had the misfortune of facing an angry Warriors team on Wednesday in Oakland and lost by 25. Brandon Knight, with 17 points, was the lone Suns starter in double figures. The Pelicans have won two high-scoring games vs. the Suns this season.
Key trends: The home team is 7-1 ATS in the past eight meetings. The under is 17-8 in Phoenix's past 25 at home.
Early lean: Suns and over.
Bucks at Warriors (-16, 210.5)
Milwaukee lost by 13 at the Clippers on Wednesday, the Bucks' 11th straight away defeat. Milwaukee hasn't won away from the Bradley Center since beating the Knicks 99-92 on Nov. 6. Leading scorer and rebounder Greg Monroe missed his second straight game because of a sprained left knee suffered in a shootaround Tuesday morning. He won't play here, either. Golden State clobbered the Suns on Wednesday behind 43 points from Klay Thompson (27 in third quarter) and Draymond Green's fourth triple-double this season. It was the Warriors' 29th straight home win. Think the Warriors will be motivated for this game after seeing their 28-game overall winning streak end in Milwaukee on Saturday?
Key trends: The Warriors are 8-2 ATS in their past 10 vs. teams with a losing record. The under is 5-1 in the previous six meetings.
Early lean: If Warriors win by less than 20, I'd be stunned. Go over.
We would like to offer you $60 of member's predictions free - no obligation, no sales people - you don't even have to enter credit card information. Click Here for $60 in free NBA predictions. Also, for a limited time only, you can get three handicappers NBA picks for the price of one! Click Here for more details!
Read more articles by Alan Matthews