NBA Odds and Predictions: Saturday, April 25 Opening Line Report and Handicapping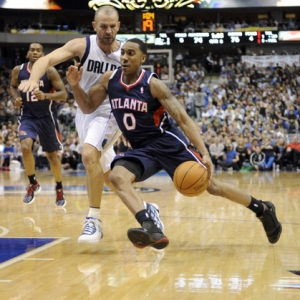 The NCAA Tournament the NBA playoffs are not. Remember the first day of the 2015 Big Dance with all those upsets (things were mostly chalk after that)? Well, that can happen in a single-game elimination format but not in a best-of-seven series. Three teams now hold a 3-0 lead in the first round of the NBA playoffs, and four more teams have the chance to grab a 3-0 lead starting Friday. This could be the most lopsided first round since 1983-84, when the NBA moved to a 16-team playoff format. So let's get to the conference semifinals already. Two teams can on Saturday.
Game 3: Hawks at Nets (+2.5, 201)
It's a 3 p.m. tip on TNT. Atlanta is 6-0 against the Nets this season so is there any reason to pick Brooklyn here? The Nets have been competitive in this series. In Wednesday's 96-91 loss, Deron Williams had a 15-foot shot on the baseline with about 10 seconds left to tie but it rimmed out -- rather symbolic of his tenure in Brooklyn. The Hawks got the rebound and made some foul shots to clinch. From a glass half-full perspective, the Nets held the Hawks to just 38.9 percent shooting and outrebounded Atlanta again. Brook Lopez more than doubled his shot attempts from Game 1 and had 20 points and seven rebounds. Joe Johnson also was better with 19 points and nine rebounds. However, Williams had just two points in 28 minutes on 1-for-7 from the field. What is he doing taking the last shot? Boding very well for Atlanta was the play of Paul Millsap. He has been struggling with a shoulder injury but played without a protective pad and looked better, shooting 7-for-11 from the field for 19 points. Al Horford played through a dislocated finger and had 14 points, 13 rebounds and seven assists. The unselfish Hawks assisted on 77 percent of their field goals Wednesday, a statistic they led the NBA in this season.
Updated series line: Hawks -15000, Nets +3000.
Key trends: Atlanta has covered one of its past five on the road. The Nets are 6-2 against the spread in their past eight home games against teams with a winning road record. The "over/under" has gone over in four of Atlanta's past five on the road.
Early lean: Atlanta has played 39 playoff series entering this one without sweeping. I don't think it happens here. Take the points and the under.
Game 4: Bulls at Bucks (+5, 188.5)
Start time of 5:30 p.m. on TNT. Now you see why the Bulls wanted the No. 3 seed instead of the No. 4. They knew they could dispatch the Bucks pretty easily instead of having to deal with Washington in the first round, and that looks smart with how the Wizards are dominating the Raptors. Chicago needs to finish this off and get as much rest as possible ahead of facing the Cavs in the most anticipated Eastern Conference series of the playoffs. I presume the Cavs will sweep out Boston on Sunday. Chicago won 113-106 in double overtime in Game 3 on Thursday. Derrick Rose had maybe his best game of the season with 34 points, eight assists and five rebounds in 48 minutes, the most he has played in forever. Jimmy Butler played 53 minutes and had 24 points. Guard Kirk Hinrich played for the first time this series off injury but only six minutes. The Bulls were without top bench guy Nikola Mirotic, and I doubt he plays here. The Bucks missed shots at the end of regulation and first OT to win it. Giannis Antetokounmpo woke up and was very aggressive with 25 points and 12 rebounds. John Henson was great off the bench with 15 points and 14 rebounds. That bench could again be superior with Mirotic out.
Updated series line: none
Key trends: The Bulls are 5-0 ATS in their past five after allowing 100 points or more in their previous game. The Bucks have covered just three of their past 16 after scoring 100 points or more in their previous game. The under is 5-2 in the past seven meetings.
Early lean: I think Rose might be a bit off in this one after playing so many minutes and with less than 48 hours to recover. Take the points.
Game 4: Warriors at Pelicans (+7.5, 205)
This begins at 8 p.m. on ESPN. Young teams generally have to lose first in the playoffs before advancing -- ask Michael Jordan's early Bulls teams. So while New Orleans probably is swept out on Saturday, the Pelicans clearly are a team on the rise. They were dominating the Warriors for three quarters but somehow coughed up a 20-point fourth quarter lead and lost Game 3 123-119 in overtime. Steph Curry went nuts in that fourth quarter, hitting the tying 3-pointer in the final seconds and finishing with 40 points. When he's feeling it, there's nothing better to watch in the NBA. Since the NBA instituted the shot clock, Golden State had been down 20 to start a fourth quarter 358 previous times and never won (but Warriors were 3-3 in the regular season when trailing a game at any point by 20). Davis had 29 points and 15 rebounds but missed a free throw with 9.6 seconds left in regulation that would have given the Pelicans a four-point lead. Curry's amazing 3-pointer followed (YouTube it).
Updated series line: none
Key trends: The Warriors are 0-6 ATS in their past six games. New Orleans is 6-0 ATS in its past six at home. The over has hit in eight of Golden State's past 11 following an ATS loss.
Early lean: I'm curious how the Pelicans respond to blowing that one. I'll say Warriors will finish it out but take the points. Go over.
Game 3: Grizzlies at Trail Blazers (-3, 188.5)
Tip time of 10:30 p.m. on ESPN. This line confuses me. Are oddsmakers not aware that Memphis is 6-0 against the Blazers this season? That the Grizzlies won Game 1 by 14 points and then Game 2 97-82? That Blazers point guard Damian Lillard is a ghastly 10-for-37 in this series? That Mike Conley is outplaying him despite his injured foot? Shoot, Grizzlies backup point guard Beno Udrih is outplaying Lillard. It does appear that Portland will get back starting shooting guard Arron Afflalo for this one. He has missed the first two games but was close to playing Game 2. That should help. He's not star but a solid player. C.J. McCollum started at shooting guard in the opener for Afflalo and had two points in 37 minutes. Allen Crabbe started in Game 2 and had three points in 23 minutes. It's not clear if Blazers reserve center Chris Kaman will play after missing Game 2 with a sprained ankle. Being as it's desperation time, I would guess he does.
Updated series line: Grizzlies -900, Blazers +675.
Key trends: The under is 4-0 in the past four meetings. Memphis is 5-1 in the past six in Portland.
Early lean: Maybe being at home fixes Lillard and having Afflalo helps. I'm still taking the points and going under.
Read more articles by Alan Matthews