NBA Odds: Wednesday, December 30 2015 Opening Line Report and Handicapping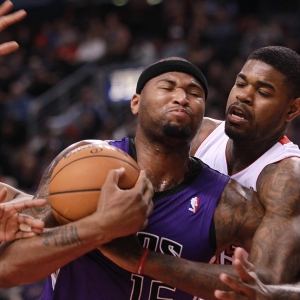 Very plugged-in NBA reporter Howard Beck wrote around Christmas on how the Los Angeles Clippers are the most hated team in the NBA -- not so much by fans as they are incredibly entertaining but inside the league because they are considered complainers and floppers. And one of the main guys mentioned is Blake Griffin. So perhaps there might have been a few golf claps around the Association when it was announced Griffin would miss at least two weeks with a partially torn quad tendon. He was hurt on Christmas against the Lakers. The Clippers score 16 more points per 100 possessions with Griffin on the court this season than off the court and their field goal, 3-point and rebound percentages without Griffin would rank last in the league. He is averaging a team-high 23.2 points this season to go with 8.7 rebounds per game and 5.0 assists.
Clippers at Hornets (TBA)
Los Angeles hasn't missed Griffin yet, winning Saturday in Utah and then Monday in Washington. If you are a Clipper fan and watched that Wizards game then you probably noticed something you don't see often: Chris Paul dunking. In fact, he did it twice. While Josh Smith started for Griffin on Saturday, it was Paul Pierce vs. Washington (Smith didn't even play). Coach Doc Rivers seemed to hint he might go more often with Pierce there as long as Griffin is out. Charlotte won a second straight Monday, 108-98 over the Lakers. Kemba Walker scored 18 of his season-high 38 points in the fourth quarter. The Hornets have had Al Jefferson back the past two games from his suspension/injury, but he has come off the bench while working back into shape.
Key trends: The Clippers are 8-3 against the spread in the past 11 meetings. The "over/under" has gone under in eight of Charlotte's past 11 at home.
Early lean: Presuming TBA because three Hornets are questionable: Nic Batum, Jeremy Lin and former Clipper Spencer Hawes. So wait on them.
Nets at Magic (-7.5, 199)
Brooklyn pulled a 111-105 surprise in Miami on Monday. Wayne Ellington (!?) had 26 points, including seven 3-pointers. The Nets were down 16 points in the third quarter. Orlando beat New Orleans 104-89 on Monday. Nik Vucevic had 28 points and the Magic shot better than 50 percent for a fourth game in a row. The Magic are 12-5 since Nov. 25, the best record in the East during that span. How about Scott Skiles! Orlando won in Brooklyn 105-82 on Dec. 14. The Magic had been 0-6 all-time there. The Nets had won four straight in the series overall.
Key trends: The Nets are 1-5 ATS in the past six meetings. The over is 6-2 in Orlando's past eight after a win.
Early lean: Magic and over.
Lakers at Celtics (-12.5, 206)
I'll be curious how the Celtics honor Kobe Bryant's final game in Beantown since these two used to be such great rivals. Bryant faced Boston twice in the NBA Finals, losing in 2008 and winning in 2010. L.A. enters off a 10-point loss in Charlotte, its fourth straight defeat. Kobe was just 5-for-20 shooting in that one. Boston is off a 100-91 home win over New York on Sunday, its fourth straight victory. Guard Marcus Smart returned and played 13 minutes after missing the previous 18 games with a lower left leg injury. He will no doubt come off the bench for a while.
Key trends: The home team is 5-1 ATS in the past six meetings. The over is 5-2-1 in the past eight.
Early lean: Celtics and over.
Wizards at Raptors (-6, 202.5)
Washington's four-game winning streak ended Monday with a 17-point home loss to the Clippers. The Wizards never led. John Wall had 23 points and 11 assists. Bradley Beal, Nene and Gary Neal were all out injured again. Don't expect any of them here. Toronto lost in Chicago 104-97 on Monday. Jonas Valanciunas had nine points in 20 minutes off the bench after missing 17 games with a broken left hand. He still leads the team with five double-doubles. Toronto won in Washington 84-82 on Nov. 28. Cory Joseph made a 3-pointer at the buzzer. It was Toronto's only lead of the second half. Beal was in that game.
Key trends: The Wizards are 6-0 ATS in the past six meetings. The under is 7-2 in the past nine in Toronto.
Early lean: Raptors and under.
Pacers at Bulls (-3, 201)
Indiana won a second in a row Monday, 93-87 over Atlanta. Monta Ellis led the Pacers with 26 points after being a game-time decision due to illness. Indiana is now 10-0 this season when holding teams under 90 points. Chicago beat the visiting Raptors by seven on Monday. With Doug McDermott out with a knee injury, Tony Snell finally got some minutes and had 22 points, including 16 in the fourth quarter. The teams have split two low-scoring meetings this season, each winning at home.
Key trends: The home team is 9-2 ATS in the past 11 meetings. The under is 7-2 in the previous nine in Chicago.
Early lean: Bulls and under.
Jazz at Timberwolves (TBA)
Utah beat the visiting 76ers 95-91 on Monday without starting forward Derrick Favors (second straight game with back issue). And the Jazz got bad news over the weekend when guard Alec Burks was ruled out indefinitely with a broken leg. He injured it in a fall on Saturday. Burks was averaging a career-high 14.3 points off the bench. That's a third key player to suffer a major injury this season for Utah (Rudy Gobert remains out, Dante Exum will miss season). Minnesota lost a fourth straight Monday, 101-95 in San Antonio. The Wolves are 3-12 after starting the season 8-8. First meeting of the season between these teams.
Key trends: The road team has covered 10 of the past 11 meetings. The under is 5-0 in Utah's past five on Wednesday.
Early lean: Wolves whether Favors plays or not.
Warriors at Mavericks (+8.5, 213.5)
Golden State beat Sacramento 122-103 on Monday for its fifth consecutive win. Steph Curry started the game 0-for-6, perhaps partly because he was guarded by his younger brother in the NBA for the first time, but had 17 straight points to end the second quarter and finished with 23 points, 14 rebounds and 10 assists for his sixth career triple-double. Curry is now tied with Hall of Famer Rick Barry for the fifth-most triple-doubles in Warriors history. Dallas beat Milwaukee 103-93 on Monday for its third straight win. Wesley Mathews had two key 3-pointers late and 22 points. The Mavs never trailed, though. Guard Deron Williams missed his third consecutive game with a strained left hamstring.
Key trends: The road team is 9-4 ATS in the past 13 meetings. The under is 7-3 in the previous 10.
Early lean: Mavericks and over.
Suns at Spurs (-14, 196)
Phoenix lost a fifth in a row Monday, 101-97 to Cleveland. The Suns were without forward Markieff Morris, who was serving the second of a two-game suspension for throwing a towel at embattled Coach Jeff Hornacek during a game against Denver last week. Suns guard Eric Bledsoe was to undergo surgery for his torn meniscus on Tuesday and has been ruled out for the season (more on that Thursday). San Antonio beat Minnesota by six on Monday for its 27th consecutive regular-season home win. Tim Duncan sat with a minor knee injury, and Gregg Popovich was ejected in the second quarter. San Antonio beat visiting Phoenix 98-84 on Nov. 23. Bledsoe missed that game too. So did San Antonio's LaMarcus Aldridge.
Key trends: The underdog is 3-1-1 ATS in the past five. The under has hit in all five.
Early lean: Suns and over.
Nuggets at Trail Blazers (TBA)
This is on NBA TV and should have live betting at sportsbooks. Denver hosted Cleveland on Tuesday night. Portland won in Sacramento 98-94 on Sunday for its second straight victory. McCollum had 35 points, 11 rebounds and nine assists. He's playing point guard right now with Damian Lillard missing four straight games with a foot injury. He's questionable here (why TBA). Denver beat Portland 108-104 in the first meeting on Nov. 9 to snap an eight-game losing streak in the series. Portland is 12-2 at home against Denver since the start of the 2008-09 season.
Key trends: The underdog is 4-0 ATS in the past four meetings. The over is 4-1 in the previous five.
Early lean: Blazers whether Lillard plays or not.
76ers at Kings (TBA)
Sacramento may not have star center DeMarcus Cousins here. Kings GM Vlade Divac says he expects Cousins to get a suspension for how he reacted to being ejected in Monday's loss to Golden State. I saw highlights and it didn't seem like Cousins did enough to warrant a suspension, but we shall see. Philly followed its first road win of the season Saturday in Phoenix with a 95-91 loss in Utah on Monday. Sixers rookie center Jahlil Okafor missed his second consecutive game with knee soreness. He's questionable.
Key trends: Philadelphia has covered seven straight in Sacramento. The under is 7-1 in the Kings' past eight at home.
Early lean: I like Philly to cover whatever number if Cousins sits out.
Read more articles by Alan Matthews