NCAA Football Betting: Fading the Top 25 Weekly Free Picks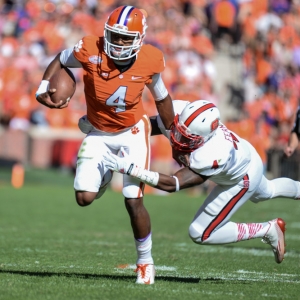 It's time for the first edition of the Fading the Top 25 Weekly Free Picks report. This is something we started last year. Thanks to solid interest and some interesting findings, we wanted to keep this one going again this season. This will be a season preview article with some ideas of what we are trying to get out of this report as well as some thoughts on what teams in the preseason Top 25 might be good to fade throughout the course of the season.
The goal of this article is to track how teams in the weekly Top 25 do against the spread. In the national media, the only thing that is talked about is the straight up result. We're here to look a little deeper than that and figure out how the top-ranked teams do at the betting window. In addition, in this weekly article I'll be taking a look at which Top 25 teams I think are best to fade that particular week.
First, let's take a look at how things finished last season. Note that these results are from the regular season only and do not include postseason games. The Top 25 overall covered the number 144 times (48.3%) and failed to cover 151 times (50.7%) while pushing 3 times (1%). The Fade the Top 25 Selections final tally from last year was 25 wins and 22 losses for a profit of $80. Each pick is assumed to be a $100 bet with the juice (assuming a standard -110 juice) accounted for as well, so bettors have a fully accurate idea of how the picks have done.
The Associated Press Top 25 Poll will be the one used for this article. The AP Top 25 preseason poll has a lot of familiar faces. Ohio State is the unanimous No. 1 and TCU is ranked No. 2 by a comfortable margin. Tennessee is in the Top 25 for the first time in a long time as the Volunteers look poised for a breakout season under Butch Jones. Mississippi State is a notable exception from the list after being ranked No. 1 for four weeks last season.
Teams to Fade- Preseason Ideas
Clemson Tigers- I love Deshaun Watson, but Clemson seems a little bit overvalued going into the season based on their massive losses on the defensive side of the ball. This defense was stacked with elite talent last year, but only two starters return. Stephone Anthony, Grady Jarrett, Vic Beasley, and Robert Smith are among the losses. Ranked at No. 12 in the preseason, I assume we'll see Clemson laying some big numbers, and with a defense that will give up a lot more than last season I expect they'll fail to cover the number more often than not.
Oregon Ducks- Hear me out on this one. Oregon is 78-50-2 ATS in the last 10 years overall, but this is a big transition season for the Ducks. Marcus Mariota is gone and Mark Helfrich isn't going to be able to win solely with Chip Kelly's talent anymore. Vernon Adams comes in with some really high expectations, but this is a big jump for him. Thomas Tyner is out for the year with an injury, and that definitely hurts their depth at running back. Oregon showed weakness last year against teams that can run the ball effectively. The Pac-12 is a good league, and Oregon will likely be overvalued.
Arizona Wildcats- I love what Rich Rodriguez has been able to do at Arizona, but I see some problems for them this year. They are weak in the trenches, and that could be tough to overcome in the Pac-12. Additionally, their schedule is simply ridiculous. They play 12 consecutive games and don't have a bye week all year long. Why would anyone do that? Arizona finishes with games at USC, home against Utah, and at Arizona State. There's a good chance the team will be worn out for those final three contests.
Boise State- Boise State returns 17 starters from last year, but they do lose their two best players on offense in quarterback Grant Hedrick and running back Jay Ajayi. The Broncos are still the best team in the Mountain West, but they are always asked to cover some big numbers here. With Ryan Finley having virtually no experience, I can't see the Broncos offense being anything close to what it was last season.
Oklahoma- Lincoln Riley is the new offensive coordinator in Oklahoma. Baker Mayfield is the new starting quarterback. It makes sense that Mayfield got the nod at quarterback thanks to his roots in the "Air Raid" offense at Texas Tech with Riley. Often it can take some time for teams to get accustomed to this big of a change in schemes. Does Oklahoma really have the players in place to be success in this offense? How will Samaje Perine be utilized? There are a lot of questions here.
We'll be back next week with the first selections. Football is almost here!
Read more articles by Aaron Smith