2015 New York Islanders Predictions and Futures Odds with Betting Picks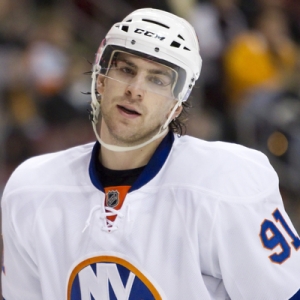 It's a time of significant change for the Islanders. After a long history in Uniondale, including a stretch when they were one of the best teams to ever play the sport, the team is leaving the decrepit Nassau Coliseum for the shiny Barclays Center in Brooklyn. It's a huge upgrade in so many ways, but it will still take a while to get used to the Islanders playing elsewhere. The move to Brooklyn has been a disaster on the court for the Nets, but can the Islanders fare better with their change of scenery? Their management isn't nearly as incompetent, so that's a good start.
Free $60 in Member NHL Picks No Obligation Click Here
The last year in Uniondale was a strong one. They broke the 100-point barrier for the first time in more than a generation, John Tavares took another step up the superstar ladder, savvy moves right before the season really paid off, and the young talent blossomed. The playoffs didn't go as planned - they lost to the Capitals in seven games in a truly brilliant series - but there was a lot to like.
New York Islanders Offseason Moves


It is amazing how little the team did to change in this offseason - like the Lightning they liked what they had so much that they let it ride. Their four offensive lines from last year are all back. So are the top 10 defenseman from last year. The only change of note was in the nets - Jaroslav Halak will now be backed up by Thomas Greiss instead of Michal Neuvirth, who they had added at the trade deadline last year. That's probably an upgrade, and Greiss is relatively easy to trust in that role - especially since a healthy Halak will bear most of the burden through the season, anyway. Beyond that, Garth Snow is just letting his plan - which has seen him be aggressive the last couple of years - play out. It's a risky move but one that is hard to argue with.

New York Islanders NHL Outlook

The upside is huge here. John Tavares is capable of winning the Hart Trophy, and he should have Kyle Okposo healthy on his wing all year. Behind him the team is deep and talented. The defense is solid, and Halak is more than capable. It's a nice package and a team that could be very dangerous in the East. There are challenges, though. For starters, the Metropolitan Division is just brutally tough, so the margin for error is very small. Losing Tavares or Halak - or Johnny Boychuk or Nick Leddy for that matter - for a significant amount of time would also be tough to overcome. When a team is young at the core, you are also counting on players to keep progressing forward - something that doesn't always happen. If this team was a stock, then, it would be one with high upside but a lot of volatility. That's the kind of stock you like to invest in, but you want to have measures in place to protect your investment if things go haywire.

New York Islanders Schedule

The Islanders sure don't get to ease into the season. They open with a home-and-home on back-to-back nights against the defending champs from Chicago. It will be a very good measuring stick of just where the team is at to start the season. Nine of their first 13 games are at home, so we will also get a good early sense of just how much they like playing amidst all the hipsters in Brooklyn.

New York Islanders NHL Futures Odds (from Bovada)


The Islanders are the 13th choice to win the Stanley Cup at +220. They are tied with Boston as the sixth choice to win the Eastern Conference at +1000. They are the fourth choice to win their brutal Metropolitan Division at +475, behind the Rangers, Penguins and, by a narrow margin, the Capitals.

2015-16 New York Islanders Predictions


I like John Tavares as much as almost any player in the league, and I am optimistic about this team. The Eastern Conference is very tough to call because so many teams come in at relatively the same level. The prices for this team offer real value, though - particularly the +220 price to win the Cup. They need a good deal of luck, but they are definitely a playoff team - and one that no one will be excited about playing once they get there. If I have a concern above all others it is Halak. He is a solid player and has the ability to be among the elites in the league. He has not typically gotten better as the season has progressed, though, and I worry about him running out of gas again.
Doc's Sports is offering free NHL picks to new clients. You can get free hockey picks by clicking the following link. No credit card is needed and there is no salesman to deal with. You try the picks, and if you like what we offer then you will be able to purchase one of our fairly-priced hockey betting packages. Click here to get your $60 in free picks. Also, for a limited time get three hockey handicappers for the price of one! Click here for our 3-for-1 NHL picks offer.
Read more articles by Trevor Whenham