NFL/NCAA Football Combo Odds: Ohio State vs. Seattle Seahawks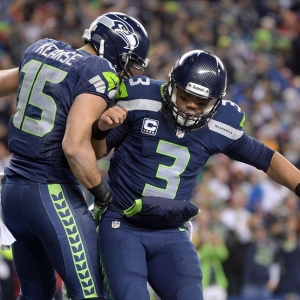 Of the eight NCAA & NFL most wins props on 5Dimes, this one between Ohio State and Seattle is easily the most interesting in my mind since they are the two dominant teams in their sport right now. The Seahawks are -120 favorites to have more wins than the Buckeyes (-110) this season. Remember, only regular-season games for OSU.
With all due respect to Nick Saban or Bill Belichick, I might have to call Ohio State's Urban Meyer the best football coach on the planet currently. The guy wins two national titles at Florida, takes a year sabbatical for health reasons (although many UF fans are skeptical of that), goes unbeaten in his first season at Ohio State (Buckeyes were not eligible for a bowl that year in the wake of the Jim Tressel/Terrelle Pryor mess) and then wins a National Championship in Year 3. That's impressive. And with the way Meyer is recruiting, this team is going to be a preseason Top 5, like Alabama is, for years.
It's perhaps easy to forget that Ohio State only snuck into last year's College Football Playoff in the final week of the rankings. The Buckeyes were No. 5 heading into the Big Ten Championship Game, with TCU at No. 3 and Baylor at No. 6. OSU faced Wisconsin for the Big Ten title with third-string quarterback Cardale Jones, and we all know what happened next. They slaughtered the Badgers, who were actually slight favorites, then upset No. 1 Alabama in the Sugar Bowl and No. 2 Oregon in the National Championship Game. Jones became a cult hero in Columbus and actually pondered going pro as NFL scouts were drooling over his size and arm strength even though he had started only those three games in his career.
Jones decided to return, and that might not be a wise choice. He is still battling J.T. Barrett, who set several school and Big Ten records last season as the starter until getting hurt in the Michigan game. Meyer says he won't name his starter until the Labor Day night game at Virginia Tech. From what I read out of Columbus, Barrett is the likely guy. After all, he did beat out Jones once already to replace an injured Braxton Miller, and Barrett was spectacular before going down with that broken ankle against the Wolverines. I was surprised that Miller didn't transfer for his final collegiate season to play QB somewhere else. Instead, he has opted to move to wide receiver/H-back. Expect Meyer to use Miller like he used to with Percy Harvin at Florida. Miller wasn't a realistic QB prospect in the NFL, so the move makes sense for him.
So Ohio State brings back two spectacular quarterbacks, a two-time Big Ten Offensive Player of the year in Miller who only adds another dimension, perhaps the nation's best running back in Ezekiel Elliott (he's just behind Trevone Boykin on 5Dimes Heisman odds at +925), and probably the No. 1 overall pick in next year's draft, defensive end Joey Bosa. In all honesty, OSU was a year ahead of schedule in winning the national title in 2014. This team is absolutely loaded and is the first unanimous preseason No. 1 in the Associated Press Top 25.
As for the schedule, the Buckeyes aren't projected to be underdogs all season and in fact might be double-digit favorites in every regular-season game. They are 11-point favorites for the opener at Virginia Tech even though the Hokies won in Columbus early last season and that OSU is without four suspended players, including Bosa.
I will say Ohio State's schedule is pretty weak with only one preseason ranked team on it. No Wisconsin or Nebraska from the Big Ten West. So realistically, the only potential losses are Virginia Tech, home to No. 5 Michigan State on Nov. 21 and at Michigan on Nov. 28 in the first Meyer vs. Jim Harbaugh showdown. That OSU is a 15-0 national champion is +475 and OSU with any other record is -650. Ohio State has an "over/under" wins total of 11, with the under a -115 favorite.
The Seahawks look to become the first team in the salary-cap era to reach three straight Super Bowls. And they should be going for a threepeat if not for the worst call in NFL history, which of course led to that New England interception on its own goal line in the final minute. How do you not give that ball to Marshawn Lynch again? I don't care what Pete Carroll says, that was an absolute choke job by the coaching staff. Maybe that loss rallies the Seahawks to get back to the Super Bowl. Maybe it's so crushing that this current group doesn't recover from it.
This season might be it for Seattle to be a dominant NFL force because the salary cap is starting to affect the club, especially after extending QB Russell Wilson at big bucks this offseason. Star safety Kam Chancellor already is holding out even though he has three years left on his contract. He says he will sit all season without an extension, but the Seahawks can't give one to a guy with three years left. Chancellor will return eventually but could miss a few regular-season games. The only other big player news was the trade of center Max Unger for Saints Pro Bowl tight end Jimmy Graham. If there was one problem on the Seahawks, it was a lack of strong pass-catchers for Wilson. Problem solved.
Seattle's schedule ranks as the fourth-toughest in the NFL this season with an opponents' combined winning percentage of .559. There are nine games against 2014 playoff clubs: Week 2 at Green Bay, Week 4 vs. Detroit, Week 5 at Cincinnati, Week 6 vs. Carolina, Week 8 at Dallas, Week 10 vs. Arizona, Week 12 vs. Pittsburgh, Week 14 at Baltimore, and Week 16 at Arizona. That looks incredibly hard on paper. But the Packers are weakened with the loss of Jordy Nelson. Dallas won't be as good without DeMarco Murray. And the Cardinals vastly overachieved last year. Seattle does play rising teams St. Louis (twice) and Minnesota too, however.
On 5Dimes, Seattle's wins totals are: 12.5 (over +268, under -328), 12 (+206/-246), 11.5 (+121/-141), 11 (-130/+110) and 10.5 (-189/+164). Ohio State's ceiling is definitely 12 with a floor of 10. Seattle's ceiling is probably 13 with a floor of 10. I actually think they both win 11 games. But I'll go Seahawks on this prop.
Read more articles by Alan Matthews