NFL Survivor Pool Picks and Advice: Week 1
by Matt Severance - 9/9/2015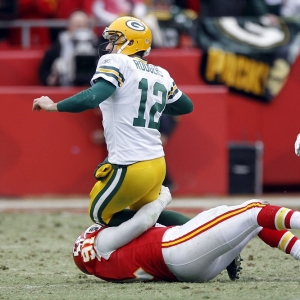 Welcome back!
After seven long months without pro football that mattered, the NFL returns on Thursday night with the annual Kickoff Game. And I'm willing to bet that the Steelers-Patriots matchup in Foxboro sets NBC ratings records for the Kickoff Game with all the B.S. this offseason surrounding "Deflategate" and the fact that Tom Brady will play vs. Pittsburgh.
This is, I believe, my sixth year doing these weekly Survivor Pool columns. I always appreciate any feedback, even the ones that tell me to "go **** yourself!" because you took my top recommendation and were knocked out. Hey, if there was such a thing as a lock every week in the NFL, I'd be on a beach in Costa Rica with Gabriela Sabatini or a lookalike.
The format is pretty much the same this season. I'll give you one top choice per week, but there could be repeat teams in that spot over the season. I've noticed that many of you who do respond don't necessarily take my top pick but more so find good reasons, as I do, to stay away from certain teams. Hey, whatever works. I will also give some teams in which I am quite comfortable, some games where it's too close to call and probably wise to stay away, one upset of the week, and, finally, some matchups you should just ignore because it's two bad teams (expect to see Titans, Jags, Browns, etc., often in that spot.) and ugly football.
Week 1 is always the toughest for a Survivor Pool because we always see expected contenders flop in a season and expected below-average clubs make the playoffs. And in this year's Week 1, there isn't a single favorite at more than -7.
Note that the first team listed is always the pick. And this will always be posted, barring something unforeseen, on Wednesdays. My advice stands, however: No reason to make your selection until Sunday about noon ET so you get the final injury updates. I often change my mind by then.
Top Choice Of Week
Green Bay at Chicago: Not sure I've ever recommended a road team in Week 1 as my No. 1 recommendation. But it's just such an evenly-matched week and the Packers own the Bears -- they destroyed them twice in 2014. I'm a big Chicago fan, but I expect maybe five wins this season. Offensive line stinks. Defense stinks. The Bears have no receivers with Alshon Jeffery gimping around. He may or may not play. When is the 2016 draft? I might be a tad apprehensive if Packers receiver Randall Cobb doesn't play, considering Jordy Nelson is out for the season, but it likely wouldn't matter.
Pretty Confident
New England vs. Pittsburgh (Thursday): Obviously having Brady in there changes things, and Pittsburgh is without three key offensive players: running back Le'Veon Bell, receiver Martavis Bryant (both suspended multiple games) and Pro Bowl center Maurkice Pouncey (out for first half of season due to injury). This should be a shootout -- think Brady wants to a have a huge game after his reputation was stained all offseason? -- but Pats will win.
Miami at Washington: Could Redskins starting QB Kirk Cousins have one of his rare big games and pull the upset? It's possible, but more likely he has one of his three-interception games and the dysfunctional Redskins lose big.
Seattle at St. Louis: If the Rams had a healthy Tre Mason (he's a game-time call) and Todd Gurley (for sure out) at running back, this might be my upset of the week. But I don't see how St. Louis can win with its third-string tailback and breaking in new QB Nick Foles at the same time.
Cincinnati at Oakland: Possible trap game, but Bengals are clearly the better team. Jeremy Hill is going to be a monster this season.
Could Go Either Way
Houston vs. Kansas City: I'll follow the Texans for the first few weeks just because they were pretty entertaining on "Hard Knocks," although most of the guys who were featured on the show were released by the team. This game is basically a pick'em, but I lean Houston, despite no Arian Foster, simply for being at home.
Buffalo vs. Indianapolis: I was tempted to make this my upset of the week. The Bills defense is terrific and could give Andrew Luck fits. Maybe if this was later in the year in wintry conditions. But right now, I can't see Tyrod Taylor beating Andrew Luck. Buffalo debut of Coach Rex Ryan and running back LeSean McCoy, and Colts debut of WR Andre Johnson and RB Frank Gore. Indy might lead the NFL in scoring this season.
New Orleans at Arizona: Just about every projection I find has Arizona taking a monster step back in 2015. And I tend to agree. Also think the Saints will rebound from last year's losing record and win the awful NFC South even after trading Jimmy Graham and Kenny Stills.
Detroit at San Diego: The Lions are hard to trust on the road, and their defense isn't going to be near as good after losing Ndamukong Suh. I liked Chargers RB Melvin Gordon as my preseason NFL Offensive Rookie of the Year, but he struggled some behind an iffy offensive line in the preseason, and the Bolts say they will go running back-by-committee. Also keep in mind that Chargers star tight end Antonio Gates is suspended the first four games.
Tampa Bay vs. Tennessee: If this wasn't Jameis Winston vs. Marcus Mariota, this would be in the "Why Bother?" category. Mariota looked better by most accounts in camp and the preseason than Winston did.
Denver vs. Baltimore: Should be best game of Sunday and a possible playoff preview. Broncos head coaching debut of Gary Kubiak, who was the coordinator of Baltimore's offense last year. So that could be an advantage for Denver. Well, that and the Ravens replaced Kubiak with former Bears coach Marc Trestman, whom I despise. So perhaps I'm biased.
Dallas vs. NY Giants: New York likely without two of its best players in wide receiver Victor Cruz and defensive end Jason "can you help me find my finger" Pierre-Paul. That's enough to swing my pick the Cowboys' way, even though they appear to have major issues at running back post-DeMarco Murray.
Philadelphia at Atlanta (Monday): I'm a believer in Chip Kelly, who pretty much re-made this team in the offseason. Very interested to see how new quarterback Sam Bradford performs in that offense. Ditto Murray.
San Francisco vs. Minnesota (also Monday): Lot of people are high on the Vikings, and they are actually road favorites here. They do have a good defense and the return of Adrian Peterson. The Niners lost about half their starting defense to retirement/arrest this offseason. They will finish last in the NFC West. But I still say they give Bridgewater problems and win.
Upset Of Week
Jacksonville vs. Carolina: The Panthers have major issues on offense. Top receiver Kelvin Benjamin is gone for the season. Their starting wideouts for the opener are likely to be Philly Brown and Ted Ginn, Jr. And here I thought the Bears had it rough. Carolina's running back and offensive line situations also are problematic. Stud defensive tackle Star Lotulelei is hurt. Cam Newton is going to have to be super-human this year for this team to win a third straight NFC South title. The Jaguars are getting there. Rookie T.J. Yeldon will start at running back, and Blake Bortles has some interesting young receiver talent.
Why Bother?
NY Jets vs. Cleveland: Ryan Fitzpatrick vs. Josh McCown at quarterback, respectively. The Oregon-Michigan State game on Saturday night has two better QBs. The starting running backs? Chris Ivory and Isaiah Crowell. Sad. Both defenses should be pretty good, though. Scoreless tie anyone? Loser is early leader for the No. 1 overall pick in 2016.
Want free NFL picks? Doc's has you covered. New clients can take advantage of this great offer of $60 in free Doc's Sports members' picks for any handicapper on Doc's Advisory Board. Just check out these guys' pages and see what great work they have done making money for themselves and their clients over the years. Click here for this exclusive $60 picks offer. Also, get three handicappers for the price of one when you sign up for a full-season football package! Click Here for details.