NFL Survivor Pool Picks and Advice: Week 13
by Matt Severance - 12/2/2015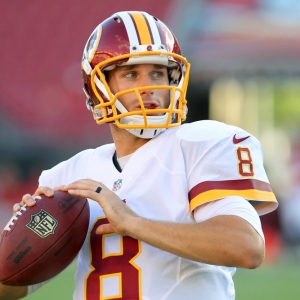 Following Week 13, every NFL team will have played 12 games so we will be in the final quarter of the regular season. Already! That means we are getting close to "tank" mode for some teams.
Somewhat surprisingly, there have been no playoff spots clinched yet. That could change on Sunday as the Patriots can win the AFC East with a win and Jets loss, the unbeaten Panthers can clinch the NFC South with a win, and the Bengals can clinch at least a wild-card spot with a win and some help. There are 21 teams either in the postseason currently or within one game of a playoff spot.
In Week 12, the only shocker was Chicago winning at Green Bay, but no question the Packers had long been used in your Survivor Pool by now. I was torn in that game as a life-long Bears fan. I wanted them to ruin Brett Favre Night at Lambeau but also know for a fact they can't make the playoffs so might as well lose out. I'll happily take that victory, however. Some might say Denver beating New England was an upset, but I picked it that way. My official upset of the week was Minnesota winning in Atlanta, and that was an easy Vikings win. My top recommendation was Cincinnati, and the Bengals routed the visiting Rams.
Here are my Week 13 picks, with the first team listed as the choice.
Top Choice Of Week
Washington vs. Dallas (Monday): I generally don't like locking into Monday games as my top choice for various reasons. And I'm pondering the Giants over the Jets here. But I believe the Cowboys will be totally deflated off that Thanksgiving blowout loss to Carolina and the season-ending injury to Tony Romo. Dallas might not win again under Matt Cassel, which frankly would be the best thing for the franchise in terms of the draft. Maybe Jay Gruden actually knows what he's doing in Washington, which is now in first in the NFC East. Can't say I saw that coming. The best QB in that division right now? I give you Washington's Kirk Cousins (go Sparty!).
Pretty Confident
NY Giants vs. NY Jets: As noted above, this is my Plan B before my choice is due. But obviously the Giants won't have quite the home-field advantage that Washington will since I'm assuming Sunday's game will be at least 40 percent Jets fans even though it's technically a road game for them. Like to see Darrelle Revis have to guard Odell Beckham, but Revis might sit again due to a concussion. Revis frankly isn't what he used to be, either.
Cincinnati at Cleveland: Not sure I've seen an NFL team ever lose a game like the Browns did on Monday against Baltimore. So Browns-like. They lost QB Josh McCown for the season in that defeat, and Coach Mike Pettine has chosen to go with Austin Davis of Johnny Manziel. Whatever. That franchise is such a joke.
Pittsburgh vs. Indianapolis: Matt Hasselbeck has vastly outplayed Andrew Luck this season, and the 40-year-old is 4-0 as a starter. That unbeaten run ends Sunday as long as Ben Roethlisberger is cleared to play from his concussion, and that's expected as he practiced Wednesday. Big Ben had the game of his career vs. Indy last year in a rout.
New England vs. Philadelphia: Remember last season when reporters would ask Kentucky coach John Calipari if a loss would actually be good for his basketball team? I think it might have helped to lose a close game as then UK did in the Final Four against Wisconsin. Well, I think the Patriots losing was a good thing for them. Forget about 16-0 now. Just get the AFC's top seed and rest your guys. Pats coach Bill Belichick used to pick the brain of Philly's Chip Kelly while he was at Oregon. My minor worries here are that the Eagles are desperate and the Pats likely without Rob Gronkowski.
Could Go Either Way
Green Bay at Detroit (Thursday): The Lions pulled the stunner of the year at Lambeau in Week 10, their first win there since 1991. Now they go for the first season sweep of the Pack since that year. Restore the Roar! Rare back-to-back Thursday games for both. Aaron Rodgers generally kills the Lions (10-3 as starter), so I have to lean Green Bay despite it losing four of five.
Arizona at St. Louis: The Rams have the running game and defense to pull this upset. But they are laughable at quarterback, whether it's Case Keenum or Nick Foles or Dieter Brock. This franchise needs to trade for Robert Griffin III this offseason, which would be ironic considering the Rams could have taken him a few years ago but dealt that pick to Washington.
Tampa Bay vs. Atlanta: Let's call this the "Strip Club Bowl." If you have been to both Tampa and Atlanta, you know what I'm talking about (not that I frequent them). Matt Ryan has gone in the toilet and thus the Falcons have been exposed. Bucs are going the opposite direction and so is Jameis Winston.
Seattle at Minnesota: Potential playoff preview -- if the postseason started today, the NFC North-leading Vikings would host the sixth-seeded Seahawks in the wild-card round. Seahawks begin life without tight end Jimmy Graham, who is out for season.
Buffalo vs. Houston: Game with huge wild-card implications as I still expect Indianapolis to win the AFC South, thus leaving only a wild-card chance for the Texans. I have a feeling Buffalo will double-team Houston's J.J. Watt, the NFL sacks leader. Last year when these teams met, all Watt did was have five tackles, nine quarterback hits and an 80-yard interception returned for a touchdown.
Tennessee vs. Jacksonville: Second game in three weeks between these two. Jags won a close, ugly game in Week 11 at home, and I expect a similar result for the Titans in Nashville.
Chicago vs. San Francisco: The Bears are favored! Super Bowl! OK, not quite. But, yeah, this is a game that Chicago should win against a team quarterbacked by Blaine Gabbert and playing at 10 a.m. Pacific time.
Oakland vs. Kansas City: Another game with big wild-card implications since Denver will win the AFC West again. Raiders are better on offense, Chiefs are on defense. I'll lean the home side.
Denver at San Diego: This was nearly my upset of the week. The Chargers showed some life last week in winning in Jacksonville. But mainly I believe this is a huge letdown game for Denver after knocking off the unbeaten Patriots in the snow on Sunday night. Brock Osweiler comes back to earth for one Sunday but Broncos escape because of their defense.
Upset Of Week
New Orleans vs. Carolina: Yep, I'm going there. Then again, I thought Carolina might lose in Dallas on Thanksgiving. The Saints have to have this to save their season (probably too late), and I expect a big day from Drew Brees after the Saints failed to score a touchdown under him for the first time ever in Week 12. New Orleans played well in a close loss in Charlotte in Week 3 and didn't even have Brees then.
Why Bother?
Miami vs. Baltimore: I certainly thought this would have playoff ramifications when looking at the schedules this summer. Instead, it's two vastly disappointing 4-7 teams. Short week for the injury-ravaged Ravens, so that's why I lean Miami despite back-to-back double-digit losses for the Fins.
Doc's Sports has free picks to give away, and they want you to have them. These are the same picks that members pay for, but you can have $60 worth absolutely free. No obligation. You don't even need a credit card to sign up. Just click here to get started.