NFL Survivor Pool Picks and Advice: Week 15
by Matt Severance - 12/16/2015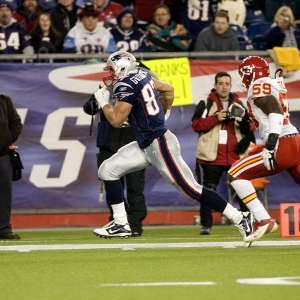 It's now clearly time to separate those teams that have mentally checked out on the rest of the season vs. those with something to play for. With three games to go in the regular season, there are 17 teams either in or within one game of a playoff spot. So you should be pretty safe backing one of those in your Survivor Pool if it's facing a team that already has players making tee times in Florida, Arizona and California for early January.
Just be aware of those losing teams that might have individual players still with something to play for. Cleveland, for example. The Browns are toast and would be better off losing the rest of the way for draft purposes, but young QB Johnny Manziel is playing for his future. So maybe he can win a game by himself (doubtful). Ditto someone like the Titans with Marcus Mariota, who has proven he can win a game by himself. On the flip side, you have a team like a Detroit or Miami that's eliminated, full of veterans with job security and playing for lame-duck coaches. Those guys aren't going to care.
My top recommendation in Week 14 was Kansas City over San Diego -- another team that has nothing to care about the rest of the way -- and the Chiefs won their seventh straight game, albeit closer than expected. The only big upset last week was Oakland winning in Denver. My upset pick was Houston over New England, but the Pats got Rob Gronkowski back, and they are simply a different team when he's in there.
Here are my Week 15 picks, with the first team listed as the choice.
Top Choice Of Week
New England vs. Tennessee: An obvious no-brainer in New England's regular-season home finale, but certainly the Patriots have been used by now. I would be concerned about the Pats going forward, however, after losing LeGarrette Blount to a season-ending injury.
Pretty Confident
Seattle vs. Cleveland: I say the Seahawks, not the Cardinals or Panthers, are the team to beat in the NFC right now. Do you realize that Russell Wilson has thrown for at least three touchdowns with no interceptions in four straight games? That ties an NFL record. He probably breaks it here. Russell Wilson!
Minnesota vs. Chicago: Sadly, the last outdoor game between these two -- NFC North games should be played in wintry conditions this time of year -- in Minneapolis with the Vikings moving into their cozy new stadium next year. Vikes have all the motivation here plus a few extra days to prepare off that crushing ending last Thursday in Arizona. Vikings probably will be my selection this week since Patriots, Seahawks and Chiefs aren't available.
Jacksonville vs. Atlanta: Might have seemed laughable when the Falcons started 5-0, but the futures of the Jaguars is much brighter than that of Atlanta's right now. With so many QB injury questions in Houston and Indianapolis, the Jags still might win the AFC South if they win out. This is their home finale and they won't lose it.
Kansas City at Baltimore: Ravens have totally quit and can barely field a team these days due to injuries -- they signed QB Ryan Mallett this week they were so desperate. He's not expected to play this week and it's not clear if Matt Schaub returns from injury of it if will be Jimmy Clausen. Won't matter.
Could Go Either Way
St. Louis vs. Tampa Bay (Thursday): I would put the Rams in the dead-men walking category and with a lame-duck coach. So why do I think they win here? That defense is going to give Jameis Winston problems, and it might be the last game ever in St. Louis if the team moves to Los Angeles as ownership wants. That should be motivation enough to care.
NY Jets at Dallas (Saturday): First of two Saturday games this season with the college football regular season over and the good bowls not really starting until a few days after Christmas. If this were in New York, the Jets would be my top pick. But I don't totally trust them on the road, even against Matt Cassel.
Pittsburgh vs. Denver: The league's best offense against its best defense. I'll take Ben Roethlisberger over a suddenly mortal Brock Osweiler. I believe this is Osweiler's final start with Peyton Manning returning to practice this week.
Washington vs. Buffalo: Very similar teams as each need a win for playoff help. Redskins generally have been pretty good at home. The Bills have lost three straight on the road.
Green Bay at Oakland: Are the Packers fixed off their rout last week of Dallas or was that just the Cowboys being lousy? The offense did seem to flow better with head coach Mike McCarthy taking back offensive play-calls. Raiders have to have this to keep their slim wild-card hopes alive.
Cincinnati at San Francisco: Do you realize a quarterback from the University of Alabama hasn't won an NFL game as a starter since 1987? It's on Bengals backup A.J. McCarron to break that drought here with Andy Dalton out due to a thumb injury. The last Tide QB to do so was Jeff Rutledge, who won at Philadelphia on Nov. 15 that year. Since then, five Alabama quarterbacks have been drafted without winning a start, with McCarron the fifth.
Philadelphia vs. Arizona: Cardinals get a break here in that they don't have to play in the dreaded 10 a.m. Pacific time slot as this was flexed to the Sunday night game. But Eagles are more desperate. Plus I don't like the warm-weather/dome Cardinals playing in the cold.
Upset Of Week
NY Giants vs. Carolina: The Giants seem to enjoying playing unbeaten teams. They also need this much more; Carolina really doesn't all that much with a first-round bye clinched, although the top seed in the NFC isn't quite yet. Panthers also could be down two key offensive players in tight end Greg Olsen and running back Jonathan Stewart.
Why Bother?
Indianapolis vs. Houston: OK, I know this is for first place in the AFC South. But it looks like the quarterback matchup will be Charlie Whitehurst (although Andrew Luck did practice Wednesday for the first time since early November) vs. T.J. Yates. Uh, I'll pass. They both started the season on other teams' rosters.
San Diego vs. Miami: Draft position. Short week for the Fins, the only reason I'll lean San Diego. That and it's possibly the Chargers' final-ever game in San Diego with that franchise also in the L.A. mix.
New Orleans vs. Detroit (Monday): Saints have won last three at home vs. Detroit. But really both teams will be going through the motions.
Great offer! Doc's Sports has been a leader in NFL handicapping for more than four decades, and we are offering new clients $60 in free picks for any NFL handicapper on Doc's Sports Web site. You cannot afford to miss out on this great offer - click here. Also, get three handicappers for the price of one when you sign up for a full-season football package! Click Here for details.