NFL Survivor Pool Picks and Advice: Week 16
by Matt Severance - 12/24/2015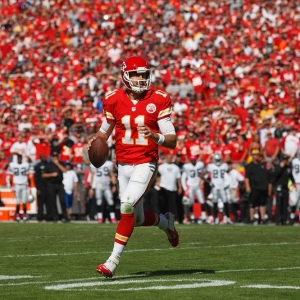 Really a rather boring NFL Week 15 in terms of upsets as nearly every favorite won -- no earth-shaking results that should have affected any of those Survivor Pools still going. Do you consider Atlanta winning at Jacksonville an upset? The Falcons were slight underdogs. How about Houston winning at Indianapolis? I know the Las Vegas sportsbooks took a beating because so many favorites covered. The general public backs favorites and obviously so do Survivor Pool competitors.
The two easy calls last week were in picking New England (over Tennessee) and Seattle (over Cleveland) and those two won easily but surely had to have been used in your competition by Week 15. My pick was Minnesota over Chicago and the Vikings dominated my Bears. And thanks for that! Better draft pick.
My upset choice of Week 15 was the New York Giants over unbeaten Carolina and it nearly happened as Eli Manning led a huge comeback, but Cam Newton cemented his first NFL MVP Award with a last-minute field goal drive for the 38-35 win.
You don't have to worry about any coaches on playoff teams resting guys this week as nothing has been 100 percent locked down yet. Next week will be a different story. This is also the final week of games on Thursday and Monday.
Here are my Week 16 picks, with the first team listed as the choice.
Top Choice Of Week
Kansas City vs. Cleveland: Did you know the Chiefs are the first team in league history to win eight straight games immediately after a five-game skid? This might be a bit of a trap game in other situations, but Kansas City still is in a fight for its life for a playoff spot and also has a shot at the AFC West title. The Browns are, well, the Browns.
Pretty Confident
Detroit vs. San Francisco: Are the Lions closing strong enough to save Coach Jim Caldwell's job? They have won four of their past six to essentially ruin any shot at a Top-5 draft pick. I still say this is Caldwell's final home game as Lions coach. Might be Calvin Johnson's final home game as a Lion, too. Niners have flat-lined and this is one of those 10 a.m. Pacific time starts. I have used the Chiefs already so either this will be my top pick or ...
Oakland vs. San Diego (Thursday): ... this will be. I fully expect this to be the final NFL game in Oakland, with the team likely to move to Los Angeles next year. Maybe with these Chargers. The Bolts showed some fire in last week's home finale win over Miami but they won't care a lick about this game, especially on a short turnaround. I just get a little nervous making a Thursday team my top pick because those really short weeks can lead to some crazy football.
Houston at Tennessee: Downgrade this one category if Houston starting quarterback Brian Hoyer can't return from a concussion and play. If not, it will be Brandon Weeden vs. Zach Mettenberger with the Titans' Marcus Mariota out. Houston could clinch the AFC South with a win.
Carolina at Atlanta: This has the potential for a trap game. The Cats hung on for dear life last week in the Meadowlands and now they can taste that No. 1 seed and the perfect record. If Carolina had already wrapped up the top seed, this would terrify me as a Panthers backer. But they haven't yet so they should go all out.
Pittsburgh at Baltimore: I am not a Steelers fan in the least, but they are so fun to watch while on offense. This won't be close. Ravens might start Ryan Mallett on Sunday. Good luck with that.
Seattle vs. St. Louis: Russell Wilson is the first quarterback in NFL history -- history! -- with five straight games of at least three touchdown passes and no interceptions. Who would have thought Russell Wilson would be deciding fantasy football playoffs everywhere? Seahawks will get payback here for a Week 1 loss.
Could Go Either Way
Philadelphia vs. Washington (Saturday): Arguably the most important game of the week as Washington can win the NFC East with a victory. A loss opens it up to the Eagles and Giants as well. I'm rooting for a loss because I want some chaos in Week 17. And the Skins haven't been good on the road, other than (naturally) winning in Chicago.
Miami vs. Indianapolis: Colts could actually lose this to fall to 6-9 and still have a shot at the AFC South title if Houston also loses. But Indy has dropped three straight and not scored more than 16 points in any of them. Ancient QB Matt Hasselbeck is being held together by Bubblicious (they still make that?) and dental floss at this point he's so battered.
Tampa Bay vs. Chicago: Come on Bucs! Help assure Bears get a Top-10 pick. This will be personal for Bucs coach Lovie Smith.
Jacksonville at New Orleans: Looking at their showing for the first three quarters or so in Monday's loss, the Saints have quit. And Drew Brees might miss this game with a torn plantar fascia. He says he will attempt to play through it, but why at this point?
Arizona vs. Green Bay: Potential playoff preview in the desert. Both are officially in the playoffs, but the Cards still have the carrot of a first-round bye. So does Green Bay as it tries to win the NFC North title. How much will Arizona miss the Honey Badger? Aaron Rodgers should tell us.
Minnesota vs. NY Giants: If you are a betting person, go ahead and drop big money on Minnesota here IF the Redskins beat the Eagles on Saturday. That would eliminate New York from the playoffs. And remember the Giants are without Odell Beckham Jr. What a tool that guy was last week.
Denver vs. Cincinnati (Monday): Great ending to the MNF schedule. Both teams still eyeing that No. 2 seed; I'm assuming New England hangs onto the No. 1. Unfortunately we won't get Peyton Manning vs. Andy Dalton but Brock Osweiler vs. A.J. McCarron.
Upset Of Week
NY Jets vs. New England: There's no question the Jets have more to play for. If they lose here, their playoff chances are on life support at best and might be over. The Patriots really can afford a loss as they already have at worst a first-round bye. They still haven't clinched the top seed and I'm sure would like to here so Tom Brady and the starters can take Week 17 off.
Why Bother?
Buffalo vs. Dallas: Both eliminated. Kellen Moore starts at quarterback for the Cowboys. Maybe his family cares. I don't. Move on.
Doc's Sports is offering new clients free NFL picks from any handicapper on our Advisory Board. This special offer does not require a credit card, and you will never have to deal with a salesman. Click here to get your free $60 NFL picks credit today. Also, get three handicappers for the price of one when you sign up for a full-season football package! Click Here for details.