NFL Survivor Pool Picks and Advice: Week 2
by Matt Severance - 9/16/2015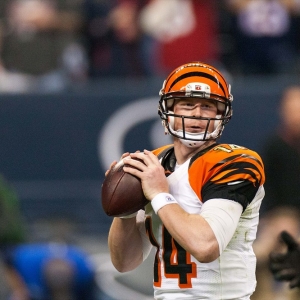 I was talking to a fairly new player to Survivor Pools this week, and said person really wanted to use Tennessee in Week 2 at Cleveland just to get using the Titans out of the way because they wouldn't likely be usable again. I totally don't recommend thinking like that. Simply go week-by-week. Don't use a questionable team early just to save a better team for later. Injuries are obviously a big part of the NFL, and a projected good team might not be one by late in the year. Ask the Dallas Cowboys, for example, after they lost superstar receiver Dez Bryant for maybe three months (those 4-6 week timelines are crazy) due to a broken foot.
Week 1 is always a challenge for a Survivor Pool competition because there should be no such thing as a huge favorite the opening week as there are too many unknowns. And there weren't last week. My top recommendation was Green Bay over my Bears, and while Chicago played better than I thought, it was never really in position to win the game. Some might want to wait and save Green Bay, but what if Aaron Rodgers breaks his leg in practice some week? Don't save teams!
I also hit on three of my four "Pretty Confident" picks: New England over Pittsburgh, Miami over Washington and Cincinnati over Oakland. Missed on Seattle over St. Louis and that was the big upset of Week 1. It was the first season opener in NFL history in which both teams scored on a punt-return touchdown. I don't consider any other big upsets from last week.
I am totally kicking myself on the "Upset Of Week" choice of Jacksonville over Carolina. I originally had Buffalo over Indianapolis in that spot but changed at the last moment. What I get for not sticking with my gut. The Jags were no match for the Panthers, and the Bills dominated the Colts.
Here we go for Week 2 -- and it is so evenly-matched. Again, first team listed is the choice.
Top Choice Of Week
Cincinnati vs. San Diego: I may shift off this one by picking time Sunday. The Chargers are a good team, although they remain without star tight end Antonio Gates due to suspension. The Bengals looked great last week, but that was at pathetic Oakland. I do like this is a 1 p.m. ET start, and those are always tough for West Coast teams like the Chargers.
Pretty Confident
New Orleans vs. Tampa Bay: I urge you to stay away from this game even though it's under this heading. The Saints are easily the biggest favorites on the board, so a lot of your competitors are going to jump here. The Bucs can't be as bad as they looked last week against the Titans. And their only wins thus far under second-year coach Lovie Smith are on the road. Tampa should have won in New Orleans last year but blew it and lost in OT.
Indianapolis vs. NY Jets (Monday): I am tempted to make this the top choice, but I hate waiting until Monday for such. What if there's a late injury or something and you are locked in? Plus, that Colts offensive line looked shaky against a good Bills defense last week, and the Jets are about as good on defense.
Baltimore at Oakland: Here's another tempting one, but it feels too early in the season to take a road team as the top choice. Plus, the Ravens looked horrid offensively last week in the loss to Denver. Ah, Marc Trestman! They also lost arguably their most important defensive player, outside linebacker Terrell Suggs, for the season. Then again, these are the Raiders and may be starting backup Matt McGloin at QB.
Miami at Jacksonville: This smells like a potential trap game for the Fins. They should win easily but didn't play well at all in Jacksonville last year. Miami could be caught looking ahead to next week's home opener vs. Buffalo.
Pittsburgh vs. San Francisco: Short week for the Niners and having to travel across country and with a 10 a.m. Pacific time start. My only worry here is the Steelers again without Le'Veon Bell (although DeAngelo Williams was very good in loss to Patriots) and Martavis Bryant.
Could Go Either Way
Denver at Kansas City (Thursday): Tad surprised that the Chiefs are favored considering the Broncos are 6-0 against them under Peyton Manning. But Manning also looked ancient in the win over Baltimore, while Alex Smith, well, didn't look like Alex Smith (in a good way).
Minnesota vs. Detroit: One of these clubs will be a vastly disappointing 0-2. The Lions blew a 21-3 lead in San Diego in Week 1, and that defense looked nothing like last year's unit. The Vikings were inept on offense Monday night; so much for Adrian Peterson coming back with a 2,000-yard season with a big chip on his shoulder.
Chicago vs. Arizona: Do I dare believe in John Fox, Adam Gase and Jay Cutler? Only lean Bears because they are home and Cardinals lost No. 1 running back Andre Ellington for a few weeks.
Buffalo vs. New England: Yep, I think the Bills beat the Patriots for only the fifth time this century (but second in a row). Rex Ryan knows defense, you have to give him that.
NY Giants vs. Atlanta: Hey Eli Manning, just fall down! Don't stop the clock! What a crushing loss the Giants had against Dallas on Sunday night. Led to some great New York tabloid headlines, however. The Tom Coughlin Firing Watch begins if New York loses here.
Philadelphia vs. Dallas: Cowboys had no right winning Sunday night and have to be totally deflated in losing Bryant. Maybe Eagles will actually use DeMarco Murray this week? I'm sure Murray will be fired up to face his former team.
Green Bay vs. Seattle: Game of the week obviously. Seahawks will play desperate, but good luck winning at Lambeau.
Carolina vs. Houston: I might feel more comfortable picking Carolina in this game if I knew whether Panthers star linebacker Luke Kuechly (concussion) can play and which QB Houston will start. Bill O'Brien won't say. My guess: Ryan Mallett.
Upset Of Week
Washington vs. St. Louis: This is the definition of a letdown game for the Rams after upsetting the Seahawks. Just as an FYI: Last year, the Rams upset the Seahawks in Week 7 in St. Louis and then the next week were crushed 34-7 in Kansas City. The Redskins in many ways outplayed the Dolphins last week but managed only 10 points. They did lose receiver DeSean Jackson for perhaps a month.
Why Bother?
Tennessee at Cleveland: Yes, Marcus Mariota makes the Titans interesting for at least one week. I also think that win over the Bucs was somewhat a fluke. The Browns are just a mess. I do hope Johnny Manziel starts here to see him and Mariota matched up for the first time as former Heisman winners. Sounds like Johnny Football will get the start with Josh McCown dealing with a concussion.
New to Doc's Sports? We'd like to offer you $60 of free, no obligation picks. Try us out. See why experience matters, and why we have been around for so long while others have come and gone. Click here to sign up today. Also, get three handicappers for the price of one when you sign up for a full-season football package! Click Here for details.