NHL Handicapping: Banking on the Surprise New York Islanders
by Trevor Whenham - 2/17/2015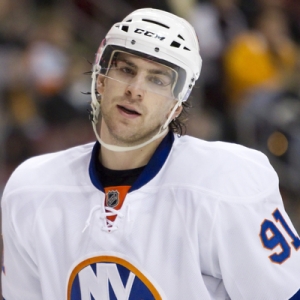 The New York Islanders have been a very pleasant surprise this year. Last season was a total disaster for the team, and you really had to wonder if they were ever going to figure things out. Right now, though, they sit atop the tough Metropolitan Division, have all but locked up a playoff position already, and have the potential to not only secure a top playoff position but to do some damage once they get there.
So, can they keep it up? Is it time to trust this team after decades of disappointment? And, most importantly, are they worthy of our betting dollars? Here are six factors to consider when looking at this squad:
Tavares is a beast: Tavares was the easy No. 1 pick in the 2009 NHL Entry Draft, and since then he has turned into exactly what a team hopes they are getting with that pick. He has 56 points in 57 games, but more than his strong play he is the driving force behind everything this team does. He is the New York Islanders. He seems very comfortable in that role, and this resurgence this year is as much due to him as anyone. There are perhaps a couple of better players in the league but none that the Islanders would trade Tavares for. This is a very good offense - third in goals per game - and will continue to be as long as Tavares is healthy.
Offseason was masterful: You don't win a Stanley Cup in the summer, but if you did then the Islanders would get it. By adding Jaroslav Halak in the nets and stealing Nick Leddy and Johnny Boychuk on defense they quickly went from a decent team that could be a playoff contender to the elite squad that they are now. Sometimes big offseason splashes don't pay off - especially ones that come about as late in the offseason as this one did - but for New York it has paid off handsomely and will only continue to do so.
Okposo injury hurts: Kyle Okposo leads the team in assists and has been an excellent right-hand man for Tavares. Unfortunately, he has been out since Jan. 19 with a detached retina that required surgery. He still isn't skating and could still be a month or more away. The team is 6-5 without him so far, so it hasn't been a total disaster, but his absence certainly doesn't help. At the very least, the team would like to have him back in time that he can be fit and back in form by the postseason. It's not just this injury, either - the team has been hit hard by injuries lately, and it's a big reason why they haven't been quite as sharp as they could be.
Goaltending has been decent: Halak was a big pickup, and he has been mostly solid. He could be better, and he will need to be as the postseason rolls around, but he has had playoff success and knows what is expected of him. The real disappointment, though, has been backup Chad Johnson. He was brought on after a great season backing up in Boston last year, but he has been simply awful for New York. He has a lowly 6-7 record in 13 starts, and his .873 save percentage and 3.33 goals-against average are both indicators of just how poor he has played. At this point the lack of depth is a real concern for the team. They could be just one injury to Halak away from throwing away such a promising season, and we know how common goalie injuries are.
I don't trust Capuano: I like so much of what this team is doing, but the biggest knock against them is head coach Jack Capuano. I just don't think he is a very good coach. He is in his fifth year in New York and has only achieved anything close to the potential of the team once - when he made the playoffs two years ago and then nearly knocked off the Penguins. He has failed to make the playoffs the other three years. I don't like his game planning, his decision making or his ability to help his team bounce back from setbacks. That's a huge part of what NHL head coaches have to do. I'm not saying that the team can't succeed under him when it matters, but I certainly would feel more confident if they were in different, more inspiring hands.
Nice schedule: The Isles are certainly set up for success in terms of their schedule. Just 11 of their 25 remaining games are against teams that are currently in the playoffs. They have 13 road games left, but just once do they have to travel for more than two in a row, and three of the four games on that longer trip are against teams that are a mess right now. Therefore, it should be manageable. If they struggle down the stretch they certainly won't be able to blame the level of their opponents. On the other hand, if they are the team they want us to believe they are then there are a lot of games that they just can't afford to lose - they are the types of games that good teams win.
Read more articles by Trevor Whenham