NHL Handicapping: Evaluating the Montreal Canadiens Success
by Trevor Whenham - 1/8/2015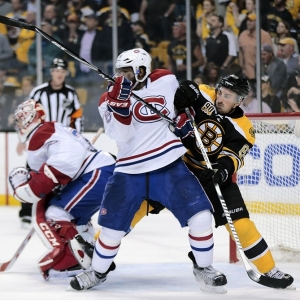 You can't exactly call the Montreal Canadiens, who are tied with Pittsburgh for second in the Eastern Conference just two points behind Tampa Bay, a surprise this year. After all, they had 100 points and played in the conference finals just last year, and they had a solid offseason. No matter what, though, you would have to say that the team is definitely achieving at close to their full potential - or at least much closer to their full potential than many teams are.
It's a good thing that they are winning, too - as a traditionally public team, public bettors are going to bet on them anyway, so at least now they are winning more bets than they lose. So, is Montreal a legitimate contender that can continue to be trusted for the second half? Or are they due for at least a slight fall back to earth? Here's a look at six factors to consider when looking at that question:
Goaltending: You can't spend too much time worrying about your goaltending when one of the best goalies on the planet toils between your pipes. Carey Price is an exceptional goalie who has elevated his game to a whole new level since the Olympics, and he is putting together another very solid season. Add in very competent and stable backup duty from Dustin Tokarski and you have a situation that is a big asset for this team - and will continue to be.
P.K. Subban: Subban suffered some real disappointment at the Olympics when his role wasn't as big as he would have liked it. That was a transformational setback. When he signed his new, massive contract some wondered if he was worth it. After all, they were used to the inconsistent, sometimes lazy, volatile Subban that we had seen for a few years. Well, Subban has grown up. He's now a truly elite defenseman - one of a small group of the very best in the league. He's second in the team in scoring, yet he does that while being a shut-down defensive force as well. Subban is the piece that this team is now built around - both financially and spiritually. He's up to the challenge.
Power play a concern: When you look at this team statistically, there is a lot to like. Then there is the power play. They sit 26th in the league, converting on just 14.2 percent of their power play chances. St. Louis, by contrast, leads the way with 25.7 percent. The fact that Montreal dwells with duds like Buffalo and Edmonton isn't just an anomaly at this point, and it's an area of major concern. There isn't a direct relationship between power play performance and overall success, of course - L.A. finished 27th in the league last year, and they won the Stanley Cup. In fact, the power play is less of a concern in the postseason for the simple fact that fewer penalties are generally called. Still, their performance is well below what would reasonably be expected, and it would be easier to trust this team if we saw more strength, discipline and focus on this front.
Offensive balance: Montreal has impressive offensive balance. Max Pacioretty leads the team with 32 points in 40 games. Five other players have at least 21 points, and another five have 15 or more. This is the team that shares the offensive load widely. I'm on the fence about whether that is a net positive or not. On one hand, it's harder for a team to slide into a slump when so many different players can be counted on during any given day. It's like they are a diversified stock portfolio. On the other hand, the Habs lack an offensive player that is truly explosive - one who other teams have to fear any time they touch the ice. Without a clear offensive leader it can be tough for a team to establish an offensive direction when adversity ratchets up.
Weathered the World Juniors perfectly: Over the recent holidays the World Junior Hockey Championships was hosted by Toronto and Montreal. It was a religious experience for Canadians - and mostly ignored by the rest of the world. That meant that both the Canadiens and the Maple Leafs were forced onto the road for an extended road trip. The Leafs cratered, and got their coach fired as a result. Montreal, on the other hand, won all five road games - capped by a dominating win at Pittsburgh. That success shows some real toughness. It comes as no surprise, though - their 13 road wins is tops in the league.
Bounced back well from doldrums: The latter part of November and early December were not kind to the Habs. They lost six of seven and really looked underwhelming. It was easy to look at that team and assume that they had overachieved early and that they were more likely to be fighting for a wild-card spot than a division title when the season ended. It's easy to really like how the team bounced back from that adversity - the first significant adversity they have faced all year - though. They won nine of their next 10 games. Most significantly, they allowed just one goal in seven of those 10 games and two goals in the other three. This team shook off bad times and got right back to what got them to where they are. Impressive.
Read more articles by Trevor Whenham