NHL Handicapping: the Surging Ottawa Senators
by Trevor Whenham - 3/26/2015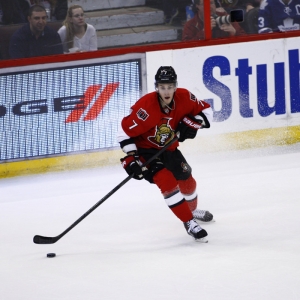 The Ottawa Senators would be in the playoffs if they started today. That, by itself, isn't that noteworthy - they have missed the postseason only three times in the last 17 seasons. What makes it amazing in this case, though, is that on Feb. 7 they were under .500 at 20-22-9 and the season seemed to be going nowhere fast. They were 14 points out of the playoffs at that point. Teams 14 points out of the playoffs in February never turn things around, yet here we are. Since then they have gone an incredible 17-2-2 and have, somehow, transformed into the hottest team in the NHL. It doesn't make a lot of sense, but it has been fun to watch - and it has certainly made an already thrilling playoff search this year even more interesting.
So, how is it happening? Can it keep happening? And what does it mean for bettors? Here are six factors to consider:
The Hamburglar: You can't talk about the Senators without starting with the crazy story of goalie Andrew Hammond. Before this season he had a grand total of 35 minutes of NHL experience. He played 25 games in Binghamton of the AHL to start this year, and, frankly, he wasn't very good. His save percentage was low and his goals-against average was too high. When he was called up to the big club there was no reason at all to be excited. All he has done since then, though, is start 15 games without a loss. He's 14-0-1, and he is making goaltending look easy. Obviously, he has become a big star in Ottawa - thanks to his nickname, fans throw hamburgers on the ice when he has a strong game. He's going to come back to earth at some point, but the team is riding him as hard as they can until he does, and he remains strong. If his hot streak cools before the season ends then there could be issues for the team. Right now, though, all you can do is accept how crazy this is and run with it.
Erik Karlsson: It's hard to believe that the Swedish defenseman is still only 24. He won the Norris Trophy as the league's top defenseman in 2012, could have won it again last year, and is performing at that high level again this year. If you make a list of the top defenseman in the league you don't get very far before Karlsson shows up. He leads the team in scoring and is absolutely a rock in his own zone. The defensive corps is young for the Senators, but his presence gives them so much confidence. He's a huge asset for this team in this race.
Dave Cameron: Can a coach who was only hired on Dec. 8 be considered for Coach of the Year? It's a question that needs to be asked. Cameron became head coach - for his first time at the NHL level - when Paul Maclean was fired and he was promoted from his assistant position. It took a while for him to find his way, and it didn't seem like he was going to make any progress. The last quarter of the season, though, has been an entirely different story. It remains to be seen what he can do when he starts a season from scratch, but for now he has this team eating out of his hands, and he's another major asset for the team.
Young guns: Karlsson isn't the only youngster carrying more than his share of the weight for this team so far. Five of their top six scorers are 25 or younger. Guys like Jean-Gabriel Pageau and Curtis Lazar aren't as offensively productive, but they are contributing nicely and have been getting dramatically better as the season has gone along. The youth may not be a huge asset here - though inexperience certainly hasn't been a problem over this hot streak - but at the very least it makes it easy to be optimistic about this team and the pace of their rebuilding efforts.
Betting performance: The conditions were perfect for this team to deliver profits on this hot streak, so it is no surprise that they are currently the most profitable team in the NHL. They were underwhelming early but not bad enough that people actively bet against them. They were just forgotten. So when they got red hot people were slow to notice, and slower to buy in, and they consistently won at big prices.
Playoff race: Florida is still technically in the race, but they are five points behind the Senators with nine games to play and aren't likely to make it. The Senators aren't likely to catch the teams ahead of them, either - they are five points behind Detroit for third in the division. They seem destined for a wild-card spot if they are going to make the playoffs. It all comes down to beating one team - Boston. The Bruins are a single point behind the Senators, and they certainly have experience on their side. They are enduring an awful season, though, and are in freefall having lost five in a row. They are a mess. Ottawa has a game in hand and is playing dramatically better. Nothing is guaranteed, but this is Ottawa's playoff spot to lose.
Chris Phillips: The veteran defenseman, who was the first overall pick in the draft way back in 1996, has been a constant presence on defense for this team forever. It's probably just a coincidence, but you can't help but note that the veteran was injured on Feb. 7 when this team bottomed out, and he hasn't played a game since. I'm not suggesting that Phillips was why the team was losing or that they are winning because the 37 year old is gone. Chemistry is a strange thing in hockey, though, and what has happened now is obviously working. The young defensive corps has been very good, and with Phillips not likely to return in any hurry things shouldn't change on that front.
Read more articles by Trevor Whenham