NHL Hockey Odds and Picks: Scouting the Week Ahead
by Alan Matthews - 1/26/2015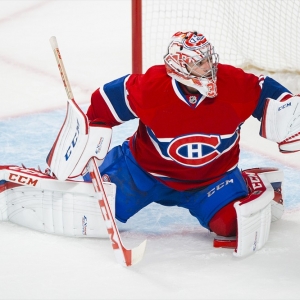 The NHL drops the puck on its second half on Tuesday, but there's plenty of time to look forward to the rest of the season. This week we get the rare chance to look at some Bovada NHL player props as a cross-sport wager with Super Bowl XLIX. Let's take a look -- obviously these are only valid if said hockey players are healthy enough to play Sunday.
Carey Price saves vs. Russell Wilson pass attempts (both -115): The Canadiens play the second of a back-to-back on Sunday vs. Arizona, so there's a chance Price doesn't play. The Habs probably don't need him to beat the terrible Coyotes in the first meeting of the season between the teams. Price enters the second half sixth in total saves with 1,001 in 36 games. That stat is obviously a tad misleading because it depends on the defense in front of you, but clearly Price is one of the Top-5 goalies in the NHL. That averages out to 27.8 saves per game. The Coyotes average 29 shots per game, 23rd in the NHL. Let's just say 28 saves as a benchmark. Wilson has had more than 28 attempts in just three of the past eight games. Seattle is going to run the ball. Take Price here.
Max Pacioretty shots on goal vs. total field goals made in game (both -115): Pacioretty leads the Habs in points (38), goals (21) and shots (164) in 45 games. That's about 3.7 shots per game. The weather won't be a factor at University of Phoenix Stadium; as of now the retractable roof will be open but obviously if there's a weather issue in the desert the NFL will close it. Seattle's Steven Hauschka and New England's Stephen Gostkowski both have only one field-goal attempt in these playoffs, each making it. Those were in weather games. Gostkowski led the NFL with 35 made field goals this season, while Hauschka had 31. I'm taking the field goals here; if Pacioretty perhaps gets dinged up early, you are looking at an almost lock win.
Alex Ovechkin shots on goal vs. Doug Baldwin receptions (both -115): The Caps are home to St Louis on Sunday. Ovechkin leads the NHL by a wide margin in shots on goal at 219, which is around 4.8 per game. Baldwin led Seattle with 66 catches during the season, or 4.1 per game. He had three vs. Carolina in the divisional round but six vs. the Packers in the NFC title game. Might the Patriots put Darrelle Revis on Baldwin to shut him down? I think so. Take Ovechkin.
Sidney Crosby points vs. Russell Wilson TD passes (both -115): Crosby pulled out of the All-Star Game with a lower-body injury but that's likely just for rest. He'll be in there Sunday against Nashville barring another injury before then. Crosby is tied for fifth in the NHL with 51 points, or about 1.2 per game. The Predators are a great defensive team, although still without star goalie Pekka Rinne. When the Penguins beat Nashville 3-0 early this season, Crosby had a goal and two assists. Wilson has had at least one TD pass in eight of the past nine games and multiple TDs in four of those. I like him on this prop because it's easy for Crosby to get shut out, and I think Wilson gets at least one.
This Week's Games to Watch
Winnipeg at Pittsburgh, Tuesday: Crosby will not be able to play in this game because he pulled out of the All-Star Game. Ditto fellow star Evgeni Malkin. He's actually hurt, dealing with a legitimate lower-body injury, and he missed the Pens' final game before the break. Malkin is out indefinitely. Top Penguins defenseman Kris Letang also is out indefinitely. So, yeah, the Jets would appear to be great value here at +100 on BookMaker. They enter on a five-game winning streak that's tied for the longest in the NHL, while Pittsburgh has dropped four straight. Winnipeg has outscored foes 22-8 during the streak. The Jets rotate goalies nearly every other game and it works for them. Excellent rookie Michael Hutchinson started the final game before the break so that could mean Ondrej Pavelec in this one. I think it's Hutchinson as the Penguins beat Pavelec 4-3 in a shootout on Nov. 6. Crosby and Malkin both scored in the shootout. The teams combined for 102 penalty minutes and three fights, so this one could get chippy.
Chicago at Los Angeles, Wednesday: This is nationally televised on the NBC Sports Network. The Blackhawks hadn't played very well in January but enter the break with two nice wins: a 6-1 rout of Arizona last Tuesday and then a 3-2 shootout win in Pittsburgh on Wednesday. Chicago doesn't play at home again until Feb. 9. No team needed the break more than the Stanley Cup champion Kings as they have just two wins in their past 11. This is the second meeting of the season between the clubs who staged last season's epic Western Conference Finals. Chicago won in Los Angeles 4-1 on Nov. 29 behind two goals from Brad Richards.
Montreal at NY Rangers, Thursday: No team has been playing better than the Blueshirts since early December as they have won 16 of 19 and enter the second half on a three-game winning streak. Montreal hasn't been too shabby, winning 12 of 16. This will be the last meeting of the season barring a playoff matchup, which is more unlikely now under the current format. The Habs beat the Rangers 3-1 at home in late October but New York won in a rout 5-0 at home on Nov. 23. Montreal did give Price the night off for that one. The Canadiens have the shortest odds to win the Cup of any East team at 10/1.
Chicago at Anaheim, Friday: The Hawks' tough road swing continues in Anaheim, and these are your two Bovada Stanley Cup favorites. Chicago is 5/1 and Anaheim 7/1. The Ducks lead the NHL with 68 points and are running away with the Pacific Division. They entered the break on a five-game winning streak. The Hawks will have one advantage here in that the Ducks have to play Thursday night in San Jose. It's the last meeting between the Hawks and Ducks until potentially the West Finals. Anaheim lost 4-1 at home to Chicago on Nov. 28 but won 1-0 in the Windy City on Oct. 28.
Read more articles by Alan Matthews