2015 NL Central Predictions with Odds and Expert MLB Betting Picks
by Robert Ferringo - 3/9/2015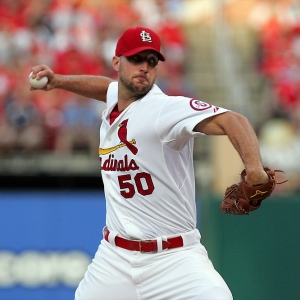 For the second straight year it looks like the National League Central will be the deepest and most parity-driven division in baseball. Now that the Cubs have pulled their heads out and put together an actual functioning organization, there can be an argument made that any one of five teams could capture the Central crown this year.
Three different teams have won the Central the past four years, and every team but the Pirates has claimed the division title since 2008. That's some serious turnover, and this year should make for another wild race.
Free $60 in Member MLB Picks No Obligation Click Here
Here is Doc's Sports 2015 National League Central preview (with odds courtesy of Sportsbook.ag):
St. Louis Cardinals
2014 Record: 90-72 (+210)
2015 Wins Over/Under: 88.5
Odds To Win 2015 NL Central: +140
Odds To Win 2015 NL Pennant: +600
2015 St. Louis Cardinals Odds to win World Series: +1300
Outlook: The Cardinals continue to be one of the best and most well-run organizations in baseball. Just ask them; they'll tell you. But the fact is that this team has been very good - they've gone to at least the NLCS in four straight years - but not good enough (they only have one World Series win to show for it). They've restocked and are ready to make another go at it, and they enter the year as one of the favorites to win the title.
The Cards offense was one of the most disappointing units in baseball last year. They dropped from 783 runs (No. 3 in MLB) in 2013 to 619 runs (No. 25) in 2014. That precipitous drop came after three straight seasons as one of the top five scoring teams in the Majors. They added Jason Heyward and Mark Reynolds to give the lineup a boost. But St. Louis is mainly just hoping that their core players improve their performance. They hit .330 with runners in scoring position in 2013 - which is a completely ridiculous and unsustainable rate. That dropped to .254 last year. The Cards are hoping for better.
The rotation is rock solid. Adam Wainwright leads the way and has finished in the Top three in Cy Young voting four times in six years. Lance Lynn, John Lackey, Mike Wacha and Carlos Martinez round things out. And if anyone gets injured the Cards have a seemingly endless line of arms in the minors ready to step in.
There's nothing not to like about St. Louis. Well, besides their smug fans and the nonstop line of national writers ready to throw their face in the Cards' laps. But from a baseball perspective St. Louis should be a reliable moneymaker.
Cincinnati Reds
2014 Record: 76-86 (-1050)
2015 Wins Over/Under: 77.5
Odds To Win 2015 NL Central: +1800
Odds To Win 2015 NL Pennant: +4000
2015 Cincinnati Reds Odds to win World Series: +7000
Outlook : With so much competition in the Central someone was bound to take a tumble. In 2013 it was Milwaukee, which regressed from 83 wins to 74. Last year it was Cincinnati, which won just 76 games after getting 90 the year prior. But their underachieving season had a lot to do with injuries and a new manager, and this team could be primed for a bounce back this season.
Joey Votto, Brandon Phillips and Jay Bruce are the heart of this lineup. But they combined to miss 176 games last year, and that crippled the Reds offense. Lack of depth has been a concern for years with this team, and it caught up with them last year. If Todd Frazier can match last year's production (.273, 29, 80) and if Marlon Byrd has one more productive year in his bat then the Reds should be able to top last season's pathetic showing.
Cincinnati's pitching dominance, which was the core of their 97-win campaign in 2012, has been whittled away. It was a gamble to trade Alfredo Simon and Mat Latos. But Johnny Cueto gives them an ace to build around, and if Homer Bailey (who will start the year on the D.L.) and Mike Leake can stay healthy then they are at least capable rotation mates. The bullpen is still sound with Aroldis Chapman closing things down.
Year 1 was a rocky one for new manager Bryan Price. The hope is that things will be more stable and successful the second time around. If not, his tenure could come to a close before his three-year deal is up. I think the Reds are undervalued going into this year, and if they can have one or two arms step up they could be a dark-horse team.
Pittsburgh Pirates
2014 Record: 88-74 (+600)
2015 Wins Over/Under: 85.5
Odds To Win 2015 NL Central: +220
Odds To Win 2015 NL Pennant: +1000
2015 Pittsburgh Pirates Odds to win World Series: +2800
Outlook : Pittsburgh continues to perform as a sort of National League Tampa Bay Rays: a small-budget team for whom the whole is greater than the sum of its parts. After a 20-year playoff drought was snapped in 2013, the Pirates avoided a letdown and made a return trip last year, falling in the Wild Card game to eventual-champion San Francisco.
Now the Pirates are trying to gear up again and make another run at a pennant. Andrew McCutchen is one of the five or six best players in baseball and the clear tone-setter for this group. He doesn't get a lot of offensive support - only one other Pittsburgh regular hit over .280, compared to McCutchen's .314 - but the Pirates score just enough to find Ws. They've won 60 games by just one run the last two years. That's one of the highest marks in the majors.
The real key for Pittsburgh is its starting pitching. They've finished in the Top 10 in starters ERA and batting average against in each of the last two years. The Pirates bought low on cast-offs Francisco Liriano and A.J. Burnett, and both moves have paid massive dividends for them. They have four other quality arms to rely on, including up-and-comer Gerrit Cole, and their bullpen has been one of the best in baseball the past two years.
Like the Rays, the Pirates just don't look that impressive on paper. Their numbers look soft, and they have overachieved against their Pythagorean Win Total each of the past two seasons. Is this the year they regress? Not if they keep getting exceptional work from their pitching staff. I think it will be difficult for a team that is limited in the talent department to separate from the rest of the division. But after two straight profitable seasons for backers, I'm not in a rush to start fading this group.
Milwaukee Brewers
2014 Record: 82-80 (-720)
2015 Wins Over/Under: 78.5
Odds To Win 2015 NL Central: +1800
Odds To Win 2015 NL Pennant: +4000
2015 Milwaukee Brewers Odds to win World Series: +7000
Outlook: Good luck figuring out this schizophrenic squad. They jumped out to a big April lead and were looking good into July before a late-season collapse left this team out of the postseason for the third straight year. There weren't many offseason changes to this group as management feels they'll play more like the team they saw in the first half rather than the second.
The one move the Brewers did make was to acquire Adam Lind to play first base. I'm a big fan of Lind's work, and I think the league change will do him some good. Lind is tasked with providing noted liar and cheat Ryan Braun. His negative karma saturated the Brewers clubhouse last year; we'll see if they can work past it this season. If Milwaukee is going to compete they need full, productive seasons out of Carlos Gomez and Aramis Ramirez, the latter of which is retiring at the end of the season.
The Brewers moved on from enigmatic ace Yovani Gallardo. But his departure means Milwaukee will need dominating efforts from Kyle Lohse, Matt Garza and Wily Peralta. All three have been up and down over the past three seasons. And their very average bullpen could improve if the starters can increase their 465 innings hurled last year. That total was good for No. 25 in the Majors.
This team remains dangerous for bettors. They spend a month looking like the best team in the National League. Then they can spend the next two looking like one of the worst teams in the league. It's essentially the same group of guys as last year. And the same core that's won over 83 games just one time in the last six seasons. I just don't know where I see the improvement coming from, so I think these guys top out around .500 again this year.
Chicago Cubs
2014 Record: 73-89 (-450)
2015 Wins Over/Under: 83.0
Odds To Win 2015 NL Central: +300
Odds To Win 2015 NL Pennant: +1000
2015 Chicago Cubs Odds to win World Series: +1400
Outlook : The buzz around Chicago is reaching a fever pitch, and the belief around the North Side is that if the Cubs aren't "back" they are pretty darn close. Theo Epstein's painstaking rebuild of this loser franchise is nearly complete. And a scan up and down the organization shows a group with a solid foundation to compete from over the next half-decade.
Young players like Anthony Rizzo, Starlin Castro, Javier Baez, Mike Olt and Jorge Soler have fans excited about the Cubs everyday lineup. Sprinkle in a Miguel Montero here and a Chris Coghlan there and Chicago has a high-upside lineup with a nice blend of youth and experience. Rizzo is on the precipice of being a star. But the guy to watch is Soler. He hit .292 with five home runs and 20 RBI in just 24 games during a call-up last season. The young Cuban has a world of potential, and if he becomes Chicago's next Sammy Sosa (minus, you know, all the cheating) then these guys are in business.
Montero, an All Star catcher, was a key offseason move. But perhaps no move made a bigger splash than the signing of lefty ace Jon Lester to a mega-deal. Lester is a bona fide ace, and I think he is going to continue the trend of A.L. pitchers coming to the weaker-hitting National League and dominating. Jake Arrieta and Jason Hammel each experienced a bit of that last year and return as the team's No. 2 and No. 3, respectively.
Lester's signing may have earned the most headlines. But the offseason move that will pay the most dividends this year was nabbing Joe Maddon away from Tampa Bay. The skipper is an absolute wizard, and if anyone can soak the production out of this young team it is him. This team enters the year with a lot of youthful exuberance. They have a long way to go and are in the league's toughest division. But this group will be streaky, and they'll have a say in who wins this division.
2015 National League Central Picks and Predictions: Predicted Order of Finish
1. St. Louis Cardinals
2. Cincinnati Reds
3. Pittsburgh Pirates
4. Milwaukee Brewers
5. Chicago Cubs
Robert Ferringo is a professional sports handicapper for Doc's Sports. He is considered one of the top MLB cappers in the country and has turned a profit in five of the last seven years on the diamond with his baseball picks. He closed 2012 with an amazing $11,700 in earnings over the last four months and this summer will try for three straight profitable years. He is looking forward to a great upcoming season against the MLB odds. Click here for more information on his MLB picks.
Read more articles by Robert Ferringo