2015 NL West Predictions with Odds and Expert MLB Betting Picks
by Robert Ferringo - 3/12/2015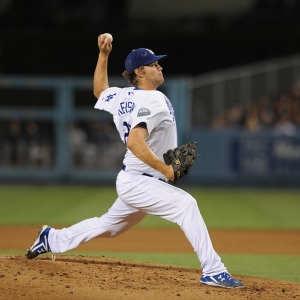 Apparently West is best when it comes to Major League Baseball.
Los Angeles was home to two division winners and two of the four best records in baseball last year. San Francisco is home to the Commissioner's Trophy (again) for the World Series win. And San Diego is the new home of the biggest and most headline-grabbing acquisitions of the offseason.
The East Coast Bias is alive and well. But with the Red Sox, Yankees, Mets and Phillies all rebuilding or coming off horrendous seasons, the sports news-industrial complex has no choice but to turn its focus west of the Mississippi if it wants to find quality baseball.
The National League West enters the 2015 as perhaps the most intriguing division race in the Senior Circuit. While Washington should dominate the East and parity could bog down the Central, the NL West looks poised for a thrilling three-horse race between the Dodgers, Giants and Padres. Arizona and Colorado will merely be fodder. But either one could turn spoiler in what should be an intense September race for the division title.
Here is Doc's Sports 2015 National League West preview (with odds courtesy of Sportsbook.ag):
Los Angeles Dodgers
2014 Record: 94-68 (+1000)
2015 Wins Over/Under: 92.5
Odds To Win 2015 NL West: -220
Odds To Win 2015 NL Pennant: +6500
2015Los Angeles Dodgers Odds To Win World Series: +800
Outlook: The Dodgers had an offseason more befitting a team that lost 94 games rather than a team that won 94. They jettisoned one-third of their starting lineup, including two former MVP candidates, and dropped a pair of starting pitchers. They also imported eight new players to compete for jobs with established veterans in an attempt to put this roster over the top in the National League.
The Dodgers have a new double-play combo with new imports Jimmy Rollins and Howie Kendrick. They will be added to a lineup that features Yasiel Puig, Adrian Gonzalez and Carl Crawford at the heart of it. That's a lot of production and a lot of winning experience right there. However, there's also a lot of injury history present in those veterans. A weak bench has undercut Los Angeles the past three seasons. And as I scan the roster I don't see a lot of options past their start-studded starting lineup. That may seem nit-picky. But it's an issue.
The Dodgers also turned over the back end of their rotation. They are hoping that former aces Brandon McCarthy and Brett Anderson can overcome recent seasons of injury and ineffectiveness to seize the spots vacated by the departures of Dan Haren (Miami) and Josh Beckett (retirement). Los Angeles also brought in some live arms to bolster one of the league's better bullpens.
From a bettor's perspective, the Dodgers really don't offer much value. With so many big-name players and after such a successful season they are going to be big favorites in the overwhelming majority of their games. That doesn't mean they won't pay out. It just means that we'll have to pick our spots. It would be a major upset if the Dodgers weren't in the West race come September.
San Diego Padres
2014 Record: 77-85 (-905)
2015 Wins Over/Under: 84.0
Odds To Win 2015 NL West: +400
Odds To Win 2015 NL Pennant: +1000
2015San Diego Padres Odds To Win World Series: +2000
Outlook: If San Diego's goal was to win December then they certainly succeeded in that. The Padres were one of the most active teams in the league this offseason, adding big names Matt Kemp, Justin Upton, Wil Myers and James Shields. San Diego's free spending has vaulted the team from afterthought to division favorite, and it will be interesting to see how the pieces come together.
San Diego's offense has been perpetually pathetic for most of the past decade. They desperately hope that Kemp and Upton can shake off recent disappointments - and cut down on strikeouts - to become clubhouse leaders and lineup stalwarts. Also, their presence creates some great depth for the Dads as former starters Cameron Maybin, Carlos Quentin and Will Venable can become quality bench pieces.
San Diego will also feature a new-look infield. Yanny Solarte looked more comfortable after coming over from the Yankees last year, and Will Middlebrooks is hoping to revert to his 2012 form. Yonder Alonso and Jedd Gyorko should also benefit from added protection, and they need to have healthy, productive bounce-back seasons.
I think that the biggest addition to the team was Shields. He has been underrated for years, and he will love hurling in San Diego's pitcher-friendly park. He also pairs with Andrew Cashner to give the Padres a nasty one-two punch that rivals anything in L.A. or San Fran. But the key to this entire team may be how the back end of the rotation performs. Tyson Ross had a breakout 2014. Ian Kennedy went 21-4 and was a Cy Young candidate in 2011. And Brandon Morrow has All-Star stuff and could benefit from a switch to the N.L. If those three all click then the Padres could have the best lineup and best rotation in the division.
You always have to be wary of the Trendy Team that made a bunch of splashy moves in the offseason. Remember a couple seasons ago when the Marlins "won December" with their free agent class? That team won 69 games that season. This Padres team has a much stronger foundation than that Miami one did. But we still need to be careful of following the public too closely as they pile on the San Diego bandwagon.
San Francisco Giants
2014 Record: 88-74 (+800)
2015 Wins Over/Under: 83.5
Odds To Win 2015 NL West: +450
Odds To Win 2015 NL Pennant: +600
2015 San Francisco Odds To Win World Series: +1600
Outlook: The Cardinals can crow about being the best organization in baseball. The Dodgers can flaunt their superstar-studded roster and massive payroll. The Giants will just keep winning championships. Last year's World Series win over the Royals was San Francisco's third title in five years, making them a legitimate dynasty. Their core remains intact, give or take a couple guys, and this year's they'll try to make it four in six.
There's no secret to San Francisco's success. They have had dominating pitching for the better part of this decade. Madison Bumgarner pretty much singlehandedly won the Series for the Giants last fall and is one of the best lefties in the game. He is the tip of the sword on an aging, but exceptionally experienced and talented, rotation. Matt Cain, Tim Hudson, Jake Peavy and Ryan Vogelsong all have a lot of innings on their arms. But they've also all had All-Star and even Cy Young-caliber seasons in the past. Their health over the long haul will be key for this team.
Clutch hitting is the other large part of the equation for the Giants. They'll miss Pablo Sandoval and Mike Morse, and Hunter Pence will start the season on the D.L. But the rest of the foundation is secure. That includes Buster Posey, Brandon Belt and underrated Angel Pagan.
This team is the quintessential example of the whole being greater than the sum of the parts. The Giants just wins games. Their pitching dominates, they're excellent in the field, they cover all the fundamentals, and they hit just enough to beat teams in close games. They are hoping to avoid a letdown season like they had in 2013 (76 wins) following the 2012 title.
Arizona Diamondbacks
2014 Record: 64-98 (-3160)
2015 Wins Over/Under: 71.5
Odds To Win 2015 NL West: +5000
Odds To Win 2015 NL Pennant: +2500
2015 Arizona Diamondbacks Odds To Win World Series: +12500
Outlook: Arizona's attempt to be the Scrappiest Little Team in Baseball was a laughable failure in 2014. After back-to-back years at exactly .500, their lack of talent finally caught up with them as they plunged to 64 wins and last place in the division. They cleaned house, and this season will represent the first year with a completely new front office.
There's not much to like in the lineup or the rotation. But at least the rotation is young. Josh Collmenter has been promoted from spot starter and long man to staff ace. Good luck with that. Jeremy Hellickson showed promise in Tampa Bay and is looking to bounce back from injury. And former Red Sox farm hands Rubby De La Rosa and Allen Webster will try to live up to the ample hype that followed them from Boston.
The Diamondbacks have two bona fide sluggers in the middle of the order with Paul Goldschmidt and Mark Trumbo, and up-and-comer David Peralta has a lot of potential. And they absolutely need Aaron Hill to give them more. But the rest of the roster is made up of a lot of young, unproven players.
It is going to be a long haul for the Diamondbacks. They still don't really know what they have in terms of young talent. And they don't excel enough in any one area to really be a threat in a stacked West. They will be a punching bag again for most of this season until they can figure some things out.
Colorado Rockies
2014 Record: 66-96 (-2790)
2015 Wins Over/Under: 72.5
Odds To Win 2015 NL West: +5000
Odds To Win 2015 NL Pennant: +6500
2015 Colorado Rockies Odds To Win World Series: +12500
Outlook: It's really not worth wasting a lot of time on the Rockies. They have been one of the most pathetic franchises in the Majors since their creation in 1993. The organization has shown nothing in the way of a plan, and this team has been a perpetual disappointment for its fans and followers.
At what point can we stop calling Troy Tulowitzki and Carlos Gonzalez "two of the best young players in baseball"? They'll both be in their 30s this year, and neither has played more than 145 games in any season the past five years. They haven't proven to be leaders in the clubhouse, and they can't help the team if they aren't on the field. I am still a huge Justin Morneau fan and the Rockies stole him last offseason. But its only a matter of time before one (or two) of that trio will end up on the DL and the lineup will go in the tank as a result.
I don't even know where to start with the Rockies pitching. They were last in the Majors in ERA last season for the second time in two years. They have finished in the bottom five in the league in ERA each of the past four seasons. There is no ace in the staff, and their relief pitching is atrocious. It seems like every time you think their pitching can't get worse, it does.
Colorado has posted just four seasons over .500 in the last 17 years. They are a bad team in one of the better divisions in baseball. The Rockies have no pitching, and the only three guys on the team that can hit all have a laundry list of injury concerns. They are going to be awful once again this year, and I'll be surprised if they get to 75 wins.
2015 National League West Picks and Predictions: Predicted Order of Finish
1. Los Angeles Dodgers
2. San Diego Padres
3. San Francisco Giants
4. Arizona Diamondbacks
Robert Ferringo is a professional sports handicapper for Doc's Sports. He is considered one of the top MLB cappers in the country and has turned a profit in five of the last seven years on the diamond with his baseball picks. He closed 2012 with an amazing $11,700 in earnings over the last four months and this summer will try for three straight profitable years. He is looking forward to a great upcoming season against the MLB odds. Click here for more information on his MLB picks.
Read more articles by Robert Ferringo