2015 Oklahoma City Thunder Predictions and Futures Betting Odds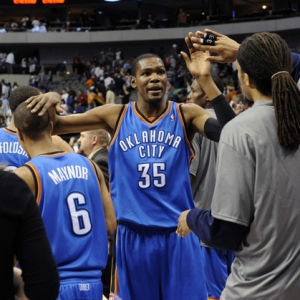 I understand that the Golden State Warriors are looking to repeat as NBA champions this season. And that LeBron James' Cleveland Cavaliers are favorites to bring a title to a city that is dying to win a championship at something for the first time in several decades. It's probably the final season for future Hall of Famer Tim Duncan, a Top-10 all-time player on any list and five-time champion. Can he go out on top with the Spurs?
My point being there are plenty of big stories on the eve of the 2015-16 season. But I believe the biggest one and the most important team in the NBA will be the Oklahoma City Thunder. What they do this year could shape the NBA's landscape for at least the rest of this decade. Let's start with new head coach Billy Donovan. More than a few highly-successful college coaches -- Rick Pitino, who is Donovan's mentor and former coach, and John Calipari to name two -- have flopped in the NBA. If Donovan leads the Thunder to a title, then NBA GMs might be more apt to dip back into the college ranks for coaches. It's why many around the NFL are watching to see how Chip Kelly fares with the Eagles after Nick Saban and Steve Spurrier, to name two, failed in the NFL after being ultra-successful in college.
But far more important than Donovan are the futures of the Thunder franchise and its two superstars, Kevin Durant and Russell Westbrook. Durant can become a free agent after this season and Westbrook the following one. Pretty much every team in the NBA other than Cleveland will be able to offer Durant a max deal next summer. If the Thunder have a very successful regular season and go deep into the playoffs -- I'd say West Finals at a minimum -- then it's hard to see Durant leaving. Perhaps Westbrook decides not to test the market, either (although I always thought he was more likely to go as he's an L.A. guy). If the Thunder struggle in Donovan's new offense? And if Durant and Westbrook clash over who the alpha male is? Both could go, and OKC becomes an NBA ghost town.
Thunder 2015-16 Season Betting Story Lines
Oklahoma City finished 45-37 last year. Entering the final night of the regular season, the Thunder and New Orleans Pelicans were tied for the eighth and final playoff spot. But the Pelicans held the tiebreaker. OKC took care of business in routing the NBA's worst team, Minnesota. New Orleans was a home dog to San Antonio, which still had the motivation of winning so it could be the Southwest Division champion and the No. 2 seed in the West. But the Pelicans pulled the upset.
That the Thunder won 45 games is pretty impressive considering Durant played only 27 games due to multiple foot surgeries. He's fine now, but those types of injuries can come back. Westbrook, who was limited to 67 games, became a triple-double machine with Durant sidelined, and Westbrook won the scoring title at 28.1 points per game. He also averaged 8.6 assists and 7.3 rebounds. From purely a statistical standpoint, Westbrook should have been the NBA MVP. It will be interesting to see Westbrook and Durant in Donovan's offense, which is less isolation and more ball movement. We shall see how long that works.
OKC is basically the same team from last year. It added no one of note and said goodbye to Luke Ridnour, Jeremy Lamb, Perry Jones and Coach Scott Brooks -- no huge losses. Did Brooks deserve to get fired? Maybe not. His.620 win percentage is the best mark all-time among coaches never to win a championship (minimum 500 games coached). He also has a winning record in the postseason with a 39-34 mark. But sometimes a change has to be made. Doug Collins really didn't deserve to be fired all those years ago by the Bulls, but the hiring of Phil Jackson worked out pretty well.
Because Durant played so little last season, he will have to adjust a bit to teammates like Enes Kanter and Dion Waiters, who were both acquired in trades during last season. Kanter put up great numbers in OKC and the Thunder had to match a max offer for him from Portland this offseason. Kanter is not a max player as he's perhaps the worst defensive big man in the NBA, but the Thunder had no choice. It's all about keeping Durant happy. So your starting five will be Westbrook, Andre Roberson, Durant, Serge Ibaka and Steven Adams. Kanter and Waiters will lead the second team with D.J. Augustin and Kyle Singler. Yes, a max player is a reserve.
OKC opens the season next Wednesday at home against Western Conference favorite San Antonio in the best opener of any. The Thunder were 5-1 this preseason if that matters to you. Durant looked very good. So did that new offense.
Thunder 2015-16 Betting Odds
At BetOnline , Oklahoma City is the biggest division favorite in the NBA by far at -2500 to win the Northwest, +450 to win the West and +800 to win the NBA title. The Thunder have an "over/under" wins total of 57, with both at -115. Durant is the +150 favorite to lead the NBA in points per game with Westbrook at +1400. Durant is +600 to win a second MVP Award and Westbrook +1200. Westbrook is +1800 to lead the league in assists per game.
Thunder 2015-16 Betting Predictions
Man, this is tough. Fully healthy, there's no reason this team can't be the West's top seed and win 62 games. Offensively, the Thunder are going to be magnificent. Defensively? They need Ibaka to stay healthy. He was limited to 64 games in 2014-15. The Thunder will win the division, no question. It's the worst in the NBA with the Blazers having been stripped bare. I'm going to go just barely under the wins (I usually do if on the fence as if there's a big injury you are going to win the bet), but this is my Western Conference favorite. I don't think either Durant or Westbrook wins the scoring title or MVP.
Doc's NBA handicapping team is offering $60 worth of member's predictions absolutely free - no obligation. You can use this $60 credit any way you please with any of our top NBA handicappers free here. Also, for a limited time only, you can get three handicappers NBA picks for the price of one! Click Here for more details!
Read more articles by Alan Matthews