2015 Philadelphia Phillies Predictions and Odds to Win the World Series
by Alan Matthews - 2/5/2015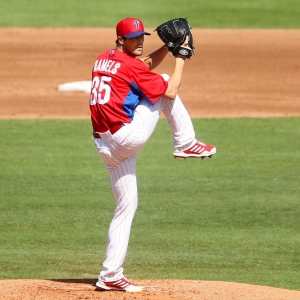 We begin our previews of every Major League Baseball team at the bottom as the Phillies finally have decided to rebuild, about two years too late, and they are the longest shots to win the World Series in the majors.
Somehow GM Ruben Amaro still has a job as he should have begun this process after the Phillies went from 102 wins in 2011 and a loss in the NLDS to 81 wins the next year. Yet Amaro mostly kept the veteran band together, and the Phillies have finished with exactly 73 wins each of the past two seasons. It's really a shame this was the first managerial job for Hall of Famer Ryne Sandberg because he's almost set up to fail and now his dream job, with the Cubs, has been filled by one of the majors' best managers in Joe Maddon.
Free $60 in Member MLB Picks No Obligation Click Here
At least Amaro has started the process of making his team younger and cheaper while rebuilding one of the worst farm systems in the league. His biggest move was trading shortstop Jimmy Rollins, one of the great Phillies of all-time, to the Los Angeles Dodgers. Rollins had to waive his no-trade clause to make it happen. The Phils got two young pitchers in return. In addition, Amaro dealt outfielder Marlon Byrd to Cincinnati for minor-league pitcher Ben Lively. I don't think Amaro is done. He wants to dump Ryan Howard and his $60 million owed on someone and has even said the team really is ready to move on from Howard. However, no one will do that trade unless the Phillies eat about $30 million, and that might not even be enough. Howard could be waived.
The big chip Amaro has is lefty ace Cole Hamels, who would bring back a nice haul. However, the GM reportedly is asking for the world for him. It really doesn't make sense for any club to trade some young players for Hamels and pay his huge salary when James Shields is still on the free-agent market and will only cost money (and a compensatory draft pick). Once Shields signs, look for the Hamels market to heat up. I highly doubt he's in Philly after the July 31 trade deadline. The two teams you hear most linked to him are Boston and San Diego. To a lesser point the Dodgers, Rangers and Cardinals.
Also on the market are closer Jonathan Papelbon and catcher Carlos Ruiz. The Brewers have talked to the Phillies about Papelbon. Thus, the lineups below could look quite different by the season opener, which is April 6 vs. Boston. Hamels vs. the Phillies in that series?
Phillies 2015 Projected Lineup
This could be ugly. Outfielder Ben Revere will lead off, and he had a solid season in 2014, leading the team with a .306 average and with 184 hits. As a good leadoff man should, Revere didn't strike out much, but he needs to get that on-base percentage up from .325. Freddy Galvis should hit second and takes over for Rollins. Galvis has a nice glove but can't hit a lick. He batted just .176 in 119 at-bats last season with four homers and 12 RBIs. Second baseman Chase Utley hits third and comes off a solid 2014 season where he hit .270 with 11 homers and 78 RBIs in 155 games. Don't expect the 36-year-old to play that many again. He hadn't played more than 131 in the previous four years. Utley would have trade value if he willing to waive his no-trade clause.
If Howard is around he will hit cleanup, although likely not be in the lineup much against left-handers because they eat him alive. Howard hit just .223 with 190 strikeouts last year but did have 23 dingers and 95 RBIs. The rest of the lineup looks to be outfielder Dominic Brown, outfielder Grady Sizemore or Darin Ruf, Ruiz and third baseman Cody Asche. If Ruf is at first base against lefties then new addition Sizemore would be the starting outfielder, but he's another guy who can't stay healthy.
This has the potential to be the lowest-scoring team in the league. The Phils were ninth in runs last year in the NL, but Rollins and Byrd were arguably the team's two best hitters.
Phillies 2015 Projected Rotation & Closer
Two starters from last year are gone in A.J. Burnett and Kyle Kendrick. Hamels had one of his best seasons in 2014 despite a 9-9 record as his 2.46 ERA was a career-low and he allowed only 14 homers in 204 1/3 innings. But there's no point of keeping the 31-year-old because by the time the Phils will be good again, Hamels likely won't be.
Fellow lefty Cliff Lee will be the No. 2 if he's healthy. He was limited to 13 starts in 2014 due to a flexor strain in his pitching elbow. But Lee is throwing without issues and is expected to be ready for the start of spring training. Lee could be trade bait if healthy but is owed $25 million in 2015 and his contract has a $27.5 million option (with a $12.5 million buyout) for 2016.
The rotation is rounded out by David Buchanan, Jerome Williams and new addition Aaron Harang. Buchanan, just 25, was a solid 6-8 with a 3.75 ERA last year. Williams was a late-season addition and pitched well in the NL after getting torched in the AL. Harang was 12-12 with a 3.57 ERA for the Braves.
Papelbon is the ninth-inning guy for now, but I don't think he's there by Opening Day. If the Phillies can trade him, Ken Giles would likely assume the closer's job. Giles was 3-1 with a 1.18 ERA in 44 games as a rookie in 2014, striking out 64 of 166 batters in 45 2/3 innings.
Phillies Futures Odds & 2014 Trends
Only World Series and pennant props out thus far, but that should change in a few weeks. At Sportsbook.ag, the Phillies are +30000 long shots to win the World Series and +15000 to win the NL pennant. Philadelphia was 81-81 against the spread last season and 83-69-10 "over/under." On the moneyline, the Phillies were -462 in units for the year.
Phillies 2015 Predictions
FanGraphs projects the Phillies to finish with 68 wins, the fewest in the majors. I've seen a few projections with a couple more but none with less. So I'm guessing the Phils will get a total of around 70 when those are released. Obviously a lot depends on whether Hamels goes, but not so much Papelbon because closers are a dime a dozen for the most part. If Hamels stays and Lee is actually healthy, the rotation isn't too bad. The lineup is. I also don't think Howard will be there by the opener. This team will finish last in the NL East. I'd go "under" 70 wins.
Get free picks from any Doc's Sports handicapper - there is no obligation for this offer and no credit card required. Just sign up for an account, and you can use the $60 in free picks for any Doc's Sports Advisory Board handicapper and any sport. Click here to get started now.
Read more articles by Alan Matthews