2015 Preakness Stakes Predictions
by Trevor Whenham - 5/13/2015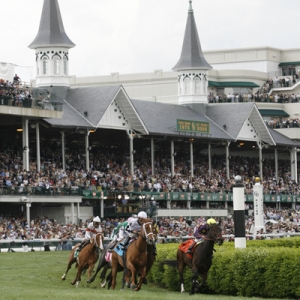 The field is set, the horses have arrived in Baltimore, and all that is left now is for us to wait for the Preakness Stakes to begin. By the time Saturday rolls around, this race will have been broken down a million different ways. It's a small field, but it lacks no intrigue. The three best three year olds in the country right now are here, joined by a couple of intriguing longer shots and a few horses that look like they accidentally entered the wrong race. So, how is it all going to shape up? Here are four Preakness predictions that I feel pretty good about:
The early pace will sizzle
The story of the Derby was how relaxed Dortmund and American Pharoah were allowed to be early on. Everyone in the world knew they were the horses to beat, yet Dortmund set glacial early fractions, and American Pharoah just loped along behind him. When it came time to really run, only Firing Line, who had also benefitted from a much slower race than he was capable of, could keep up.
Here there are a lot of horses that will like to be on or near the lead - all but Danzig Moon. Several of those horses have nothing to lose because they know they have little chance of winning unless things really blow up around them. There is no reason to believe that the top three from the Derby will be allowed to duplicate the race in the Preakness.
The question, though, is how the pace will become fast. There is a chance that a horse will try to make his own magic. Mr. Z is a good candidate here - he was owned by the same stable as American Pharoah in the Derby but has since been sold, so he will have no restrictions on what he can do. There is also a good chance that Bob Baffert, who trains both American Pharoah and Dortmund will, knowing that he has the fastest horses in the race, push the pace himself to control his own destiny. Both of his horses have won off of fast early fractions and could look to do so here again. Regardless of how it happens, it's a good bet that things will be moving very fast after a half mile.
A horse will do something really stupid
Tale of the Verve and Bodhisattva haven't exactly earned their way into this race - at least on paper. Mr. Z and Divining Rod haven't shown yet that they are at a top caliber. With that many horses with nothing to lose - and the knowledge that they are unlikely to win if the race plays out normally - we could very easily see something really crazy happen in this race.
One of these horses could look to take a crazy risk to try to make the race set up better for them. There's no way of knowing what it could be. I just hope that everyone stays safe.
Tale of Verve will surprise
Of the likely also-rans (Mr. Z, Bodhisattva, Tale of Verve and Divining Rod) I can't help but be intrigued by Tale of Verve. There is every reason not to be. The horse took six tries to break his maiden and has never raced at higher than a maiden special weight level. This is a ridiculous step up in class.
There are a few reasons I am intrigued, though. For starters, I like the breeding for this test. Second, his last two races have been his best, and he won at this distance last time out. Finally, I respect his connections, so the fact that they tried to get him into the Derby and then stuck to the Triple Crown plan when they couldn't instead of finding an easier spot makes me think that they must be seeing a lot more in the mornings than is evident to us. I'm not saying that the horse is going to win - I'm not insane. I just think that he is the only one of the four longest shots that are worth real consideration in exotics.
The trifecta will look strangely similar
In the Derby the trifecta was made up of American Pharoah, Firing Line, and Dortmund. In the Preakness the same three horses are going to make up the trifecta as well. They are just so much better than the rest of the field, and they have all looked good since the Derby. What order will they finish in? Well, I can't give away all of my secrets. Sign up for Doc's Preakness Stakes picks for a winning ticket for the race this Saturday.
Get free picks from any Doc's Sports handicapper - there is no obligation for this offer and no credit card required. Just sign up for an account, and you can use the $60 in free picks for any Doc's Sports Advisory Board handicapper and any sport. Click here to get started now.
Read more articles by Trevor Whenham
---
Most Recent Preakness Stakes Handicapping