2015 San Jose Sharks Predictions and Futures Odds with Betting Picks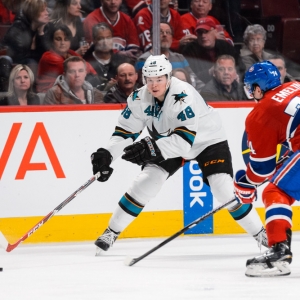 The window hasn't slammed shut for the eternally-competitive-but-never-successful Sharks just yet, but it isn't exactly wide-open. In the spring of 2014 they collapsed like few teams ever have, coming from way ahead to lose to the Kings. Last year they pouted through the whole season and weren't even a legitimate threat to make the playoffs. It was a fairly aggressive offseason for the team, so now we have to see if they can pretend that last year never happened and become a strong contender again or if last year was a sign that this team needs to start over.
One thing that will take getting used to this year is the man behind the bench. Todd McLellan has been at the helm for seven seasons, but he was fired and is now the man who gets to guide Connor McDavid to the promised land in Edmonton. Taking his place is Peter DeBoer. I'm not crazy about the hire. He was fired after three years in Florida and never made the playoffs. Then he went to New Jersey. In his first year he made an unlikely Cup run before losing to the Kings, but then he didn't come close to the playoffs again and was fired halfway through last season. It was time for a change in San Jose, but McLellan is twice the coach that DeBoer has ever been.
San Jose Sharks Offseason Moves


In the biggest move of the offseason, the team made a big swap in net. Antti Niemi had solid numbers, but the team didn't trust him as much as they would have liked to. They traded him to Dallas at the end of June. To replace him they not only got a young star but pulled a fast one on their rivals the Kings, too. L.A. had to trade stud backup Martin Jones because they couldn't afford to keep him. They didn't want to face him regularly, so they sent him all the way to Boston in exchange for Milan Lucic. The Bruins turned around just four days later, though, and sent Jones back to the Sharks for a first-round pick and a prospect. Jones has never been a full-time starter in the NHL and has appeared in only 34 games, but his upside is almost limitless. There is always a risk thrusting a young goalie into the spotlight (though Jones is 25, so he's not that young), but Jones could very easily be the starter for the better part of the next decade.
They didn't stop there. They added Joel Ward to be the likely second-line right winger, and Paul Martin as a likely second-unit defenseman. There were a lot of people calling for the Sharks to embrace a rebuild, but these moves made it clear that that wasn't in the plans.

San Jose Sharks NHL Outlook

It will be worth keeping an eye on a couple of young forwards because they could be very significant here. Tomas Hertl was brilliant as a rookie two years back, but he suffered through a deep sophomore slump last year. He needs to bounce back in a big way. He could line up beside Joel Ward, so that could help. Chris Tierney had a strong rookie season last year, and he needs to avoid the Hertl slump and take another step forward.
At the other end of the spectrum, you can't help but wonder about Patrick Marleau and Joe Thornton. They have seemed ageless - until last year. Both were well below their best, and now both are former captains of this team. They have amazing chemistry and could easily rebound to elite levels again, or both they and the team could struggle and they could find themselves on the trade deadline market.

San Jose Sharks Schedule

This team will get used to playing on the road early on. They play their opener in L.A. then return home for one before heading out for four. They also have a five- and a six-game trip to take before Christmas. A road-heavy start means a heavier home slate near the end, which can be good - as long as you can endure the early hardships. At this point it's hard to know what to expect from the team.

San Jose Sharks NHL Futures Odds (from Bovada)

Oddsmakers are not optimistic. The Sharks are at +4000 to win the Stanley Cup, which puts them behind 19 other teams. They are +2000 to win the Western Conference, which is better than just three teams. They are tied with Vancouver as the fifth choice in the Pacific Division, better than only lowly Arizona.

2015-16 San Jose Sharks Predictions


This is not a playoff team. I really like the Jones move, but I don't like DeBoer as the coach, I don't trust the top line, and I don't think they are mentally tough enough at this point to overcome their issues. They won't be a bad team by any means, but the West is just so deep and tough that good teams will be left out.
Doc's Sports is offering free NHL picks to new clients. You can get free hockey picks by clicking the following link. No credit card is needed and there is no salesman to deal with. You try the picks, and if you like what we offer then you will be able to purchase one of our fairly-priced hockey betting packages. Click here to get your $60 in free picks. Also, for a limited time get three hockey handicappers for the price of one! Click here for our 3-for-1 NHL picks offer.
Read more articles by Trevor Whenham