The Simpsons: Treehouse of Horror Betting Odds and Predictions
by Raphael Esparza - 9/16/2015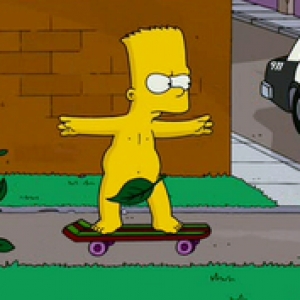 "The Simpsons" really know how to turn heads around with their Halloween episodes. "Don't have a cow, Man!" It could be the last time we hear that phrase because the 26th annual installment of Treehouse of Horror will feature Sideshow Bob (voiced by Kelsey Grammer) finally getting his man or boy. Sideshow Bob will get his revenge and has been trying to kill Bart Simpson for 25 years now, ever since Season 1 when Bart got him arrested (Episode: Krusty Gets Busted).
Early this year I wrote an article, " The Simpsons - Next Character to be Killed Off Betting Odds ," and in that article Bart Simpson was 100-1, but hold your tickets! Because this Treehouse of Horror episode does not count. Bart Simpson won't be missing for long in Springfield, says executive producer Al Jean. For betting purposes, Jean says in "US" Magazine, "It's traditional with the Halloween-themed episodes, the story line will not impact later episodes."
Bovada Sportsbook opened odds for this epic Treehouse of Horror episode, and they actually have multiple ways to bet the outcome of Bart Simpson death. This will be the 26th episode of a Treehouse of Horror, and I see this episode being one of the most-watched Simpsons episodes. If you know me, I will have action on this cartoon betting prop.
Odds Provided by Bovada
Will Sideshow Bob succeed in murdering Bart Simpson?
Yes -170
No +130
Prediction: A bit shocked that the 'Yes' is only -170 because everybody knows this is happening. I double checked the stipulation on this prop, and the only thing it says is that, "Outcome only applies for this episode (#577 - Treehouse of Horror XXVI)." So my prediction is lay the -170 on Yes.
Where will Sideshow Bob murder Bart Simpson?
Indoors +150
Outdoors +150
Simpson House +200
Treehouse +500

Prediction: The Halloween episode is called the Treehouse of Horror, and we all know that Bart Simpson loves to hang out in his treehouse. So why is the Treehouse +500? The only other choice in this prop is the Simpson House, and I'm shocked that Bart's room isn't one of the props because that would be ideal to see Bart die in his room with all the Krusty the Clown stuff all over the room. Taking a shot with Treehouse at +500 and grab this number because I see the +500 going quickly.
How will Sideshow Bob murder Bart Simpson?
Poisoned +500
Death by falling from Heights +500
Bart to Kill Sideshow Bob +500
Homer to Save the Day +500
Shot by/Out of a Cannon +800
Blow Him Up +800
Strangled +800
Lead Pipe 10-1
Rope 10-1
Gun 10-1
Hires or Get Someone Else 15-1
Death by Elephant 20-1
Death by Rake 20-1
Dagger 20-1

Prediction: I already said that Sideshow Bob would kill Bart Simpson in the Simpsons treehouse. So how does he do it? This one was tough for me to decide and handicap, and I'm not going to lie, I have watched multiple key episodes for me to choose a prediction winner. Sideshow Bob will kill Bart Simpson by Rope 10-1, and he hangs Bart Simpson out from the treehouse. Poisoned and Blow Up the Treehouse were close, but for some odd reason I believe he hangs Bart Simpson, and you can't go wrong with 10-1 odds.
How Many Viewers will Tune to Watch?
Over 7.5 Million Viewers -200
Under 7.5 Million Viewers +150
Prediction: Last year's (2014) Treehouse of Horror episode racked up 7.6 million viewers, so why did the oddsmakers list this prop so low? The closer this episode gets to airing I believe the more buzz this will get. Lay the -200 because I believe this number is a bit off, and I see old and new viewers tuning in to see how Sideshow Bob gets his revenge and kills Bart Simpson. I know I will be watching, but just because I will have action. Yes, I might need help!