2015 Toronto Raptors Predictions and Futures Betting Odds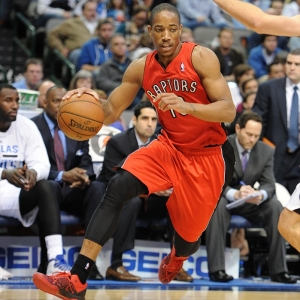 It's not often that a team wins 49 games to set a franchise record when they weren't expected to, cruises to an easy division win, and yet had an overall season that was a disappointment for fans. They leapt out of the gate like they were on fire and stayed that way for much longer than people assumed possible. As the season drew to a close, though, they looked a bit like they were playing in mud. They weren't bad; they just weren't particularly good. Then the playoffs arrived, and for the second year they made a disappointing and mostly toothless first-round departure. They need to be better - or at least more consistent. They have made some moves, but have they done enough?
2015 Toronto Raptors Betting Story Lines
This team will do as well as Kyle Lowry wants them to. The point guard is their best player and the heart and soul of the team. For the first half of last year he was spectacular - a legitimate MVP candidate. His game tailed off in the second half, though, and the team followed him down. In the playoffs he was just lousy - he couldn't have hit a shot if he was standing on the rim. It wasn't good enough, and he knew it. He took it to heart this offseason, returning to camp as a whole new guy - smaller, stronger and faster than ever. He looks like a freak, and he's playing fantastic ball this preseason, leading the league in scoring. If he can stay in form, and if the new physical condition gives him better stamina, then this team could be in for a surprisingly good year.
2015 Toronto Raptors Additions and Departures
This has not been a team that has been afraid to make bold changes, and this offseason certainly isn't an exception. They maintained their core - Lowry and DeMar DeRozan in the backcourt, and Jonas Valanciunas and his big new contract extension up the middle. Beyond that, though, there are a lot of new faces. Gone is senior leader Amir Johnson and reigning Sixth Man of the Year Lou Williams. Also out the door is Greivis Vasquez, the backup point guard who was way too bad defensively for the money he was making.
They needed new faces to fill those spots, and they certainly got them. The biggest splash was grabbing DeMarre Carroll from the Hawks. He's a late bloomer really coming into his own, and now he's the highest-paid player on the team. His upside is massive, though h will have to become comfortable with being the third offensive option behind Lowry and DeRozan. If the chemistry develops quickly then he could be one of the signings of the year in the league. The addition of Carroll also makes an intriguing move possible. This is a team that has done very well with strong sixth men - as Williams showed last year. Terrence Ross is a good player, and with Carroll in town he will shift out of the starting lineup and onto the bench. He'll play big minutes, and he has a chance to really thrive in the role.
To replace Vasquez they went with Cory Joseph. The Toronto resident is coming home, and he brings with him four years of experience with the best-run organization in the NBA - the Spurs. He played 79 games last year and was more than solid in more than 18 minutes a game. He has a four-year deal here, and he's in a good place behind Lowry.
Next up was the frontcourt. They were happy with Patrick Patterson and Jonas Valanciunas, but they needed a second wave. In sound rim defender Bismack Biyombo and veteran Luis Scola they got what they were looking for. It's a nice addition.
Finally, they took a low-risk gamble on another Toronto native. Anthony Bennett certainly hasn't looked like a No. 1 overall pick with Cleveland or Minnesota. He was excellent with the Canadian National Team in two tournaments this summer, though, and seems to have rediscovered some of his confidence. He will very likely never be a star, but he is better than he has been and is in a good setting here to finally be comfortable and make an impact. I'm very bullish on the addition.
2015 Toronto Raptors Futures Odds and Trends
The team won 49 games, but they were not a betting success - they were just 37-44-1 ATS. That means that they were not at all profitable to bet on, but you couldn't bet against them consistently, either. They went "over" the total 45 times in 82 games.
Toronto Raptors Futures Odds (from BetOnline)
NBA title odds : +5000
Eastern Conference title odds : +2500
Odds to win the Atlantic Division: -350
2015 Toronto Raptors Predictions and Futures Odds Picks
Maybe it's because I am a Canadian, but I like this team better than some do. There are some questions, and they will need big seasons from several players. I like the coaching and love the management, though, and I trust the chemistry. They will come close to matching their win total from last year - 46 wins or more is my expectation. That will again be enough to win their soft division - Boston is the only other real threat. They are absolutely a playoff team.
We would like to offer you $60 of member's predictions free - no obligation, no sales people - you don't even have to enter credit card information. Click Here for $60 in free NBA predictions. Also, for a limited time only, you can get three handicappers NBA picks for the price of one! Click Here for more details!
Read more articles by Trevor Whenham