Tracking the Calgary Flames: Season-Long NHL Picks and Handicapping for Hockey
by Trevor Whenham - 4/9/2015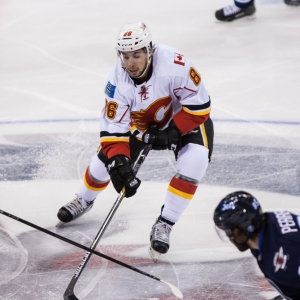 NHL Predictions: Los Angeles Kings at Calgary Flames Odds and Picks
The playoffs don't technically start until next week. For these two teams, though, and for others like them fighting for their playoff lives, the playoffs have been on for weeks already. In that sense, this is like a Game 7.
For both teams the math is pretty simple. If the Flames win - in regulation or even in overtime - then they will finish higher than the Kings in the final standings and will make the playoffs. If they lose then they need to beat Winnipeg on Saturday to get in. They control their own destiny. The Kings have no such luck. They need to win both of their remaining games and then hope that either the Flames lose both their remaining games or the Jets at best lose one game in regulation and another in overtime. Their backs are against the wall. A loss here and they will have no chance to defend their Stanley Cup title.
Los Angeles Kings at Calgary Flames Betting Storylines
If the Kings don't make it then they will only have themselves to blame - and plenty of things to choose from to direct that blame at. Most recently, they lost Tuesday night in Edmonton - a game that not only did they desperately need but that they absolutely should have won. Edmonton lost their last three by a combined score of 17-3, and the Kings had beaten them 8-2 just five days earlier. A team in a race like this cannot lose games like that. What stands out as oddest in that game was, when the team was at its most desperate, coach Darryl Sutter chose to start backup goalie Martin Jones instead of all-world stud Jonathan Quick. Odd.
Speaking of Sutter, it is more than fitting that he is leading his team into Calgary for this contest. He was the former coach and GM of Calgary. When the Flames made their unlikely run to the Stanley Cup final in 2004, he was behind the bench. When they last made the playoffs in 2009, Sutter was nearing the end of his run as GM - he 'resigned' a season and a half later. Flames fans grew tired of Sutter and blame him for the deep hole they are now digging out of, so they would take great pleasure in not only making the playoffs themselves but all but knocking him out in the process. The crowd is already going to be absolutely insane - fans here are as fired up as they have been in at least five years - but Sutter adds even more fuel to the fire.
Calgary has two roster concerns heading into this game. Co-No. 1 goalie Karri Ramo was hurt two games back and is unlikely to be available. Joni Ortio, the top backup in the AHL, is hurt, too. That leaves a very scary situation if Jonas Hiller were to get hurt. I'm not suggesting for a second that the Kings will be hunting Hiller, but you can be sure they won't be letting up early around the net. Second, Lance Bouma, a real spark plug on the third line for this team, was banged up last game and is likely to be out. He'll be missed. One possibility - one that is unlikely but would drive the fans into a frenzy - is that Sam Bennett will draw into the lineup in Bouma's place. Bennett was the fourth overall pick in last year's draft. He had a brilliant training camp but hurt his shoulder and required surgery. After recovering, he returned to junior hockey and tore it up. His season ended there, though, and now he is with the Flames and available. Every fan in the city wants to see him, but it seems more likely that human pylon Brandon Bollig will step in.
The big edge that the Kings have here is that they are used to performing with their backs against the wall. Time and again in their deep playoff runs of the last three years they have looked to be beaten only to fight back when it is all on the line. That has to be a big part of why they are favored here. In so many ways, though, this has not looked like the team that has done so well in recent years, so I discount that to an extent. With their backs similarly against the wall lately, the Flames have won four of five and have points in eight of their last 10, so they seem more than comfortable with playing while facing pressure, too.
Los Angeles Kings at Calgary Flames Odds and Betting Trends
Sportsbook.ag has the Kings favored on the road at -135, with the Flames at +115. The total sits at 5, with the "over" favored at -125.
The Flames have won three of four meetings so far this year and four of the last five. The Flames won the lone game played in Calgary so far. The "under" is 8-2-2 in the last 12 games the teams have played in Calgary and 18-6-2 in the last 26 meetings overall. The Flames have gone under in five of their last six at home.
Los Angeles Kings at Calgary Flames Predictions and Picks
I like home underdogs in most situations. When that home underdog is playing better, has a defined and significant goal in sight, and is going to play in front of a rabid fan base then I really like them. The Kings have lost four of six - and their last four road games - so they are tough to accept as a favorite here. Calgary is an easy and attractive pick.
5-Unit Play #66 Take Calgary Flames (+115) vs. L.A. Kings (9:05 p.m. ET Thursday)
Year-to-date Flames picks: 10-9, +7 Units, +$920.
Doc's Sports has a great offer for new clients. You can get $60 worth of picks from any Advisory Board handicapper for any sport he handicaps. All with no obligation and no credit card needed. Claim your free picks today .
Read more articles by Trevor Whenham