Trevone Boykin Odds to win the 2015 Heisman Trophy with Expert Predictions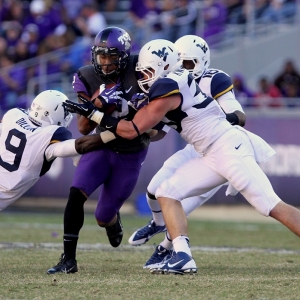 Last season's Heisman Trophy race was dominated by a pair of high-profile quarterbacks in Marcus Mariota from Oregon and Florida State's Jameis Winston, who already won the award for college football's best player in 2013. Mariota went on to win the 2014 Heisman, but when all the dust had settled, TCU quarterback Trevone Boykin had also made a strong impression by finishing fourth in the final voting.
The Horned Frogs' signal-caller is back for his senior year and is one of the top favorites to win this season's Heisman Trophy at 6 /1 betting odds on Bovada's current futures board. The expectations are also running high for TCU heading into the 2015 season as Bovada's 10/1 fourth-favorite to win a National Championship. Each of these bets will go hand-in-hand all season long. If Boykin continues to play at the high level he did in 2014 and TCU as a team plays to its capabilities, savvy bettors could easily cash in on both of these wagers.
Boykin led the Horned Frogs to a 12-1 record last season that culminated with an impressive 42-3 rout of Ole Miss in the Chick-Fil-A Peach Bowl. While TCU was ranked third in the final AP Top 25 poll, it was on the outside looking in when it came to the College Football Playoff Rankings in sixth place. This should work in the Horned Frogs' favor heading into this season given that they should have a chip on their shoulder with something to prove.
Going back over Boykin's overall numbers in 2014, he proved to be a very versatile player with 3,901 yards passing and another 707 yards on the ground. He completed 61.2 percent of his 492 attempts while throwing for 33 touchdowns against 10 interceptions for an overall quarterback rating of 149.9. When running the ball, he averaged almost five yards a carry, and he found the end zone eight times more times.
What stood out most about Boykin as he was putting up these numbers was his ability as an overall playmaker. He was a regular on ESPN's Top 10 plays, and that is the type of thing that tends to capture the attention of the people who have a vote for the Heisman Trophy award. He turned out to be a perfect fit for a revamped TCU offense that ended the year ranked seventh in the nation in total passing yards a game (326.2) and second in scoring with an average of 46.5 points a game.
There is no reason that TCU can't build on this success in 2015 behind Boykin's skill set. Many football experts have noted that when he runs the ball he looks like a running back. When he drops back to pass he throws the ball like a quarterback. He could probably be the team's top receiver if he could find a way to complete passes to himself.
The main reason why Boykin has so much upside potential heading into his final college football season is the way he has progressed during his time at TCU. Early in his career he sometimes tried to do too much on his own. Last season, he did a much better job spreading the ball around with 11 different players recording at least 10 receptions on the year. He has already been labeled as the best player in the Big 12, but that could easily be expanded to being the best player in the nation heading into the 2015 season.
Boykin's run to a Heisman Trophy will heavily hinge on TCU's ability to navigate a schedule that begins with a season opener on the road against Minnesota and a home game against SMU in two nonconference matchups. The Horned Frogs have road games against Kansas State and Oklahoma, but their biggest game in the Big 12 should come down to a regular-season finale against Baylor at home. Their lone setback in 2014 was at the hands of the Bears in a crazy 61-58 loss on the road.
If you are high on TCU running the table in the Big 12 this season then a bet on Boykin to win the 2015 Heisman would be a no-brainer. The only thing that could derail his chances is an unforeseen loss along the way considering that the Horned Frogs should be favored in every game they play.
Doc's Sports has had a winning tradition for more than four decades. Don't believe us? Try us out for free, and we are convinced you will be a believer. Get $60 worth of free sports picks - members' picks just like our paying clients get - here .
Read more articles by Dave Schwab