2016 ACC Football Predictions with Betting odds and Expert NCAA Picks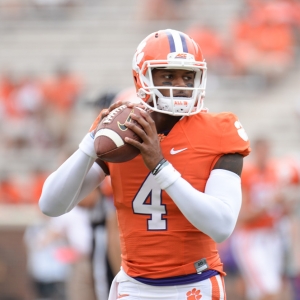 Here's a newsflash - the ACC is a two-team league this year. Even more shocking, those two teams are Florida State and Clemson. At some point the league will find some depth, and the winner of the conference will have to beat more than one legitimate foe to take the title. That time isn't right now, though. Given that, it's likely going to be very tough to find any intriguing value in the conference futures odds currently available at Bovada. That doesn't mean that we shouldn't have a look, though. Maybe we'll be surprised.
The favorite: Clemson gets the nod this year, sitting at +150 to win the ACC currently. That's not a huge surprise - they were national runner-ups last year, and return Heisman favorite Deshaun Watson (+450 at BetOnline) at quarterback. They certainly suffered some losses - they had nine players drafted - but they have talent and depth. They have to play at Florida State this year, but the rest of their schedule is soft. It feels a bit like splitting hairs between the top two in this conference, but I have no issues with this pick.
The biggest threat: If Clemson is the favorite then Florida State obviously falls here. They are not far behind at all at +225. I'm actually surprised that the gap is as big as it is between the two teams. The Seminoles rebuilt last year - at least as much as you can be rebuilding and still win 10 games. They don't have their quarterback situation nailed down, but they have options - and none of them can be worse than what they had to endure last year. They lost Jalen Ramsey, but much of the rest of the team returns, and they have excellent depth because of their recruiting. They have a challenging nonconference schedule facing both Ole Miss and Florida, but neither game factors into this discussion. They get to host Clemson and will have seen more real live fire before that game than the Tigers will have. They could very easily beat the Tigers - and that would virtually assure them of the conference crown.
Hard to judge: Miami (+900) fits the bill. At first glance this number seemed very low in my eyes. It still does given how underwhelming they have been lately. They have some decent players, though, and the boost from getting a new coach - of the stature of Mark Richt, no less - could provide a boost. I find Richt the toughest to judge of all, though, I respect the guy and like what he can do at his best, but it felt like he was largely going through the motions the last couple of years at Georgia. Can he flick a switch and be great again now that he returns to the scene of his playing glory, or will he just keep doing things better than most but not good enough to contend?
No hope: Every conference has some bad teams. It's inevitable. In Boston College (+10000), and Syracuse, Virginia and Wake Forest (all +7500), though, this conference has a collection of sad sack losers that is very tough to match.
Best Value: As long as we are willing to pretend that another team could possibly win this conference besides the top two then Louisville (+1000) is the obvious choice here. Bobby Petrino is in his third year of his second stint at Louisville, so this is when he should be able to take strides forward. They won six of their final seven last year and played both Auburn and Clemson tight in defeat. They have a solid quarterback and some nice talent elsewhere, too. They play Florida State early on, so perhaps the Seminoles won't be established at QB yet. That game is at home, too. It's far from a value-packed bet, but it's the best we can do here.
Sucker Bet: As is so often the case with futures bets when looking at them a long time out, the favorites are both lousy bets from a financial perspective. If you bet one of the two you are taking a risk - they could easily lose to the other, and because they are in the same division that would almost certainly cause you to lose. Even if you pick right, though, you are going to lock your money up for months, and at the end you'll realize a relatively small return. The reward just isn't worth the risk.
Now, some smart alecks out there will think they have found the angle - just bet both. It is almost certain that one will win, so you will make a profit either way. While that is certainly true, it just isn't worth it. Let's say, for ease, that you bet $100 on each team. If Clemson wins at the current odds you win $150 in profit from them but lose $100 on Florida State. The net result is a 25% return on investment. If the Seminoles win you would make a profit of $125, or 62.5%. Neither return is anything to sneeze at - it's better than losing money - but if you don't think that there is at least a reasonable chance that you could use that same money, bet it several times over during the season on individual games or shorter-term props, and come out further ahead then you need to have more confidence in yourself.
Wow! Doc's Sports college football picks are free! New clients can get $60 in expert football picks from any handicapper on Doc's Sports Advisory Board. There is no obligation for this offer, and no salesman, ever! Click here to get your picks - it takes less than 2 minutes to sign up ! Also, get three handicappers for the price of one when you sign up for a full-season football package! Click Here for details.
Read more articles by Trevor Whenham