2016 ACC Tournament Predictions and NCAA Basketball Odds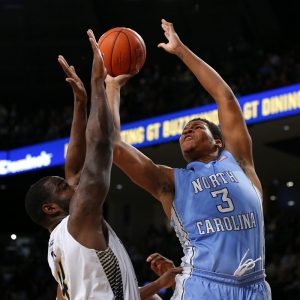 Nature has an uncanny and ruthlessly efficient way of sorting out the chaos of the universe. Look at pebbles on the beach, and the way that over time the oceans perfectly sort them along the shore.
A similar sorting can be found looking at the bracket for the 2016 ACC basketball tournament. Despite the hundreds of games played between the 15 random teams, there is a near perfect symmetry to the way the seeding and schedule fell in this tournament. The top half of the bracket, featuring North Carolina, Pitt, Syracuse, Notre Dame and Duke, represents the more offensive-oriented, soft-on-the-inside, outside-shooting teams. While the bottom of the bracket, led by Virginia, Miami, Clemson, Georgia Tech et all, are the teams that win by grinding opponents down with defense, rebounding, and tough interior play. It is a contrast in styles, and that conflict should define the nearly weeklong tournament.
The ACC begins Tuesday at the Verizon Center in Washington D.C. The league has one of the longest tournaments, spanning five days, and will crown a champion on Saturday night. Here is Doc's Sports 2016 ACC Tournament preview and predictions:
The Favorite: North Carolina (+250)
Look, I'm still not buying North Carolina as a national title contender. I think that the general public consensus about these guys is all wrong and that it has been wrong all season. Yes, they won the ACC and are the No. 1 seed in this tournament. But due to the unbalanced schedule, they actually faced the No. 15 (that's dead last) toughest schedule in the conference. Their wins over Duke and Miami were the only wins in league play against Top 40 teams - and they only have three of them (Maryland, the fifth-place team in the Big Ten, was the other) all season long. The Heels don't defend nearly as well as their metrics suggest, I don't think they have enough outside shooting, and they are poorly coached in game. I know that this is just all the negative stuff. But since every other commentator in the country has been singing their praises all season I feel like you don't need me to echo it. Fortunately for the Heels, the bracket sets up perfectly for them. And unless someone gets really, really hot offensively I would expect the Heels to make the finals. But I will likely be picking against them once they get there.
The Sleeper: Virginia (+200)
Ken Pomeroy has Virginia rated as the No. 1 team in the country according to his unique metrics. And the Cavaliers thrust themselves back into contention for a No. 1 seed in the NCAA Tournament with a strong stretch that included wins over North Carolina and Louisville (by 22) each of the past two Saturdays. Tony Bennett's squad is rock solid and incredibly efficient on both ends of the floor. And when they need a big basket they rely on one of the best players in the country, Malcolm Brogdon. Virginia doesn't have a weakness and dictates tempo in every game they play. The Cavaliers haven't lost a game by more than seven points this year, and three of their six losses this season were by a single basket. Virginia won the ACC Tournament two years ago. And if they get past Miami, a team they split with this season, they will be tough to take out in the finals.
The Sleeper: Miami (+350)
Miami choked away a shot at a piece of the regular-season title with a head-scratching loss at Virginia Tech last Saturday. The loss itself wasn't a stunner - Virginia Tech also upset UVA at home this year - but the face that the Hurricanes lost by 15 points was surprising. Miami has one of the most experienced teams in the league, led by fifth-year seniors Sheldon McClellan and Angel Rodriguez. They are long and athletic and a team that looks like a legit Sweet 16 club. They key for Miami is offensive consistency, which has eluded them at times. They should get a boost from the return of super sixth man Ja'Quan Newton, who was injured and then forced to endure a three-game suspension. He is eligible to return this week and should be a key contributor if the Hurricanes are going to make a run.
The Spoiler: Florida State (+6000)
I wanted to put Georgia Tech in this slot because I feel like their senior-laden starting lineup is going to come to play this week. But Tech got a tough draw having to face Virginia in the quarterfinals (if they even beat Clemson). Instead, I think the bracket sets up better for Florida State. The Seminoles haven't played up to their potential all season long. But they have two smooth freshmen, Dwayne Bacon and Malik Beasley, and one of the most explosive players in the league in Xavier Rathan-Mayes. FSU won its last two games, beating Notre Dame and Syracuse, and they should hammer Boston College in the first round. After that they play an overseeded Virginia Tech team. And if FSU can win those two games it would set up an emotional rematch with in-state rival Miami. I don't think a mini-run is out of the question.
Early Round Matchup To Watch:
No. 8 Pittsburgh (-2.5) vs. No. 9 Syracuse (12 p.m., Wednesday, March 9)
Unfortunately, one of the most consequential games of this tournament will be played at noon on Wednesday when a lot of the college-basketball loving world will be stuck at work checking scores on their phone. According to my most recent NCAA Tournament projections , I have both of these teams in the field. However, there's no denying that they both need a win - badly. Syracuse lost its last two regular-season games on the road and has dumped four of five. Pitt has also lost its last two games and dropped three of four. Pittsburgh has had Syracuse's number for years, dating back to their time at the top of the Big East. Jamie Dixon's group is fantastic at attacking SU's patented 2-3 zone, and the Panthers easily swept the season series this year, winning both games by double-digits. They have actually won four straight in the series and will be a slim favorite on Wednesday. Pitt has more experience and toughness than the Orange. But Syracuse is a team that is capable of getting very hot, very quickly from the outside. The winner of this bubble team matchup will be able to breathe a little easier while the loser will be stuck sweating things out until Selection Sunday.
2016 ACC Conference Tournament Predictions: I think the fact that Virginia is the betting favorite in this tournament despite not being the No. 1 seed speaks volumes about who the oddsmakers believe is the best team in the field. However, I think Virginia has a much tougher path to the title game than North Carolina (including a potential upset game against either Clemson or Georgia Tech). UNC should be able to beat back either Pitt or Syracuse, and then they would likely face a rematch between either Duke or Notre Dame, teams that UNC went 1-2 against this year. Look, I'm not sure who is going to win this 15-team free-for-all. But I don't think it will be North Carolina. And instead I would say that whichever teams emerges from the bottom of the bracket (UVA or Miami) will cut down the nets.
Robert Ferringo is a member of the Basketball Writer's Association of America and a professional sports handicapper for Doc's Sports. He is considered one of the best college basketball handicappers in the country and he is on an unbelievable run right now, more than doubling his clients' bankrolls in the last six weeks while earning $11,800 in profit! Robert has banked 10 straight winning college basketball regular seasons and his $100-per-Unit bettors have taken home over $40,000 in winnings so far this decade. There is no better moneymaker in the nation and Robert is looking forward to another amazing March Madness. Click here to get two days of college basketball picks for free - no hassle and no credit card needed.
Read more articles by Robert Ferringo