NCAA Tournament Projections: Only a Dozen or So Bubble Teams Exist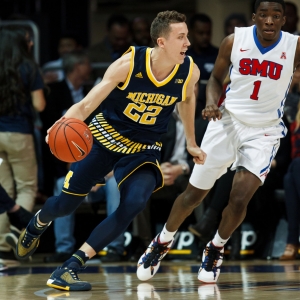 If I've said it once I've said it a million times: Joe Lunardi is a fraud. Joe Lunardi is a loser. Joe Lunardi is a clown. He is one of the biggest jokes in sports, yet for the next two weeks his face is going to be plastered all over ESPN and his drivel will be treated like gospel.
ESPN obviously has a huge stake in creating controversy and generating interest in college basketball this time of the year. And the carnival barker Lunardi is a big part of the Hype Machine in March. However, while he will be trying to sell you on this wild, ever-changing NCAA Tournament field over the next few weeks, the fact of the matter is that according to my NCAA Tournament projections the field is pretty simple to follow and the field is nearly set.
Selection Sunday, the day in which the NCAA Tournament brackets are announced, is on Sunday, March 13. Then we will find out exactly who's in and who's out of the 68-team NCAA Tournament field. Over the next 13 days you're going to hear the term "bubble" applied to what seems like about 40 different teams. But in reality, there are about 13 teams battling for the final six spots in the field.
There are 32 conferences that receive automatic bids to the NCAA Tournament. The Ivy League is the only conference that awards its regular-season-title winner the automatic bid. The other 31 conferences all offer their bids to the league tournament champion.
So of those 32 conferences, I am projecting that 19 of them are clear one-bid leagues. There are some exceptions, which I will have an article about later in the week. But for the most part these 19 leagues will send one representative to the NCAA Tournament.
Here is a breakdown of those one-bid leagues, with the team currently in first place listed:
Automatic Bid Leagues (Projected Teams: 19):
America East - Stony Brook
Atlantic Sun - North Florida
Big Sky - Weber State
Big South - Winthrop
Big West -Hawaii
Colonial - UNC-Wilmington
Conference USA - UAB
Horizon - Valparaiso
Ivy League -Yale
Metro - Monmouth
Mid-American - Akron
MEAC -Hampton
Northeast -Wagner
Ohio Valley - Belmont
Patriot League - Bucknell
Southern - Chattanooga
Southland - Stephen F. Austin
SWAC - Texas Southern
Summit - IP-Ft. Wayne
Sun Belt - Arkansas-Little Rock
WAC -New Mexico State
After that, there are 22 teams that I consider absolute locks to make the NCAA Tournament. Some of these teams will win their respective conference tournaments and earn an automatic bid. But even if they don't, these have been the Top 25 staples that are in the field regardless of whether or not they win another game:
LOCKS (Projected Teams: 22): Virginia, Duke, North Carolina, Miami, Kansas, Iowa State, Oklahoma, Baylor, West Virginia, Maryland, Michigan State, Indiana, Iowa, Purdue, Villanova, Providence, Xavier,Oregon, Arizona, Utah,Texas A&M, and Kentucky.
After that there is a group of about 15 teams that are extremely safe and, barring something absurd, will be in The Big Dance.
EXTRMELY SAFE (Projected Teams: 15): Connecticut, Cincinnati, Dayton, VCU, Pitt, Notre Dame, Texas, Ohio State, Wisconsin, Michigan, Wichita State*,California*, South Carolina, Gonzaga, and Seton Hall.
So there we have 56 of the 68-team field already set. That leaves 12 available spaces and, by my count, only about 19 worthy teams fighting for those slots. Some of the teams on my list are much safer than others. But at the end of the day these are really the only teams left that are worthy of discussion as truly being "on the bubble".
Here is my list, in no particular order but with an asterisk next to the teams that I think are at the top of this "bubble list":
BUBBLE TEAMS (Remaining Bids: 12): Tulsa, Temple, St. Joseph's*, Syracuse*, Texas Tech, Butler*, Creighton, Boise State, San Diego State*, USC, Colorado*, Florida, Vanderbilt*, BYU, St. Mary's, LSU, Alabama, Oregon State and George Washington.
That's it. That's your bubble. There are several other teams that Lunardi and other bobblehead analysts will try to talk you into believing are on the bubble (mainly to watch these teams in action on ESPN, fox or whatever network is trying to sell you). But these teams - Washington, Northwestern, Mississippi, UCLA, St. Bonaventure - can only make the field if they win their conference tournaments.
So that is it. Those 19 teams are fighting for 12 spots. And if you believe that the teams I have starred are already in the field then you are really talking about 13 teams fighting for six slots.
Now, there is one final X-Factor. That is the "bid-stealers". If any team that isn't listed in this space goes on a run and wins its conference tournament then they would effectively "steal" a bid, shrinking the available spots by one. (An example would be Georgia Tech coming out of nowhere and winning the ACC Tournament.)
There are also a few top mid-major teams from small conferences - Monmouth, Arkansas-Little Rock, and Valparaiso - that could make a compelling case for at-large inclusion. So keep an eye on their respective conference tournaments as well.
But other than that, that group of 19 bubble teams is going to weed itself out over the next two weeks as they finish up the regular season and play in the league tournaments. Don't be distracted by any of the noise; keep an eye on those dozen or so teams and know that they are the only teams left fighting for their ticket to The Big Dance.
Robert Ferringo is a member of the Basketball Writer's Association of America and a professional sports handicapper for Doc's Sports. He is considered one of the best college basketball handicappers in the country and he is about to extend his unmatched streak to 10 straight winning college basketball regular seasons. Robert's $100-per-Unit clients have banked $22,130 in profit with his sides and totals the last threeseasons and have taken home over $40,000 win winnings so far this decade. There is no better moneymaker in the nation and Robert is looking forward to another amazing March Madness. Click here to get two days of college basketball picks for free - no hassle and no credit card needed.
Read more articles by Robert Ferringo
---
Most Recent College Basketball Handicapping