College Basketball Handicapping: Beware the North Carolina Bandwagon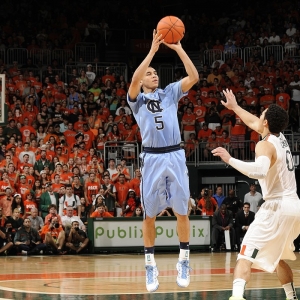 Groupthink is the enemy of sports betting profit. Whenever there is a generally held consensus in the world of sports - Green Bay and Indianapolis are preseason Super Bowl favorites! The Nationals are going to dominate the N.L. East! - you can all but guarantee that consensus is not only wrong , but shockingly wrong. And it almost always costs common square bettors a lot of money before they realize that these communal delusions are inaccurate and misguided.
In college basketball right now there appears to be a consensus crystalizing about who is the favorite to win this year's national championship. And Everyone's Favorite To Win It All is - stop me if you've heard this one - the North Carolina Tar Heels.
At least three times a week I hear some schlub play-by-play man or color guy digress into their thoughts about the general landscape of college basketball. They will throw out packaged five-second thoughts on whatever is the hot-button topic of that particular week before the conversation inevitably shifts to who is The Best Team In The Country. And I can say that about 95 percent of the bobblehead media is in agreement that North Carolina is the favorite to cut down the nets in Houston this April.
There is just one problem with that theory: North Carolina doesn't have a chance in hell of winning the national title.
Look, I can recognize talent. And the Tar Heels have plenty. They have two or three guys that will get drafted into the NBA and a core of guys that have been playing together for the past two or three years. They have length and athleticism and are one of the highest-scoring and most efficient offenses in college basketball. The Heels are currently 19-3 and ranked No. 2 in the country, so it is not as if they are some scuzzy, wannabe contender. North Carolina can play.
But we're talking about winning a national title. And just because the Heels are in the Top 5 that doesn't mean that their current sportsbook odds in any way reflect their actual realistic odds of claiming a title. 5Dimes Sportsbook currently has North Carolina at +645 to win the national championship. Those are the lowest odds of any team in the country, followed by Oklahoma at +795.
North Carolina is basically the Jeb Bush of college basketball. The pedigree is there. The hype is there. The expectations are there. A few months ago Bush seemed like the obvious, safe, establishment choice to win the Republican nomination for president, just like a few months out from the NCAA Tournament the Tar Heels seem like the obvious, safe, establishment choice to win the title. But just like there isn't a chance in hell that ol' Jeb is going to win the Republican primaries, there is no way that North Carolina is going to win the national title.
How do I know better than the national press? Why am I so sure that I'm right and seemingly EVERYONE is wrong? Because I've seen enough of this team to know that they don't have the guts and toughness to win six straight in March. As I mentioned, the core of this team - Marcus Paige, Brice Johnson, Isaiah Hicks and Kennedy Meeks - have been playing together for three years. I've seen these guys play together at least 50 or 60 times, so I feel pretty comfortable commenting on what I think their ceiling is.
And I can say definitively that I've seen nothing from this team to make me think that they are championship-caliber. North Carolina is woefully overrated, and their odds to win it all are grossly exaggerated. I don't take these guys seriously when it comes to being the best team in college basketball, and there are really four main reasons why:
1. They Are Soft - Mentally And Physically
This crop of Tar Heels is soft both mentally and physically. Let's tackle the physical side first. They actually have a lot of size.
The Tar Heels have five regulars that are between 6-8 and 6-11, so you would think that they would be an outstanding interior defense and rebounding team. Wrong. This team does not defend the basket well at all. When you compare their post and rim defense with teams like Virginia, Cincinnati, West Virginia or Michigan State, the differences really start to become glaring. I don't think that the Heels are capable of defending on an elite level. And all championship teams need to be able to consistently get stops in order to win the tournament.
Brice Johnson is the de facto center for this team. He is 6-10 but rail thin. A team with a power post presence should be able to push him around. Meeks backs him up. He has the requisite girth. But foul issues and inconsistency have plagued him throughout his career. That's really it for big men, outside of a few more foul-prone minutes from Joel James. That's not good enough.
There is always that one game - be it in the early or the late rounds -- that championship teams need to just gut out and win by sheer force of will. I don't think that North Carolina has it in them. I don't believe that this team can win an "arm wrestling" match or battle of wills against a scrappier, tougher team. I've seen them lose their fair share of those games in the past three years and that could be their undoing again this March.
2. They Don't Win On The Road
The Tar Heels are a juggernaut on their home court. But their loss at Louisville on Monday made it six straight games that they've lost on the road against Top 25 teams, and UNC is now 1-10 in their last 11 games in that situation. Again, the ability to win on the road against good teams in hostile environments is the hallmark of mentally-tough, championship-caliber teams. And North Carolina doesn't seem capable of that.
Just six of Carolina's 22 games this season have been on the road. They have lost half of those, falling at Northern Iowa, at Texas and at Louisville. UNC only beat middling Virginia Tech by five, and their 11-point win at Syracuse was very misleading; that game was 62-60 with about five minutes left.
North Carolina's schedule doesn't offer many opportunities for the Heels to prove themselves away from Chapel Hill the rest of the way. They have to go to South Bend this Saturday to take on a soft, but talented, Notre Dame squad. But their only real road tests after that are a trip to Virginia on Feb. 27 and then a season finale at Duke against a rebuilding Blue Devils squad.
The game to watch is at UVA. That is the type of game that North Carolina can make a statement in by winning. But until I see them do something like that, it is too easy to brush aside this team as a paper tiger.
3. They Really Haven't Beaten Anyone
Who is North Carolina's best win against this year? Maryland. They beat the Terps - at home, naturally - back on Dec. 1. But beyond that North Carolina really doesn't have any marquee wins. Clemson (at home)? Syracuse? The Heels have played only three games against teams rated in the Top 30 and they have lost two of them, falling to Texas and Louisville.
This was also an issue last year. Last year the Tar Heels were being pimped as a national title contender. But apparently no one noticed that all they did was lose to any decent team that they played down the stretch. North Carolina went 4-6 in their last 10 regular-season games and was 0-5 against teams rated in the Top 40. For the season the Heels went just 6-11 against teams in the Top 40.
This year the Heels are just 2-2 against Top-40 competition. They have six remaining games against teams currently in that category: Notre Dame, Duke (twice), Miami, Virginia and Syracuse. Three of those games are on the road. If North Carolina is the true title contender that everyone thinks they should win at least four of those games. Don't be surprised if they don't.
4. Roy Williams
I could write an entire article about what a postseason loser Roy Williams is. I'm not going to belabor the point. But I am going to point out that North Carolina, despite high seeds, higher expectations, and favorable matchups and paths in the NCAA Tournament, hasn't made it past the Sweet 16 in each of the last three years. Twice he didn't survive the opening weekend. North Carolina hasn't been to the Final Four this decade, last playing in the national semifinals back when they won the title in 2008-09.
Williams is not a great in-game strategist, and his game planning often leaves something to desire. Williams is one of those coaches that relies on recruiting and cultivating more physically-talented teams than his opponents and winning on the back of that talent - and talent alone. But that doesn't always cut it in March, and it has cost him time and time again.
Roy does have two National Championships to his name, in 2005 and 2009. However, ask any Kansas fan about Roy's maddening inconsistency in the postseason. He is a perpetual underachiever in the NCAA Tournament, and I don't think that this year's team will be any different.
Robert Ferringo has set some lofty standards worldwide for college basketball handicapping. Click here for $60 worth of free college basketball picks. No credit card needed, and you will never deal with a salesman.
Read more articles by Robert Ferringo
---
Most Recent College Basketball Handicapping