Alabama vs. Washington Peach Bowl Expert Picks & Predictions with Betting Odds
by Trevor Whenham - 12/21/2016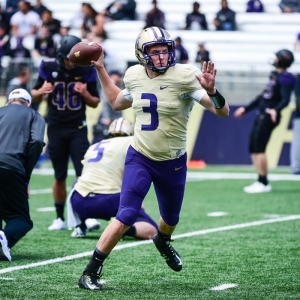 Alabama Crimson Tide vs. Washington Huskies, Saturday Dec. 31, 3 p.m. ET
This is the first of the two playoff semifinals that I will have previewed, and at least on the surface it should be the more straightforward one. After all, you wouldn't expect a game of this profile that teams have fought to get into all year to feature the biggest favorite of any bowl game played all season, yet here we are. Washington is a nice team that has a lot going for them. Alabama, though, is just on a higher level - more talented, more athletic, deeper, more experienced, more accomplished coaching - it goes on and on. So, we need to accomplish two things here. First we need to decide if, despite the disadvantages, Washington can win this game. Second, if the answer to that is "no" (and it very likely is) then we have to look at whether they can keep it close enough to make it a good bet to pick them to cover.
Peach Bowl Betting Storylines
So, let's start with why Alabama is so much for Washington to handle here. Not only did the Crimson Tide go 13-0 to get here, but they won eight of their games - including the SEC Championship Game - by at least four touchdowns. They scored at least 48 points seven times, and the only time they had fewer than 30 was in the 10-0 win over LSU that wasn't as close as the score suggests. Their offense obviously works. And that is far from the best part of their game. They are the best defense in the country, and it isn't even close. They are No. 1 nationally in plenty of categories - total yards, rushing yards, points, and so many more. They allow less than 64 yards per game on the ground. That's insane. Just two teams - Ole Miss and Arkansas - were able to do anything at all against them. This is a serious defense, and they are playing better than ever - they didn't allow a single touchdown in their four games played in November and allowed just one early TD against Florida in the SEC Championship Game. This is one relentless defense that gives opposing offenses no room to breathe.
So, can Washington's offense, which is impressive in its own right behind the tandem of QB Jake Browning and RB Myles Gaskin, score against this team when so many before them haven't been able to? They scored more than 40 points in 10 of 13 games, so they are a match for the Tide on that front. The issue, though, is that so many of their stats were inflated by a joke of a schedule. Rutgers, Idaho, Portland State were a joke of a nonconference schedule. Arizona has a lousy defense. Oregon's defense was a farce. Oregon State, Cal, Washington State - hardly elite defenses. They passed most of their tests, but the problem is that they were hardly tested in them. Scoring 44 against Stanford was nice but not nearly as nice as it would have been in past years when that team was better. By far the best team Washington played this year was USC. And that's the big problem. It was their only loss, and the offensive line struggled badly against a USC front that isn't even close to what Alabama has. They ran for just 17 yards, and scored by far a season low 13 points. Alabama can do everything USC did in that game, only so much better. And we should note that Alabama also beat USC 52-6 to start this season - albeit with a different starting QB.
We should note that the Tide has lost an offensive coordinator leading into this game - Lane Kiffin is head coach at FAU now. Often times I would argue that losing a key position like this could create an issue for a team. Is it even possible for a team to miss Kiffin? He's just so annoying. The Tide certainly weren't sad to see him go - he wasn't likely to be there next year regardless, and it took them about two seconds for them to replace him with Steve Sarkisian, who was an analyst with the team during the season. Sarkisian and Lane have a similar background, so the transition will be close to seamless. Nothing to see here.
Peach Bowl Odds and Betting Trends
The game opened with Alabama favored by as many as 16 points, and that has since fallen to 14.5 in most spots. Two-thirds of bets have come in on Alabama, so we shouldn't see it fall much further. The total opened at 55 and has fallen slightly to 54.
The Huskies are 4-0 ATS in their last four December games and 6-1 ATS in their last seven nonconference games. They have gone "over" the total in four of their last five nonconference games but "under" in four of five neutral-site games. The Tide are 13-6 ATS in their last 19 neutral-site games and 13-4 ATS in their last 17 against teams with winning records. They are 6-2 ATS in their last eight overall.
Alabama vs. Washington Peach Bowl Expert Picks & Predictions
So, we asked at the outset if we thought Washington can win. The answer is emphatically "no". I mean, anything can happen in college football, but if both teams play their best it's not even close. Washington is unquestionably a team on the rise, and they have a Top-5 coach, but they lack the experience and depth to trust here. So, if I don't think that Washington can win can I bet that they will stay within two touchdowns? That is obviously more likely, but the gap between the teams is large enough that all I can do take the better team and hope for the best. Alabama is the pick.
Got free picks? Doc's does. And for new clients we would like to offer you $60 in free member's college football picks from Doc's Sports Advisory Board of college football handicapping experts. Click here to sign up today. We never require a credit card for this offer, and you will never have to deal with a salesman.
Read more articles by Trevor Whenham