Big Ten Championship Game Picks: Penn State vs. Wisconsin Odds and Predictions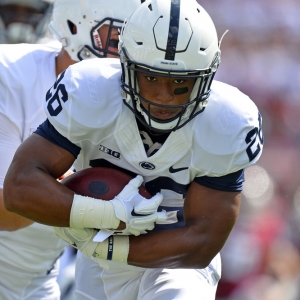 Penn State Nittany Lions vs. Wisconsin Badgers, Saturday Dec. 3, 6 p.m. ET
The problem with championship games is that they don't always determine the best team in a conference. The Big Ten this year is a perfect example because this game is being played without the two best teams in the conference. Michigan beat both teams in this game - including crushing Penn State by 39 - and Ohio State beat Wisconsin and is all but a lock for the playoff. Divisional imbalance and Penn State's upset win over the Buckeyes have combined to give us this second-tier showdown, though, and our job is to make the best of it. We can't dwell on what never was and should have been, after all.
While it isn't the marquee matchup, this game does have some at least theoretical playoff implications. The winner of the game is far from a lock for the playoff, but if enough things break their way you could imagine either team - especially Wisconsin - getting past Washington and making the final four. I would bet against it, but it could happen. It could be tougher for Penn State than Wisconsin because the Nittany Lions would have to overcome that massive loss to Michigan - a team that also has two losses.
Penn State at Wisconsin Betting Storylines
The teams did not play in the regular season, so we don't have that shortcut to evaluate the squads and how they match up. Because they are conference mates, though, we can look at common opponents and have a large enough sample size to perhaps learn something. Both teams lost to Michigan, though Wisconsin fell by only a touchdown. Penn State upset the Buckeyes by two, while Wisconsin lost to them by a touchdown. Both teams beat Minnesota, Purdue, and the lousy Spartans. So Penn State was 4-1 against common foes, while Wisconsin was 3-2. It's hardly a decisive edge for the Nittany Lions, and there is only so much you can take from this kind of comparison, anyway, but it is a slight advantage. Both teams have finished very strong, though, so those losses have long since been forgotten by both squads - Wisconsin won their last six after losing two games in a row, while Penn State lost their conference opener and hasn't lost in their eight games since.
Wisconsin starting QB Alex Hornibrook is listed as questionable heading into the game. For a lot of teams that would be a huge issue, but for Wisconsin it hardly matters at all. Backup Bart Houston has played plenty this year and has actually been more efficient. The two have combined for just 13 touchdowns with 10 interceptions, so the hopes and dreams of this team do not rest on the arms of their QB - whoever that may be. Neither guy plays a big role in the running game, either, so as long as the starter hasn't forgot how to hand the ball off to a running back the team should be fine no matter what happens here. Frankly, I'd rather have Houston start in a lot of ways.
The Penn State running game could be a story in this one - and not in a good way. Saquon Barkley is a great back who has had a very productive year. He was banged up last time out, though, and the offensive line has struggled badly to create space for him over the last three games. His productivity has fallen badly as a result, and now he is up against the third-stingiest run defense in the country. If Penn State can't find a way to establish their run game then they are going to be in trouble - quarterback Trace McSorley is not good enough to win this game if it turns one-dimensional because they can't run. Penn State's ability to establish the run early, then, could very well establish how the game turns out.
Penn State at Wisconsin Odds and Betting Trends
The game was opened with Wisconsin favored by the key number of three, but that wasn't meant to be. It quickly fell, going as low as 1.5. It seems to have settled widely at 2.5, and it seems reasonable that it could wind up somewhere in that neighborhood by kickoff. About two-thirds of bets have been on Wisconsin, so it's likely that a majority of sharp money has come in on Penn State.
The Nittany Lions are 7-0-1 ATS over their current eight-game winning streak, which includes 4-0-1 ATS against teams with winning records. They are, however, just 2-5 ATS in their last seven neutral-site games. The Badgers are 3-0-1 ATS in their last four conference games and 6-1-1 ATS in their last eight against teams with winning records. The favorite is 8-1 ATS in the last nine meetings between these squads.
Penn State at Wisconsin Predictions and Picks
Wisconsin is quite a comfortable play at this price. Aside from the Penn State win over Ohio State, it feels like they have benefitted from their schedule - I don't think they are quite as impressive as their recent record suggests. I question their ability to run, and that will make it tough for them to score. Wisconsin is a tough team, and I have more faith in their coaching as well. I would have happily bet Wisconsin up to about -5.5, so at this kind of price there is nice value. The Badgers are the pick.
Doc's Sports wants you to try out one of their expert college football handicappers, and they are now offering new clients a free $60 in credit that they can use for any handicapper on Doc's Advisory Board. This takes less than two minutes to sign up, and there is no credit card needed and no salesmen to deal with. Get your free college football picks now.
Read more articles by Trevor Whenham