2016 Cleveland Cavaliers Predictions and NBA Futures Betting Odds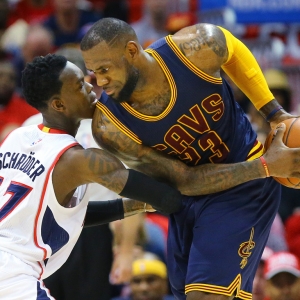 There are few things tougher in sports than defending a title. That is especially the case here when Cleveland's margin of victory was slim and the team that they beat got dramatically better -- at least on paper. The Cavaliers dealt with the Kevin Durant move largely by standing pat. What they had was good enough last year. However, will it be good enough this time around?
2016 Cleveland Cavaliers Betting Storylines
LeBron was a true beast in the playoffs, and he showed that he is still king. We can't ignore, though, that he is turning 32 this offseason and has a lot of wear on the tires. His regular season wasn't as consistently impressive as it has been. At some point he is going to take a step back, and he won't be able to flip the switch and get back on track quite as easily. There is no way of knowing when that will happen until it happens, but we can't live in a bubble forever and pretend that LeBron will always be LeBron.
Kevin Love is still Kevin Love, and that is always going to be a consideration when looking at this team. He had a better season than he has had before, but he still doesn't seem to fit like a glove in Cleveland. The title built peace in Cleveland, but that peace could be fleeting. Love alone won't determine whether the team wins or loses, but he does have the ability to disrupt the team's chemistry, and that could be fatal when their margin for error against the Warriors is smaller than ever.
We could go into detail about how this team is built and how they will play -- and we will about several other teams as we preview them. It's kind of a waste of time here, though -- there isn't a less-mysterious team in all of sports. They don't have secrets, and there is no mystery. The bad news for the other teams in the conference, though, is that their blatantly transparent style is just so much better than every other team -- at least as long as LeBron is some version of LeBron --that you have to be generous to call the conference a race. It's seemed like a coronation last year, and it seems even more so this time around. It is truly Cleveland's conference to lose.
2016 Cleveland Cavaliers Additions and Departures
What you saw is largely what you get. Timofey Mozgov was overpaid by the Lakers and is gone. Dahntay Jones was waived, too. That's pretty much it. The lone significant veteran addition -- and I use the term significant loosely -- is Chris Andersen, who is coming off a season in which he played 27 ineffective games for two teams. They had no picks in the draft but bought the rights to tiny point guard Kay Felder from the Hawks. Felder is a project who is unlike to see much playing time. They've invited a few other players to camp, but none seem like much more than camp fodder. The only real uncertainty right now is the status of J.R. Smith. After a strong playoff run, Smith opted out of his contract and looked for a new deal. He wants to stay in Cleveland, and the Cavs want him back, but there is a gap in what the sides feel he is worth. He is not reporting for mini-camp before training camp starts, and a longer holdout is possible. It seems unlikely that he won't make a deal at some point, so this is just posturing for now.
2016 Cleveland Cavaliers Futures Odds and Trends
The Cavs won it all last year, but they certainly didn't reward bettors. At 37-42-3 ATS on the season they were a long way from profitable. They turned a corner nicely in the playoffs, though, leading all teams at 13-8 ATS. They were no use at all on totals -- going "under" 41 times, and over just as many.
Cleveland Cavaliers Futures Odds (from Bovada)
NBA title odds : +300 (second choice)
Eastern Conference title odds : -215
LeBron James MVP Odds : +450 (third best)
Kyrie Irving MVP Odds : +3300
Kay Felder ROY Odds: +5000
2016 Cleveland Cavaliers Predictions and Futures Odds Picks
Nothing shocking is going to appear here. I am concerned about age, fragility of the core, the quality of the coaching, and the depth of the team. In other words, I have exactly the same concerns I had last year. They could struggle and wind up not winning the conference, but it seems much easier and smarter to bet that they will find a way and that we will see another rematch between them and the Warriors for all the marbles. I don't like their chances in that finals, but then I hated their chances last year and look where that got me.
Want free sports betting picks? Doc's Sports has you covered - get $60 worth of picks free from any of Doc's Sports expert handicappers. Click here for free picks (new clients only).
Read more articles by Trevor Whenham