College Football Betting Advice: Props Odds and Picks for Top Quarterbacks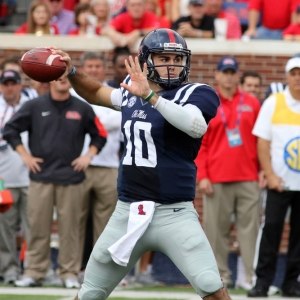 It is going to be a good year for quarterback play in college football this year. Potentially a very good year. There isn't a lot of depth in the big leagues, with a lot of major programs going through changes, but every conference has at least one guy who has the potential to be truly elite.
Five of the top eight guys in the Heisman Trophy futures odds at this point are quarterbacks, and they come from five different conferences. When it comes to betting on quarterbacks heading into a season, my favorite way to do it by far is on touchdown props. By looking at the past performance, the returning talent and, most importantly, the schedule, you can get a good sense at what is possible, and you can often find some nice value. Here's a look at four of the more interesting TD props available currently at Bovada:
Baker Mayfield, Oklahoma "over/under" 32.5 Touchdowns (over -130, under -110): Mayfield was a revelation last year for Oklahoma, with 35 regular-season touchdown passes in his first season at the helm of the Sooners after transferring in and sitting out for the prior season. He is a legitimate talent and should be poised to take a step forward. With 12 games he needs to average just short of three TD passes per game to go over this total - postseason games do not count. And that's the problem.
Oklahoma has two brutal games in their first three - Houston and Ohio State. Those are going to be battles. TCU, Oklahoma State and Texas aren't easy, either. He has some opponents he can feast on - Kansas being chief among them. Still, it's tough to be hugely optimistic given the schedule.
Unfortunately, the number is such that the under isn't very attractive, either. This is yet another case of where the oddsmakers did too good of a job of setting a number, and there is no value as a result. Pass.
Chad Kelly, Ole Miss o/u 27.5 TDs (over -130, under -110): Kelly is the best QB in the SEC heading into the season, and it's not really close. This number isn't expecting a lot of progress - he had 27 touchdowns in the regular season last year. He was very consistent last year - he had at least one touchdown in every game and at least two in 10 of 12. Kelly has to deal with the departure of Laquon Treadwell, his favorite receiver last year, and some change in the offensive line. There is depth in both positions, though, so he should be fine.
I wind up being a bit pessimistic here, though. Kelly has four absolutely brutal games - Florida State to start, Alabama and Georgia in Weeks 3 and 4, and at LSU later on. Touchdowns won't come easy in those. I'd take a shot at the under at this price.
Deshaun Watson, Clemson o/u 31.5 TDs (over -130, under -110): We have the Heisman favorite on a national title favorite. It should be easy to be optimistic, right? Yes, as it turns out.
Watson had 30 regular-season touchdowns last year. He is a year more experienced and has a very deep set of receivers to throw to. Outside of a game against Florida State that will determine how the season turns out, he also faces a very easy schedule.
His total last year was boosted by a five-TD burst against NC State. This year he has similarly easy games against them, Troy, South Carolina State, Syracuse and Wake Forest in which to pile up the TDs. That's a lot of chances to score. The over is a solid play here.
Josh Rosen, UCLA o/u 24.5 TDs (over -145, under +105): There are good reasons why the over is very much favored here. For starters, Rosen just enters his true sophomore year, so he should experience a step forward as the game slows down for him this season. He had 20 regular-season touchdowns last year, so a step forward, given his immense talent, could easily get him over this number. Only five of those touchdowns came in the last five regular-season games, though, so he clearly wore down as the season progressed. This year he knows much better what to expect, and he has had another year to train and prepare. He should finish stronger. Finally, he plays in the Pac-12 - not exactly the most powerful of the power conferences this year. The over is the right side to be on, but I'll leave it to you to decide if the price is palatable.
Read more articles by Trevor Whenham