College Football Betting Advice: Teams Over-Ranked in Coaches Poll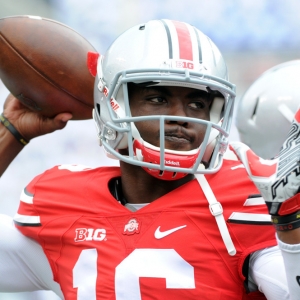 The Coaches Poll has issues. There is no denying that. It seems ridiculous to ask guys who work on Saturdays to vote on Saturday night on how teams played when it is very unlikely that they saw more than two actually play. And then there is the whole fact that so few coaches actually fill out their own ballots, or the fact that some coaches aren't even subtle about using their votes to air grievances. Still, for whatever reason, the poll is one of the two most important in existence. This year it is also the first of the two to release their preseason rankings. That means that it gives us our first chance to look at where teams are ranked, and, more importantly, which teams are getting more credit than they deserve.
There are five teams in the poll this year that are higher than they should be at this point.
No. 5 Ohio State: I make no secret of being a huge Michigan fan, so I get it if you regard this as a questionable inclusion. This has nothing to do with my deep personal hatred for the program, though. There is a chance - a good one - that this team can be very good. I am not disputing that for a second. Just think about one thing, though - this team has to replace eight defensive starters, including six who were drafted, including three in the first 20 picks. They always recruit well, so the talent is there. This is basically a whole new defense, though, and it can take time for a new group to come together. They play the Sooners in their third game of the season, so time is in short supply. It's not like the offense is coming back whole, either. A running back and left tackle were gone in the first half of the first round. They lost two receivers and a tight end in the draft, too. Again, there is plenty of talent, but talent doesn't always immediately produce results. I have no problem with the suggestion that this could become a playoff team. Certainly possible. They are no worse than the second-best team in their division. It seems premature right now, though, to assume that everything that needs to turn out well will immediately. This ranking is just a bit too much tied to potential over reality.
No. 7 Stanford: I just plain don't get this one. The Pac-12 is deep this year, but not deep in one of those inspiring ways. There are five or six teams that could win the conference, but it is very hard to imagine any of them as a legitimate playoff threat. Stanford could be the favorite, but not by much. They have some real issues heading into the season. Star QB Kevin Hogan is gone, and the two guys vying to replace him combined to throw eight passes last year. They also lost three offensive linemen, including the best guard in the country. Christian McCaffrey is an all-World star and the biggest reason this team has this ranking. He faces a whole lot of pressure carrying a team with these key changes, though. This is easily at least 10 spots higher than they should be ranked right now.
No. 10 Tennessee: I think that people are too eager to jump on the Tennessee bandwagon. They have talent, but they are so young that I think this is too soon to expect this much from them. What really annoys me about this, though, is that some moron actually decided that it was right to give the Volunteers a first place vote. There is no possible way to justify an opinion that this is the best team in the country. None. Not one. If you were looking for a reason to call the Coaches Poll stupid and outdated then your search is over.
No. 16 Georgia: Mark Richt coached this team from 2001 until the end of last season. That's a long time to run one program. The last three years were disappointments to one extent or another. After that much time, a new coach has a whole lot of culture to undo and rebuild. Now, Kirby Smart was a slam-dunk hire, and in the long term he will do great things. He was at Alabama for a long time himself, though, so he has some habits to break and some new things to get used to as well - and he has never been a head coach at any level, either. It's just too much to ask of any new head coach to face a rank this high out of the gate - never mind one taking over a program that has had some issues and has fallen behind the best in the conference recently.
No. 21 Baylor: Surely I don't need to build much of an argument here -- it should be obvious. After an offseason about as tumultuous as one can be, the team will be playing under a wildly-uninspiring interim coach - a guy who almost certainly will have only one year in the job. That is far too much to overcome - or at least far too much for us to expect that they are likely to overcome it. They also lost five players to the draft, including the most exciting receiver in football. Baylor definitely could wind up ranked. Or they could wind up with three wins. Neither would be surprising, but it is way too premature to have them here now after all that has happened.
Read more articles by Trevor Whenham