College Football Bowl Wagering: Most Intriguing Matchups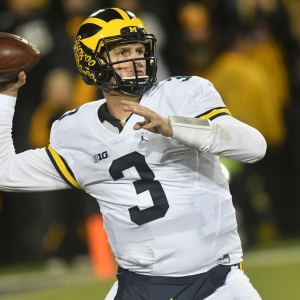 I absolutely love bowl games. All of them. I'll watch as many as I possibly can, and even the worst of them is better than almost anything else you could be watching or betting on. Obviously, though, some bowls are better than others. As we look over the initial list of bowls on offer starting in 10 days or so there are six games that stand out above the rest in terms of intrigue. These are the ones that have the most potential to thrill - both to watch and to handicap (odds are from BetOnline):
Fiesta Bowl - Ohio State (-3) vs. Clemson: This one is a bit of a no-brainer. You have two reasonably well-matched teams playing for a berth in the National Championship Game. Ohio State seems to have the edge in coaching, but Clemson has the edge at quarterback. Both have extremely talented players littered across the field. Both also showed a frustrating tendency to be at less than their best from time to time.
The best games are ones that you can imagine turning out a number of ways. I don't struggle here making arguments that give either team the edge. All in all I think Ohio State has the edge, but not by such a margin that I have any particular confidence. This is can't-miss TV - or it would be if it wasn't scheduled at such a moronic time. It will kick off at 7 p.m. ET on New Year 's Eve - which is perfect because no one in the world has anything else to do at that time on that day.
Peach Bowl - Alabama (-16) vs. Washington: This game is interesting primarily because so few people think it will be interesting at all. Alabama is a dominant force - perhaps even the best edition of the team during this great dynastic run they are on. Washington is a flawed champion of an underwhelming conference that lost to the best team they played. It could very easily get ugly. Chris Petersen is a spectacular coach, though, and it's not like he has no talent to work with. When no one gives a team a chance it is fascinating to look at the game and see if you can find a reason to believe in the seemingly impossible.
Rose Bowl - USC (-7) vs. Penn State: You've got the surprising Big Ten champion up against the only team that beat the Pac-12 champion. These teams aren't in the playoff, but they both beat a playoff team. Both are iconic programs, and both salvaged their seasons after rough starts. They have quarterbacks who are far better than expected - USC was supposed to have a different young quarterback entirely. Both have coaches that are currently riding high, but back in September it seemed like a safe bet that both would be fired. This isn't the best matchup that the Big Ten could offer, but given the circumstances it still leads to a very interesting and wide-open matchup.
Cotton Bowl - Wisconsin (-7.5) vs. Western Michigan: I will always be a big fan of any outsider team that gets to mess with the big boys in a major bowl. Western Michigan is an amazing story. Only two teams in the country haven't lost, and Alabama isn't bad company to be in. At this point we don't know if P.J. Fleck will still be around to coach the team or not - there are at least a half dozen teams that would be dumb not to hire him right now. His departure would hurt the intrigue of this game somewhat, but even without him it is a good game - a feisty upstart against a surprisingly strong major-conference team. Wisconsin is also licking their wounds after blowing their chance in the Big Ten Championship - they won't get too many chances to win the conference without facing Ohio State or Michigan. Broncos QB Zach Terrell is more than just a little bit good, and the Wisconsin defense is stout. It's a strength-against-strength showdown that promises to thrill
Orange Bowl - Michigan (-7) vs. Florida State: This is the fifth game on this list, and the fourth featuring a Big Ten team. I'll admit that it is my favorite conference, but that has nothing to do with this. They had the best year of any conference, and that leads to the most compelling matchups. Dalvin Cook is a beast of a running back. Michigan's defensive line chews up running backs and spits out the bones. That alone is reason enough to get excited for this one. Add in two iconic coaches, two programs that aren't quite in the game they dreamed of being in before the season started, and rosters on both sides packed with guys who will play for a long time on Sundays, and you have a potentially great game.
Boca Raton Bowl - Western Kentucky (-4) vs. Memphis: Every year I look for the off-the-radar game that has a chance to really get crazy. This year it is this Tuesday night affair that stands out. Both teams score points in bulk -- they each average in the range of 40 per game. The next time that either one focuses on defense even a little bit will be the first time. WKU coach Jeff Brohm has moved on to Purdue, and he also served as the offensive coordinator, so that takes some of the shine off the game, but it should still be a crazy affair. Besides, what else do you have to do on a Tuesday in mid-winter? This will be a lot of fun.
Doc's Sports is offering a great deal for new clients - you can get $60 worth of free college football picks with no obligation. No credit card is needed, and you will never have to deal with a salesman. See what all the hype is about with $60 worth of free college football picks by clicking here .
Read more articles by Trevor Whenham