College Football Handicapping: Conference Championship Scenarios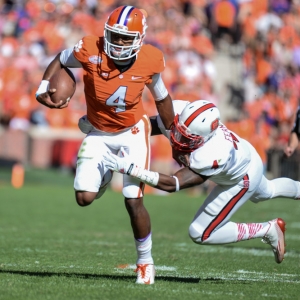 Our job here is simple - we are just one week away from conference championship games in the four Power 5 conferences that play them. The matchup for one of the games is known. This weekend we will see the other three matchups set, and we will see the winner of the Big 12 crowned. There are still several teams with hopes still alive. Here's a look at the scenarios in each conference, and what relevance they could have for bettors:
ACC
Clemson beat Wake Forest to clinch the Atlantic Division last week. Clemson still has a playoff berth on the line, and a big rivalry against South Carolina, so they should still come out firing despite having the division sewn up. The race in the Coastal is to see who gets badly beaten up by Clemson. Virginia Tech controls their destiny - beat Virginia and they are in. North Carolina needs Virginia Tech to lose, and they need to beat N.C. State. Again, both games are at the same time, so we should see both squads motivated for a big effort in these ones.
Big Ten
East: This is a three-team affair, but only one controls their own destiny. If Michigan beats Ohio State then they win the division. If Ohio State wins then they need Penn State to lose at home to Michigan State. If Penn State wins then the Nittany Lions and Buckeyes would have the same record but Penn State would have the edge because of the head-to-head win. If Ohio State wins their game but doesn't win the division they would probably still be in decent playoff shape, but a loss for Michigan would all but certainly end national title aspirations. Motivation won't be a problem for Michigan or Ohio State - this is the only game on either schedule that anyone on either team has been talking about for most of a year. Penn State is in a tough spot against a feisty Michigan State team - they should win, but Ohio State last week showed that you can't take the Spartans for granted.
West: Wisconsin beat Nebraska, so they control their destiny. Win at home against Minnesota and they win the division. Lose and Nebraska wins if they beat Iowa on the road. If both teams lose then Wisconsin limps into the conference title game. Both games are at the same time, so neither will know what is going on in the other game. Both teams should be hungry and both are in winnable situations.
Big 12
This one is as simple as it gets. Only Oklahoma and Oklahoma State are alive to win the title, and they play their annual Bedlam showdown on Saturday. The winner wins the conference. Motivation will obviously not be in short supply for that one. Oklahoma has national aspirations to consider, too. They still aren't assured of a playoff spot even if they win out, but they would put themselves in better shape with a decisive victory here. Houston's huge win over Louisville sure helped their cause, and a big Ohio State win against Michigan would help as well.
SEC
This is the easiest one because we know everything there is to know. Alabama will be playing Florida in the SEC Championship regardless of what happens this week. More directly, Alabama will be beating Florida senseless. It could get ugly. This shouldn't have much of an impact on Alabama this week, though - they will be plenty motivated to win the Iron Bowl even if it has no real impact on their conference title hopes and little impact on their national title hopes. Florida also has a rivalry game at Florida State, but their mind has to be more on getting ready for Alabama than on this game because beating a frustrating Florida State team gives them little but pride at this point, whereas beating Alabama (which they aren't doing, but they can dream) would really shake things up.
Pac-12
North: This is the 109th time the Apple Cup has been played, and rarely has it mattered at all - never mind as much as this one does. Whichever squad - Washington or Washington State - wins the game wins the division and will play in the Pac-12 Championship. Washington needs to win the game very big and then hope everything else falls apart because they likely can't get into the playoffs without a lot of help because of the weakness of their schedule.
South: USC is sitting in the clubhouse watching here. They are in at 7-2 in conference play. Colorado sits at 7-1. USC owns the tiebreak because they beat the Buffaloes. So, if Colorado wins at home against Utah then they win the division, and if they lose then USC wins. Colorado is likely the conference's best chance of a playoff berth, too, but they would have to beat Utah badly, beat up on Washington in the conference championship game, and hope things fall their way. They have a better chance than Washington, but not a good chance. USC plays a nonconference game against Notre Dame. They have three losses, so they are not a playoff team unless there is total chaos, and Notre Dame is so bad that it is hard to get too excited for this game. USC could easily look ahead and be a little flat in this one.
Read more articles by Trevor Whenham