College Football Handicapping and Wagering Advice: Under-the-Radar Quarterbacks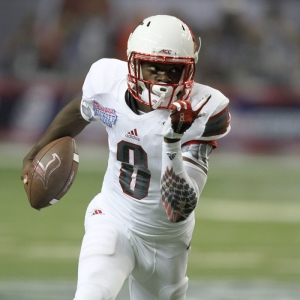 It promises to be a special year for quarterback play in college football. Deshaun Watson of Clemson is the current Heisman favorite in futures betting at BetOnline. Baker Mayfield, J.T Barrett, Chad Kelly and Josh Rosen are all in the top eight in those futures, too, and guys like Greg Ward Jr., Brad Kaaya, Joshua Dobbs, Seth Russell and others are getting plenty of hype as well. Below those top tier of quarterbacks, though, are guys who have a chance to take a huge step forward this season. Those guys may be even more interesting to bettors because the betting public may not be as excited about the lesser-known players, so value might be easier to find. Here are six somewhat more under-the-radar quarterbacks who could be on the verge of excellent seasons.
Lamar Jackson, Louisville: Jackson is a sophomore, but he has the huge advantage of already having a full season of starting under his belt. There was a lot to like about that season, too. He is great with his feet - he rushed for 960 yards and had more than 180 yards in a game three times. His passing needs to catch up, but it was far from awful. He completed less than 55 percent of his passes on the season, which isn't good enough, and the last month of the season was pretty forgettable through the air. However, he did torch Florida State for 307 yards, so he obviously has upside. The game should slow down for him this year, and the team around him is solid. He's going to get a whole lot more attention this year.
Mitch Trubisky, North Carolina: Trubisky is a junior who has seen limited action in his first two seasons. Last year, though, he was just plain spectacular when he did play. He attempted only 47 passes, but he completed 40 of them, with six being for touchdowns. He's obviously not going to complete 85 percent of his passes on a full season or go for almost 12 yards per attempt. Given the chance to play a full season, though, it will be very interesting to see what he can do. He has the luxury of having one of the best running backs in the game, Elijah Hood, in the backfield to keep opposing defenses honest.
Kenny Hill, TCU: Hill was the starter at Texas A&M as a sophomore in 2014, but he had a horrible game in the eighth start against Alabama and never played there again. He transferred after that season and had to sit out last season as a result. Now he takes over at a school which has produced successful quarterbacks over the year. The Big 12 isn't exactly known for their defensive prowess, so if Hill can build on some of the excellent games he had earlier in that 2014 season - he was brilliant through his first month - then he has a chance to do some big things in his new home. Hill is extremely accurate, so he should be a strong fit in this league.
Patrick Towles, Boston College: Towles is another transfer, but as a senior he didn't have to sit out a year after leaving Kentucky. He has two full seasons as a starter, and you would have to call them mixed. There were things to like but lots that could use some work, too. He's athletic and good on his feet, though, and a change in scenery could help him get more confident in his passing. Towles will probably have the worst raw numbers of any guy on this board. We have seen such horrific quarterback play at Boston College, though, that Towles has a chance to dramatically improve the play at the position - and the results of the team as a result.
Jake Browning, Washington: The Huskies come to the season with some massive hype, so I hesitate to include Browning here. There is just so much to like, though. As a freshman last year he put up some very nice numbers - 63 percent completion rate, more than eight yards per attempt, and nearly 3,000 yards overall. It was impressive, and he improved notably as the season went along. There is a ton of upside here, and he has very good talent around him - including an excellent running game to rely on. Browning has a real chance to go from precocious freshman to established star - and he gets to do it in a Pac-12 that is wide open and very winnable.
Patrick Mahomes, Texas Tech: Mahomes has the most impressive numbers of an guy on this list, and he really should be included among the elite quarterbacks in the country based on the season he had last year - he had 4,653 passing yards, 36 touchdown passes, and he completed 63.5 percent of his passes while averaging 8.12 yards per attempt. Those are serious numbers. For a couple of key reasons, though - the perceived gimmicky nature of the Red Raiders offense, and their general lack of success - he doesn't get a lot of attention. He is as good as any QB at extending plays with his feet, and there is still plenty of room for improvement with his passing. Texas Tech QBs always have to shine extra bright to get attention, but Mahomes has the chance this year to really put up some crazy numbers.
Read more articles by Trevor Whenham