Free College Football Picks: Alabama at LSU Odds and Expert Betting Predictions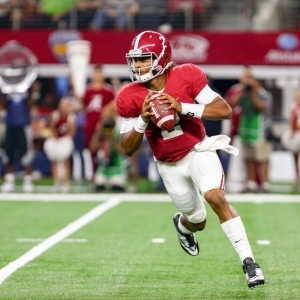 Alabama Crimson Tide at LSU Tigers, Saturday Nov. 5, 8 p.m. ET
Each week I pick three college football games to write about. Looking at this week's slate of games, which wasn't nearly as interesting as some weeks are, this game got included by reflex. It's Alabama and LSU, so it matters because it always matters. My first reaction after thinking about it for a second, though, was that maybe I shouldn't bother with the game. After all, LSU has lost twice, has had as many head coaches as losses this year, and clearly has some issues. Alabama, meanwhile, has looked about as good as a team can look. Their defense is ridiculous, Their offense is solid. They are just plain good - the best team in the country by a pretty wide margin. It just didn't feel like much of a matchup.
But then I took a closer look at the standings. LSU has lost only one conference game. If they were to win here, then, they would have the same record as Alabama in the conference, and they would have the tiebreak. You can argue, then, that this is a bit of an SEC semifinal of sorts. I'll admit that this is a bit of a stretch - it's still a bit of a mismatch - but it's better than nothing.
Alabama at LSU Betting Storylines
The Tigers certainly come into this one well rested. They are coming off a bye week, and they had a second unplanned bye week when weather postponed their Florida game. So they have played only twice in the last month - and one of those two was a virtual scrimmage against Southern Miss. With a brand new head coach and a first-year defensive coordinator, all of this time could be an advantage if it's used well - especially in a big game like this. Or they could come into it rusty - Ole Miss was pretty terrible two weeks ago, so the last time the Tigers faced a good test was against Auburn in Week 4 and they lost that one.
The craziest stat for the Tigers is that Leonard Fournette is leading the team in rushing by just 49 yards. Last year his lead over Derrius Guice was more than 1,500 yards. Guice is having a better year, but that isn't the real point. Fournette largely has been far more mortal this year than we ever could have expected. The game against Ole Miss was the first time he actually looked anything like himself - he ran for 284 yards, and he scored three times. That is just short of half his rushing total of 670 yards for the whole season, and those are 60 percent of his five season TDs. Needless to say, LSU is a much better team when their best player is playing well. Against a defense that is tops in the country with just 70.1 yards per game allowed - a shockingly tiny 2.2 yards per attempt - it's hard to be too optimistic about Fournette's chances of stringing together consecutive big games for the first time all year.
This is the part of the preview where I am supposed to say things about Alabama that concern me - to create some doubt and raise some uncertainty about how things will turn out. I just can't do it. Earlier in the season there were a few minor concerns about the offense and about the mindset of the team - especially around that Ole Miss game that was pretty close. Since then, though, they have been potent. They were tested early on against Texas A&M, and they responded like champions do - by adjusting and dominating the second half. Against Tennessee they were so relentlessly good it was scary. This is an extremely good team firing on all cylinders right now. So much for creating any drama.
Alabama at LSU Odds and Betting Trends
The game opened with Alabama favored by 7.5 points, but that was very quickly bet down to the key number of seven in early action. More than 80 percent of bets have been on the Tide, so it seems that sharp money quickly hit the Tigers.
The Tide are 4-0 ATS in their last four against teams with winning records, and they are 5-0 ATS in their last five November games. They are 8-2 ATS in their last 10 road games and 4-1 ATS in their last five overall. The Tigers are 7-3 ATS in their last 10 games following a bye week. They are just 3-9 ATS in their last 12 games in November.
Alabama at LSU Predictions and Picks
I wrote most of this preview before the odds were posted. As I was writing it I played the 'guess the line' game. I was looking at Alabama -9.5, and I would have taken them at that price. So, basically I'm getting 2.5 free points. Color me giddy. The Tigers have some good things going for them these days, but they are going to run into a wall here. The Tide is going to play angry, and they are going to win comfortably. Alabama is the pick.
Got free picks? Doc's does. And for new clients we would like to offer you $60 in free member's college football picks from Doc's Sports Advisory Board of college football handicapping experts. Click here to sign up today. We never require a credit card for this offer, and you will never have to deal with a salesman.
Read more articles by Trevor Whenham