Free MLB Picks for Best Props Odds: Thursday June 9, 2016
by Chris Vasile - 6/9/2016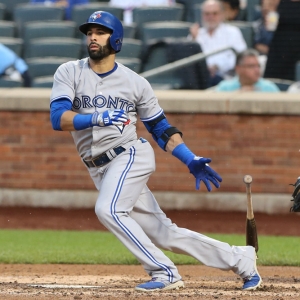 The MLB season is a long grind, and betting it on a daily basis can fluster even the veteran handicappers out there. The ebbs and flows hit you like a sack of potatoes, and you can only do your best to withstand the blow, dust yourself off and carry on with the cause. I took one of those hits on Tuesday and its time to get over it and move forward.
As I mentioned, Tuesday wasn't the greatest for me. Full disclosure. I went 0-2 with my prop selections. You really can't do much when a pitcher who fares well historically against a certain team decides he wants to start a fight and then get ejected. Yes, this was well after KC was down 4-0, but Yordano Ventura looked disinterested and flat out embarrassing on the mound. You live and you learn and you move on to the next day.
As always, Thursday is MLB getaway day, and because of that we only have nine games to choose from. There is an afternoon tilt between Houston and Texas that I am passing on because I think that game will be a high-scoring affair where anything can happen. Instead, I am focusing on the night games. I have a couple First 5 Inning totals that I like, and I will explain why.
These prop bets are all based on the First 5 Inning lines, and I have the utmost confidence in what I expect to happen. As always, odds and lines are courtesy of 5Dimes.
Cleveland Indians @ Seattle Mariners

Generally speaking, it isn't the worst bet in the world to take any game "under" the total in the American League West, or even National League West, for that matter. The ballparks are huge, and the pitchers love it.

This game is the finale of a four-game series between the Indians and Mariners. However, if these two teams keep playing the way they are playing, a matchup in October could be in the cards.
The Indians were one of the hottest offenses in baseball through the first few days of June but have since cooled down over the past two games against Seattle starters. The Indians have managed only nine hits and one run over their past two games and are battling the injury bug to boot. These results marked the first time that the Indians failed to score more than one run in back-to-back games all season. And yesterday's loss was the first time Cleveland was shut out since May 7.
They will be in tough tonight against Mariners starter Nathan Karns. If we throw away Karns last start, his body of work has been very impressive. He is 5-2 with a 4.23 ERA, which bloated as a result of his previous start. Facing such a weak-hitting lineup, Karns should be able to turn things around and make his last start a mere blip on the radar.
This prop will be one based on the effectiveness of Indians' starting pitcher Josh Tomlin. Tomlin is 8-1 with a 3.54 ERA and is 4-0 with a 2.93 ERA on the road. In his most recent outing he pitched 6 1/3 innings of one-run baseball against the Royals. He has become the Indians stopper, and I fully expect him to dominate the mound and take control of this game.
Two good pitchers and one slumping offense give me enough reason to pull the trigger on the "under"

Pick: "Under" 4.5 - First 5 Innings (-125)
Baltimore Orioles @ Toronto Blue Jays
Yes, I am a Jays fan. Yes, beating Jordan Zimmerman yesterday offers a little bit of a hope, even after the bullpen blew a pitching gem by Aaron Sanchez the night before. The Jays are some sort of enigma that I haven't quite figured out yet. But what I do know is that the Orioles are hot right now and Marcus Stroman is struggling.
Marcus Stroman is a great story, and we've all heard last season's epic return from a torn ACL to lead the team into the postseason. He's a good pitcher, but he's not pitching well at the moment.
He has allowed six or more runs in three of his last four starts, which you wouldn't know based on his 5-2 record. In his last start on Saturday against Boston, he allowed nine hits, five walks and six runs in only 5 2/3 innings. His breaking ball has been off, and teams have been hitting his fast ball. Not a good sign heading into one of the biggest series of the year to date.
The Orioles come to town on the heels of a three-game sweep against the Royals where they not only won the series but also captured the WWE Heavyweight Title. They are 12 games above .500 and a have a 4.5-game lead over the Jays, who are in third.
The O's have been hitting well lately. They are averaging 7.1 runs in their last eight games while winning seven of them. If Stroman continues to struggle, they will get their share of runs in this series and could really distance themselves in the AL East.
I'm not taking the O's, though. I am taking the First 5 Innings to go "over" the total of 4.5.
Baltimore is sending Tyler Wilson to the mound, and he hasn't fared all that great so far this season. He is 2-5 with a 4.39 ERA and not very many strikeouts. If you pitch to contact against a lineup as potent as the Jays, you are asking for problems. The Jays should be able to ride a little momentum into tonight's game, and I think they can get some runs early against Wilson.
I like the "Over" between these two division rivals.