Free NBA Picks: Cleveland Cavaliers at Toronto Raptors Game 6 Props Odds and Predictions
by Chris Vasile - 5/27/2016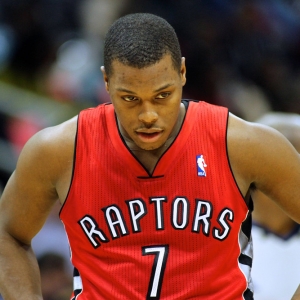 Name a series in recent history in which both teams have been completely dependent on home-court advantage. You can't.
This Toronto Raptors vs. Cleveland Cavaliers series has me completely baffled and unsure whether to zig when I should zag or zag when I should zig. These are the two best teams in the Eastern Conference, and you mean to tell me that neither of them can compete with the other in enemy territory? Madness I tell you. The only game in which the visitor had a sniff at winning the game late was in Game 4, and even so it always felt like home court would allow the Raptors to squeak out a victory.
I sat at my desk on Wednesday afternoon to put together a Game 5 article, and deep down I truly believed the Raptors would show up, or at least give an ounce of effort and put up a slight force of resistance. Boy was I wrong. Right from the get go - the Raps looked lost and flustered. I noticed several occasions where they gave up on a loose ball to stare down the refs and complain about a non-foul call. You can't do that in the ECF. They were completely unprepared for the knockout punch the Cavs were ready to try and dish out early, and they caught it right on the chin.
The only thing the Raptors have going for them heading into Game 6 is the fact that they get to play in the friendly confines of the Air Canada Centre. If history holds serve, this one should be headed to another seven-game series - but I am more concerned this time that their latest defeat has completely demoralized them.
I can't bring myself to pick a side because I can't see the Raptors winning outright or coming undone at the seams and getting blown out once again. The line is too close to call. Let's take a look at a few prop opportunities that I feel are the best way to attack this game. As always, odds and lines are courtesy of our friends at Bovada.
Total Player Points - DeMar DeRozan
"Over" 23.5 -115, "Under" 23.5 -115
DeMar DeRozan is Toronto's best hope at getting this series to Game 7. Generally speaking, when teams face a "must-win" situation they turn to their best player to carry the team.
If DeRozan thinks he is a max contract type player then he needs to show up guns a blazing tonight and go off for 35+ points. I'm not saying it's going to be easy, but in the two games played in Toronto this series he has scored 32 each game and his clutch play has opened up the court for others to get theirs.
DeRozan is the Raps' purest scorer and in key situations - depending how Kyle Lowry is playing - and should be the one to get the ball in his hands and work either the pick-and-roll or "Iso" game to find his spot. Good DeRozan attacks the paint aggressively and gets to the line - something this prop will benefit from. Bad DeRozan settles for jumpers - not that he is incapable of knocking them down but just that if it's not falling or if the refs are not calling the ticky-tack fouls, this prop could be toast before it even gets started. I fully expect the good DeRozan tonight.
I was expecting this line to be around 26 or 27 points, so I think this is a steal at such small odds on such a deflated line.
Pick: Demar DeRozan "Over" 23.5, -115
First Half Spread
Cleveland -3.5 -110
As I mentioned in the opening, the question is whether to zig or to zag. History says I should zag - but I'm going to double up on the "zig" and take Cleveland here in this first half.
In Game 3 and 4 in Toronto, the Raptors were able to go into the locker room at half time with a lead. A fairly big lead, too. This time, however, I think they are going to have to play from behind if they want to earn the right to play a Game 7 back in Cleveland.
For what it's worth, the Raptors are 8-2 on their home floor and are going to need the ACC to be home sweet home one more time. They are 4-0 versus Cleveland so far this season (regular season included). Unfortunately for myself and the entire country of Canada, I think this is the end of the line for a Raptors team void of scoring options.
We all saw how great Cleveland can be when they are clicking on all cylinders and knocking down shots. Kevin Love and Kyrie Irving showed up in a big way in Game 6 and proved too much for the Raptors defence to stop. The big three - including LeBron -- went off for 71 points, almost matching the entire Raptors offensive output. They simply have too many weapons and can attack you in a million different ways. J.R. Smith can knock down the 3-ball with the best of them, Channing Frye is apparently vying for the postseason's Sixth Man Award (if there was one) and Tristan Thompson quietly outplayed Bismack Biyombo in Game 5.
Usually over the course of a seven-game series the better team always prevails. That team is usually the one who can get the extra stops on defense, limit the turnovers, and stop teams from getting on any sort of run. All of those things are better suited for the Cavaliers to manage than the Raptors.
History says Toronto shows up and forces a Game 7, but my gut thinks LeBron punches his sixth straight finals appearance tonight.
Cleveland Cavaliers -3.5 - First Half