Free NBA Picks: Friday, Dec. 16, 2016, Opening Line Report and Handicapping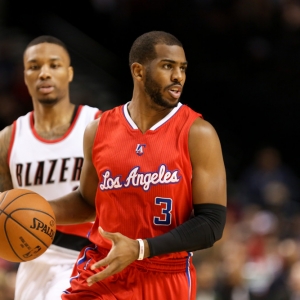 My second-favorite sport to watch and bet on after football -- I group the NFL and NCAA into one -- is the NBA. I follow it passionately, and that's the sport I hoped to play as a kid. But I'm glad I don't live in a city with a team. Why? I would definitely plan to go to many games, only to likely be frustrated when the opposing team decided to rest a key guy or two because apparently multi-millionaires aren't expected to work every day. Go take a look at how many games Michael Jordan played every season when healthy. You will see a bunch of 82s. A night like Wednesday really ticked me off. The Cavaliers rested their three best players, LeBron James, Kyrie Irving and Kevin Love, in Memphis. Cleveland only visits there the one time. The Kings sat DeMarcus Cousins in Houston even though they weren't playing the first or second of a back-to-back. The Spurs rested LaMarcus Aldridge against Boston. The NBA really has to do something about this -- I'm just not sure what.
Pistons at Wizards (+1.5, 203.5)
Detroit won 95-85 at Dallas on Wednesday. Reggie Jackson had a season-high 20 points and Andre Drummond added 17 rebounds. Kentavious Caldwell-Pope returned from a one-game absence and had seven of his 11 points in the fourth quarter. Washington beat visiting Charlotte 109-106 on Wednesday. John Wall and Bradley Beal combined for 45 points. Markieff Morris was a late scratch because of a sore left foot. Kelly Oubre Jr. started in his place and scored 15 points. First meeting of the season between these teams. Detroit has lost four consecutive games on the road against Washington.
Key trends: The Wizards are 1-7 against the spread in their past eight following an ATS win. The "over/under" is 4-1-1 in the past six meetings.
Early lean: Wizards and under.
Nets at Magic (-7.5, 216.5)
Brooklyn beat the visiting Lakers 107-97 on Wednesday. Bojan Bogdanovic scored 23 points, and Sean Kilpatrick had 22 -- Kilpatrick has become a pretty good player. Jeremy Lin, who had just returned from a 17-game absence due to a hamstring injury, sat out with a tight back. Orlando lost 113-10 at home to the Clippers on Wednesday. Aaron Gordon had arguably his best game of the year with 33 points and nine rebounds in the loss. Center Nikola Vucevic missed his third straight game with a sore back. Orlando was 4-0 vs. Brooklyn last year and has won 13 of the past 17 at home in the series.
Key trends: The Nets are 1-4 ATS in their past five in Orlando. The over is 4-0 in the Magic's past four at home.
Early lean: Magic and over.
Hornets at Celtics (TBA)
Charlotte fell to 0-3 on its five-game road trip with a 109-106 defeat at Washington on Wednesday. Kemba Walker's tying 3-pointer at the buzzer rimmed out. He was vastly outplayed by John Wall. Boston was again without Isaiah Thomas on Wednesday and lost 108-101 in San Antonio. But Coach Brad Stevens expects him back here. Charlotte won its only trip to Boston last year but lost 104-98 at home to the Celtics on Oct. 29. Avery Bradley led Boston with 31 points.
Key trends: The Hornets are 1-5 ATS in the past six meetings. The over is 5-2 in the previous seven.
Early lean: Wait on Thomas.
Hawks at Raptors (-8.5, 210.5)
Atlanta's two-game winning streak ended in a 131-120 home loss to Orlando on Tuesday. Dwight Howard had 20 points and 16 rebounds and Dennis Schroder had 19 points and 13 assists for the Hawks. Guard Kent Bazemore was back after missing two games and played 15 minutes off the bench. Toronto won a fourth in a row Wednesday, 123-114 in Philly. DeMar DeRozan scored 31 points and Kyle Lowry added 20. Toronto beat visiting Atlanta 128-84 on Dec. 3 -- both sides were playing the second of a back-to-back -- and has taken the past three at home in the series.
Key trends: The Hawks are 1-5 ATS in the past six meetings. The under is 5-1 in those.
Early lean: Raptors and over.
Bucks at Bulls (-6.5, 208)
These teams played in Milwaukee on Thursday night with Rajon Rondo questionable for the Bulls. You probably need to be on sit-down alert here for the Bulls' Dwyane Wade as he will get many in the second of a back-to-back off (he might sit Thursday instead). The Bucks don't really have any guys they rest barring something happening Thursday. The Bulls have won the past five meetings at home in the series.
Key trends: The Bucks are 1-7 ATS in the past eight in Chicago. The under is 6-1-1 in Chicago's past eight in the second of a back-to-back.
Early lean: Whichever team lost Thursday.
Kings at Grizzlies (TBA)
Sacramento was crushed 132-98 in Houston on Wednesday without Cousins, Rudy Gay and Ben McLemore, but at least the latter two had minor injuries. Certainly Cousins should be back here. Memphis was more than happy for Cleveland to leave its best three guys at home on Wednesday as the Grizzlies beat the Cavs 93-85 in a game that wasn't that close. Marc Gasol had 17 points and 11 rebounds, while Tony Allen finished with 16 points, eight rebounds and three steals. Sacramento coach Dave Joerger faces his former Grizzlies squad for the first time. Joerger's Grizzlies were 3-0 vs. the Kings last year, and Sacramento has dropped the past 12 in Memphis.
Key trends: The Kings are 0-4 ATS in the past four meetings. The under is 5-1 in the previous six.
Early lean: Wait on Gay and McLemore.
Pelicans at Rockets (-10, 221.5)
New Orleans hosted Indiana on Thursday. Houston won its eighth in a row Wednesday, 132-98 over the visiting Kings. James Harden had a triple-double -- 15 points, 14 assists and 11 rebounds -- in just three quarters. It was his 14th in his career, tying Hall of Famer Hakeem Olajuwon for the franchise record. The Rockets finished with 22 3-pointers to give them at least 15 3s in three straight games, which ties a franchise record. Houston was 3-1 vs. New Orleans last year and has won three straight at home.
Key trends: The Rockets are 8-1 ATS in their past nine vs. teams with a losing record. The under is 5-2 in the past seven meetings in Houston.
Early lean: Rockets and over.
Lakers at 76ers (-1.5, 212.5)
First of an ESPN doubleheader. Los Angeles dropped its eighth straight Wednesday, 107-97 in Brooklyn. But Google "Larry Nance Jr. dunk Nets" as he had the slam of the year in posterizing Nets center Brook Lopez. Nick Young dislocated his finger in the loss but says he's OK. Philadelphia failed in its attempt to win three straight games for the first time in seemingly forever on Wednesday, falling by nine at home to Toronto. Robert Covington led the Sixers with 26 points. Jahlil Okafor started at center and Joel Embiid at power forward for the first time this season. These teams split two low-scoring games last year, each winning at home. Philly gets the Lakers' first-round pick in next year's draft as long as it's outside the Top 3.
Key trends: The Lakers are 0-7 ATS in their past seven after a loss. The under is 4-1 in the 76ers' past five.
Early lean: 76ers and under.
Clippers at Heat (+7, 206)
Los Angeles won a third straight Wednesday, opening a long road trip with a 113-108 victory in Orlando. Austin Rivers grew up in Orlando and had his high school jersey retired on Tuesday. He started Wednesday's game with forward Luc Mbah a Moute out with a shoulder injury, and Rivers finished with 25 points, making 7-for-10 from long range. Miami won a second in a row Wednesday, 95-89 over the Pacers. Hassan Whiteside had 26 points and 22 rebounds. It was the fourth time Whiteside reached 20 points and 20 rebounds in the same game in his career and second this season. Justise Winslow returned from a 16-game absence (left wrist) and scored two points in 21 minutes. Last season, the Clippers swept the season series, 2-0, but the Heat have five of their last seven against L.A. in Miami.
Key trends: The Clippers are 1-7 ATS in their past eight vs. the East. The under is 4-1 in the Heat's past five vs. teams with a winning record.
Early lean: Heat and under.
Mavericks at Jazz (-11, 188)
Second ESPN game. Dallas lost 95-85 at home to Detroit on Wednesday amid reports injured Dirk Nowitzki will retire after this season. The Mavs' Wesley Matthews had a season-low four points on 2-for-10 shooting, ending a three-game stretch with at least 25 points. Center Salah Majri left with an ankle injury. Dirk missed a 10th straight. Utah won a second in a row Wednesday, 109-89 over Oklahoma City. Both Rodney Hood and Derrick Favors returned from injuries, with Hood having 25 points. Favors had missed the past 13 games and only played 13 minutes as he will be eased back in. Utah beat visiting Dallas 97-81 on Nov. 2 and has taken three of the past five meetings overall.
Key trends: The favorite is 8-2-1 ATS in the past 11 meetings. The over is 10-3 in Utah's past 13 following a win.
Early lean: Jazz and under.
Read more articles by Alan Matthews