Free NBA Picks: Friday, Dec. 2, 2016, Opening Line Report and Handicapping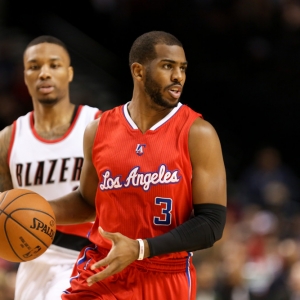 If you are a Cubs or Indians fan or just like to see millionaire athletes pay off their silly bets, you should tune into ESPN before Friday's Cavaliers at Bulls game. That's because Cleveland's LeBron James and Chicago's Dwyane Wade, good buddies, made a wager on the Indians-Cubs World Series. Of course the Cubs rallied from a 3-1 series deficit to win the Fall Classic in Game 7 in Cleveland with LeBron in attendance. And now James must dress up in a full Cubs uniform before Friday's game. Don't expect LeBron -- an Ohio native but who actually grew up a Yankees fan -- to simply buy some jersey off the rack as I'm sure it will be styled exactly to his liking and then fetch thousands of dollars in some sort of a charity auction. There's no question that ESPN will show James walking into the United Center in that garb.
Magic at 76ers (pick'em, 200)
Orlando was in Memphis on Thursday. Philadelphia hosted Sacramento on Wednesday -- only it didn't. That game was postponed because of moisture on the court. Some knucklehead forgot to turn the thermostat down in the Wells Fargo Center a few hours before the game (it didn't help it was unseasonably warm outside). Both the Sixers and Kings were off Thursday but couldn't play there because a concert was scheduled. No makeup date has been announced yet. Orlando was 3-1 vs. Philly last year and has won 11 of the past 14 meetings. Elfrid Payton was selected 10th overall the 2014 draft by Philadelphia but was traded to Orlando immediately.
Key trends: The Magic are 12-3 against the spread in the past 15 meetings. The "over/under" is 5-1 in the past six.
Early lean: 76ers and under.
Kings at Celtics (-7, 207.5)
Sacramento will have been off since Monday thanks to Wednesday's postponement in Philly. Boston lost 121-114 at home to Detroit on Wednesday. Isaiah Thomas paced the Celtics with 27 points, and Kelly Olynyk scored a season-high 19. Al Horford was back after missing a game (birth of child) and had nine points. Boston swept Sacramento last year (one game in Mexico) and has won nine straight at home in the series.
Key trends: The Kings are 1-6 ATS in the past seven meetings. The under is 9-3 in Boston's past 12 overall.
Early lean: Celtics and under.
Lakers at Raptors (-10, 217.5)
Los Angeles pulled an upset in Chicago on Wednesday, 96-90. Julius Randle, who was questionable to play, hit the tiebreaking layup with 45.1 seconds left and finished with 13 points and a career-high 20 rebounds. Before the game, the Lakers announced that guard Nick Young was going to miss 2-4 weeks with a strained right calf muscle. Toronto won a fourth straight Wednesday, 120-105 over Memphis. Kyle Lowry had 29 points and eight assists, and DeMar DeRozan scored 24 points. Toronto has taken the past two at home vs. the Lakers and three straight overall. The Raptors had never swept the season series until last year.
Key trends: The Lakers are 0-4 ATS in their past four after a win. The over is 10-2 in Toronto's past 12.
Early lean: Raptors and over.
Timberwolves at Knicks (-3.5, 210)
Second of a home-and-home between these two as Minnesota on Wednesday lost at home to the Knicks 106-104, the Wolves' sixth loss in their past seven games. Karl-Anthony Towns had his best game as a pro with 47 points and 18 rebounds, but Carmelo Anthony won it for New York on a jumper with 2.3 seconds left. Melo had only 12 points, but Kristaps Porzingis had 29. Joakim Noah missed the game with a sprained ankle. Courtney Lee sprained his ankle in the game, so he's probably going to miss at least this one. The Wolves have won two of their past three in New York.
Key trends: The Knicks are 6-1 ATS in their past seven at home. The under is 6-2 in Minnesota's past eight.
Early lean: Wolves and under.
Cavaliers at Bulls (TBA)
First of the ESPN doubleheader. Cavs could be a bit flat and maybe even sit one of their key players after hosting the Clippers on Thursday. I doubt LeBron sits as he'll want to face Wade for the first time with Wade as a Bull. Chicago lost at home to the Lakers, 96-90 on Wednesday. Jimmy Butler missed two key shots down the stretch for the Bulls. He had 22 points but was just 4-for-18. Robin Lopez finished with 10 points, nine rebounds and a career-high eight blocked shots. Chicago dropped to 8-1 this season when its opponent scores fewer than 100 points. The Bulls won last season's series (3-1) the Cavs for the fifth time in the last six years. Chicago has taken the past three at home vs. Cleveland.
Key trends: The underdog is 7-0 ATS in the past seven meetings. The under is 4-1 in the past five meetings.
Early lean: Bulls will be underdogs and I'd take whatever points.
Clippers at Pelicans (+4.5, 211)
See the Cavs note above for the Clippers as they may be in same boat as Cleveland here. Plus this closes a grueling six-game trip for Los Angeles. New Orleans beat the visiting Lakers 105-88 on Tuesday. Anthony Davis had 41 points and 16 rebounds. Jrue Holiday returned to the starting lineup for the first time this season and had 22 points. New Orleans has won only five of its past 18 meetings with the Clippers and dropped three of four last season. Davis played in only two of them.
Key trends: The underdog is 5-1 ATS in the past six meetings. The over is 5-2 in the previous seven.
Early lean: Pelicans and under.
Pistons at Hawks (TBA)
Detroit pulled off a second straight road upset Wednesday, 121-114 in Boston in the second of a back-to-back. Kentavious Caldwell-Pope scored 25 points, Tobias Harris had 21 and Andre Drummond added 20 points and 17 rebounds. The Pistons shot 55.2 percent. Atlanta dropped a fourth in a row Wednesday, 109-107 in Phoenix. Kent Bazemore had 22 points, Tim Hardaway Jr. scored 21 and Dwight Howard added 17 points with 14 rebounds for Atlanta. Paul Millsap sat with a left hip injury. Atlanta lost on opening night at home to Detroit last season but then won the next three vs. the Pistons.
Key trends: The Pistons are 2-6 ATS in the past eight meetings. The over is 4-1 in the previous five.
Early lean: Wait on Millsap.
Wizards at Spurs (-9, 203)
Washington lost 126-115 in OT at Oklahoma City on Wednesday. John Wall had 15 points and 15 assists. Otto Porter missed a short fadeaway at the end of regulation that would have won the game. Ian Mahinmi sat out again with a sore knee. San Antonio bounced back from a shocking home loss to Orlando on Tuesday with a 94-87 win in Dallas on Wednesday even with Pau Gasol, Tony Parker and Manu Ginobili all sitting to rest. Patty Mills scored 15 of his team-high 23 points in the fourth quarter and Kawhi Leonard added 21 points as the Spurs rallied from 13 down. San Antonio won in Washington 112-100 last Saturday. The Spurs have won 16 straight at home in the series.
Key trends: The home team is 4-1 ATS in the past five meetings. The over is 8-2 in Washington's past 10 on the road.
Early lean: Spurs and over.
Rockets at Nuggets (-1, 222.5)
Second ESPN game. I expect Houston to have nothing left in the tank here after running all night Thursday at Golden State. Denver lost 106-98 at home to Miami on Wednesday. Nikola Jokic came off the bench with 17 points and 14 rebounds for Denver, which was outscored 31-18 in the fourth quarter. Danilo Gallinari returned after missing three games and had 17 points. Will Barton missed a second straight game. Denver was 3-0 vs. Houston last year.
Key trends: Houston is 2-6 ATS in the past eight in Denver. The over is 6-2 in those.
Early lean: Nuggets and over.
Read more articles by Alan Matthews