Free NBA Picks: Friday, Nov. 18, 2016, Opening Line Report and Handicapping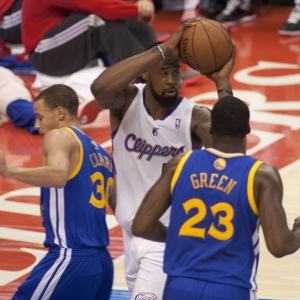 You don't think of Warriors-Celtics as a great NBA rivalry, but I don't know that two teams played two better regular-season games against one another last season -- and they renew acquaintances on Friday night. When Golden State visited Boston it was 23-0 and frankly should have lost but didn't, prevailing 124-119 in double overtime. But the damage was done: the next night, the tired Warriors' record-setting winning streak to start a season ended in a 13-point loss in Milwaukee. On April 1, Boston visited Oakland and upset the Warriors 109-106 in ending Golden State's NBA-record 54-game home winning streak. Steph Curry missed a long 3-pointer in the waning seconds to tie it. Here's hoping Friday's matchup is close to those two games.
Hawks at Hornets (TBA)
Atlanta won its sixth straight game Wednesday, 107-100 over Milwaukee. Dwight Howard and Thabo Sefolosha were out injured. Mike Muscala started for Howard and had 16 points. Neither injury is considered serious and it seems like Howard is the more likely to play here. Charlotte ended a two-game skid with a 115-108 victory in Minnesota on Tuesday. Kemba Walker had 30 points to lead his team back from a 12-point halftime deficit. The team was again without Jeremy Lamb, but he might return Friday. Charlotte lost three of four vs. Atlanta last year but won the most recent home game.
Key trends: The home team is 7-1-1 against the spread in the past nine meetings. The "over/under" has gone under in the past five.
Early lean: Hornets and under regardless of Howard.
Suns at Pacers (-7.5, 219.5)
Phoenix dropped a third in a row Wednesday, 120-104 in Denver. Brandon Knight scored a season-high 32 points for Phoenix, and Devin Booker had 24 before he was ejected late. Tyson Chandler (personal) returned from a four-game absence. Indiana beat visiting Cleveland 103-93 on Wednesday as the Cavs rested LeBron James. Paul George had 21. By the way, this game coincides with the 30th anniversary of the movie "Hoosiers" and Indiana will wear awesome Hickory Huskers jerseys. Indiana swept the regular-season series last year for the first time since the 2012-13 season.
Key trends: The Pacers are 9-4 ATS in their past 13 at home. The over is 13-3 in the Suns' past 16.
Early lean: Pacers and over.
Pistons at Cavaliers (-10.5, 206.5)
Detroit lost 105-102 in New York on Wednesday. Andre Drummond was back from a one-game absence due to a sprained ankle and had 15 points and nine rebounds. Cleveland's three-game winning streak ended in Indiana without LeBron. You are going to see him get an occasional second of a back-to-back on the road off. So if you live in an NBA city and the Cavs are in town, keep that in mind. J.R. Smith sat a third game in a row for Cleveland. Might surprise you to know the Pistons won three of four meetings last year and has taken four of the past six in Cleveland.
Key trends: The Pistons are 9-3 ATS in the past 12 in Cleveland. The under is 7-3 in the Cavs' past 10 vs. the East.
Early lean: Cavs and under.
Trail Blazers at Pelicans (TBA)
I mentioned earlier this week that New Orleans point guard Jrue Holiday would make his season debut either Wednesday or Friday, and indeed it will come in this game. New Orleans lost 89-82 in Orlando on Wednesday. Anthony Davis sat it out with a thigh injury, so here we go again with him. Portland was in Houston on Thursday. Portland won three of its four games against New Orleans last season and has claimed three straight season series over the Pelicans.
Key trends: The Blazers are 6-1 ATS in the past seven meetings. The over is 4-1 in the past five in New Orleans.
Early lean: Have to wait on Davis.
Nets at Thunder (-11, 218)
Brooklyn lost at the Lakers 125-118 on Tuesday. Brook Lopez had 30 points and 10 rebounds for the Nets while also becoming the franchise leader in blocks. Bojan Bogdanovic scored 29 points. Oklahoma City ended a four-game losing streak with a 105-103 home win over Houston on Wednesday. Russell Westbrook had 30 points, including a vicious dunk in the final seconds to clinch it. Victor Oladipo added season highs of 29 points and 10 rebounds for the Thunder. These teams split last year, each winning by double digits at home.
Key trends: The Nets are 4-0 ATS in the past four meetings. The over is 8-1 in their past nine road games.
Early lean: Nets and over.
Warriors at Celtics (+7, 221.5)
First of an ESPN doubleheader. Golden State took a fifth in a row Wednesday, 127-121 in Toronto. Stephen Curry had 35 points and Kevin Durant added 30. The Warriors set a franchise record with a fifth straight game with at least 30 assists and shooting over 50 percent. Boston beat visiting Dallas 90-83 on Wednesday. Isaiah Thomas scored 22 of his 30 points in the fourth quarter. Avery Bradley added 18 points and a career-high 13 rebounds. Al Horford and Jae Crowder remained out for Boston. Golden State has won three straight in Boston.
Key trends: The Warriors are 0-3-1 ATS in the past four meetings. The over is 5-0 in their past five.
Early lean: Warriors and over.
Grizzlies at Mavericks (TBA)
Dallas lost its third straight Wednesday, 90-83 in Boston. Harrison Barnes led the Mavericks with 28 points, and he's about the only bright spot this year. Deron Williams was back in the lineup but then left in the second quarter with a calf injury. Then No. 2 point guard J.J. Barea left in the fourth with a strained calf. Barea will miss a while. Dirk Nowitzki sat a fifth straight game. This team is a wreck. Memphis pulled off a 111-107 upset at the Clippers on Wednesday. Marc Gasol suddenly is hitting 3-pointers and hit the go-ahead 3 with 14 seconds left. He had a season-high 26 points. Chandler Parsons didn't play the second half due to a sore knee. Dallas lost the first meeting last year but won the final three.
Key trends: The Mavs are 11-5 ATS in the past 16 meetings. The over has hit in 10 of the past 13.
Early lean: Mavs if Dirk returns as a likely letdown game for Grizz.
Raptors at Nuggets (+3.5, 213.5)
Toronto completed its Cavs-Warriors back-to-back at 0-2 with a 127-121 home loss to Golden State on Wednesday. DeMar DeRozan had a team-high 34 points for the Raptors. He's the first NBA player with nine 30-point games in his team's first 11 games since Michael Jordan in 1987-88. Denver ended a four-game skid with a 120-104 win over Phoenix on Wednesday. Wilson Chandlers has a season-high 28 points and 11 rebounds. It was Denver's first home win. However, shooting guard Gary Harris was out again and now likely will miss a month with a foot injury. These teams played on Halloween in Toronto and the Raptors won 105-102. DeRozan had 33 points and Kyle Lowry 29. The Raptors ended the game on a 12-3 run as Denver made just one of its final 12 shots.
Key trends: The Raptors are 1-4 ATS in the past five meetings. The over has hit in four of those.
Early lean: Nuggets (letdown game for Raptors) and over.
Spurs at Lakers (+6, 207)
San Antonio won 110-105 in Sacramento on Wednesday for its fourth win in a row. Pau Gasol had 24 points and nine rebounds as the Spurs stayed unbeaten on the road. Danny Green did play despite being hurt Monday. The Lakers beat Brooklyn 125-118 on Tuesday. D'Angelo Russell scored 32 points and Julius Randle added 17 points, 14 rebounds and 10 assists for his second career triple-double. San Antonio won all four meetings last year and has won five straight at the Lakers.
Key trends: The Spurs have covered just one of the past six meetings. The over is 4-0 in the past four.
Early lean: Spurs and under.
Clippers at Kings (+7, 204)
Second ESPN game. Los Angeles was stunned at home by Memphis on Wednesday, 111-107 to end the Clips' seven-game winning streak. J.J. Redick scored a season-high 29 points for L.A. Both of its losses are at home. Sacramento hung tough with San Antonio on Wednesday but lost by five for its third consecutive defeat. DeMarcus Cousins had 26 points, 17 rebounds and six assists. Los Angeles won three of four vs. the Kings last year and has won seven straight in Sacramento, albeit in a different building.
Key trends: The Clippers are 5-1 ATS in the past six in Sacramento. The over is 6-1 in the past seven meetings overall.
Early lean: Clippers and under.
Read more articles by Alan Matthews