Free NCAA Football Picks: Nebraska at Ohio State Odds and Expert Predictions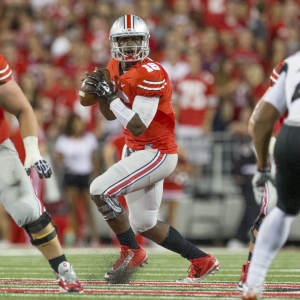 Nebraska Cornhuskers at Ohio State Buckeyes, Saturday Nov. 5, 8 p.m. ET
The stakes here are very high for both teams. Neither can afford a second loss here. Nebraska lost in overtime at Wisconsin last week, but they still have a lead in the division - that was their first loss and Wisconsin has lost to Michigan and Ohio State. That means that Nebraska is fine as long as they stay ahead of Wisconsin, but as soon as they match the Badgers in losses they will lose the tiebreak and will find it very tough to make the Big Ten Championship Game. Ohio State has that stunning loss to Penn State on their record. With Michigan undefeated, a second loss would all but clinch the division for the Wolverines and would obviously end any playoff aspirations the Buckeyes have. Right now, as long as they keep winning, and they beat Michigan on Thanksgiving weekend, the playoff is still a real possibility. A likelihood, even.
So, this is a very big game on Saturday night - a much bigger and more interesting one than you ever would have guessed before the season started.
Nebraska at Ohio State Betting Storylines
Ohio State fans have to be feeling lousy right about now. A week after losing at Penn State they hardly dominated Northwestern at home, just beating the Wildcats 24-20. Add in that the week before they barely escaped against Wisconsin and you have quite a concerning stretch of substandard play. J.T Barrett hasn't been lousy, but he has been far from the Heisman-caliber QB that he was expected to be heading into the season. He hasn't been throwing the ball away, but he has only one TD pass in his last two games and is averaging well under seven yards per attempt - just not good enough for a high-caliber team. He looks like he is overthinking things and like he feels uncomfortable in the huge shoes he is forced to wear as the quarterback and leader of a team like this. Nebraska's job, then, is obvious - to make Barrett as uncomfortable as they possibly can all game long. The Huskers are capable of doing that. Opposing offenses are averaging just 6.3 yards per pass attempt and have thrown for just six touchdowns compared to 13 interceptions. This is a slightly better pass defense than Penn State and a much better one than Northwestern, so they have a chance to disrupt, and if they can do that then they can make this one interesting.
At this point you have to question what's going on in the heads of the Buckeyes. We knew coming into the season that they were very young and inexperienced, but they have talent by the boatload, and the coaching is excellent. Their schedule is largely manageable - much more manageable than they have made it look. They beat up on Oklahoma, so we know they are capable of playing well in big games, and that they match up favorably against relatively elite opponents. We can only conclude, then, that this lull they are in is due more to their mental game than their physical offerings. That's a concern - it would be way easier to have faith that they can tweak the schematic issues they might have then it is to assume that they can quickly and suddenly get their collective heads screwed on right. With respect to Penn State, Nebraska presents the biggest challenge in their last three games, so there is no question they are vulnerable in this spot. The question for handicappers, then - and it's not an easy one to answer - is whether their huge advantage in talent and the home-field advantage is enough to not just win but also cover the spread. I'll tell you this - I was really hoping and expecting a month or two ago that Ohio State was going to make handicapping this game much easier than they have.
Nebraska at Ohio State Odds and Betting Trends
This line has been on a rocket ship since it was posted. It was opened as low as 12.5, and more widely opened at 14. In just a few hours it has climbed up to 17. About two-thirds of all bets have been on the Huskers, so it's clear that sharp money has pounded the Buckeyes early on.
Nebraska is 4-0-1 ATS against teams with winning records and 6-1 ATS in their last seven road games against teams with winning home records. They are 14-3 ATS in their last 17 road games and 6-2-1 ATS in their last nine games overall. The Buckeyes are 0-4 ATS in their last four conference games and 1-4 ATS in their last five home games against teams with winning road records. They are 2-5 ATS in their last seven November games.
Nebraska at Ohio State Predictions and Picks
This one isn't tough. I was expecting it to be much tougher. The Buckeyes haven't looked like the Buckeyes for a while. The Huskers now have absolutely nothing left to lose, and they are playing pretty well. Ohio State is likely to win this game, but Nebraska is capable of keeping it close - close enough to cover this spread. Seventeen points is packed with value.
Are you ready for some football winners? Doc's Sports has you covered! We are offering new clients $60 in free picks - these are actually members' picks from expert handicappers who live, breathe and eat college football and have years of successful betting/handicapping experience. Click here for the no-hassle sign up page (no credit card required).
Read more articles by Trevor Whenham